So, we've all heard of the infamous Nespresso coffee machines, but what if I told you there was a level beyond that? Taking brewing technology and coffee pod architecture to the next level, we now have a coffee maker that's opened the doors to the next generation of espressos. We've put together this Nespresso Vertuo Next Review to welcome you into this new world of advanced coffee brewing that'll be sure to excite your inner coffee connoisseur!
You'll never crave coffee from a café again once you've tasted the Nespresso Vertuo range because the café comes to you! In this Nespresso Vertuo Next review article, I'll be covering the features, specs, and advantages of the Vertuo Next coffee maker, and I'll even go over the pitfalls, so you know all the "no-no's" too!
By the end of the review, you'll be equipped with the necessary knowledge to pursue your next adventure in the world of superior coffee experiences.
Vertuo Next Overview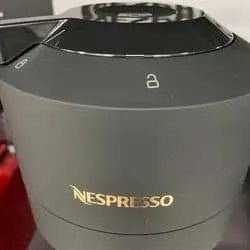 What's in the Box:
Nespresso Vertuo Next Coffee and Espresso Maker by De'Longhi
Welcome Set with 12 Vertuo Capsules
Automatic Capsule Ejection and Storage
Brews 4 Cup Sizes
2-Year Warranty
Specs
Cord Length: 75cm
Reservoir Size: 37oz
Weight: 9lbs
Dimensions: 5.5W x 16.9D x 12.4H-inches
Check the current price  
Vertuo Next Design and Features
Cup Sizes
The Vertuo Next coffee machine provides a range of both espresso cup sizes as well as regular coffee cup sizes. For espressos, you can brew a single shot or double shot, while for standard coffee you can opt between 5oz, 8oz, and 18oz cup sizes for a huge range of options.
Water Reservoir
The Vertuo Next's water reservoir is well-balanced at a capacity of 34 ounces, making it last up to 6 mug capsules or 10 espresso capsules' worth of brewing before requiring a tank refill. The water tank is also removable, making it easy to refill, wipe down, or clean via dishwasher.
Time To Heat Up
Once you've placed your capsule into the head and locked it accordingly, it will take no more than 30 seconds to heat up the Vertuo Next machine ready for brewing. This means you don't need to waste time waiting several minutes to boil water as with instant coffee, so your morning self will definitely thank you for this fast heat-up time.
Capsule Sensing
Among the most defining features of the Vertuo Next is its sophisticated barcode reading technology, which scans the miniature codes on the Vertuo capsules upon insertion. This automatically adapts the machine's brewing parameters to each specific capsule for the best execution and in-cup result.
Brewing Method
The Vertuo Next uses a revolutionary precision one-touch brewing system with barcode-scanning technology to guarantee the perfect cup of coffee or espresso. The brewing method incorporates "centrifusion technology" that individually reads the Vertuo capsule barcode containing customized extraction parameters. These parameter adjustments involve changing the machine's water volume usage, regulating the water's flow, temperature, and infusion time, and even adjusting the capsule's rotational speed to optimize for that specific capsule.
Optional Aeroccino
The Aeroccino is a milk frother that can be purchased with your Vertuo Next machine, depending on the bundle you choose. This in-built milk option will bring you even further to a true café coffee experience, allowing you to heat up and froth milk with the push of a button. I would recommend the Aeroccino for coffee drinkers that insist on a hot coffee with milk as a non-negotiable. Contrastingly, you won't need the Aeroccino if you prefer a pure espresso shot, long black, or iced coffee.
Types of Coffee
There are countless types of coffee available in Vertuo coffee pods, and each type of coffee you may choose to brew will have an abundance of flavors and blends to select from. In terms of espressos, the three types of categories are single, double, and Gran Lungo (a.k.a Americano), each of which has various strength levels and blends.
For regular coffee, there is a huge range of intensities and blends available and special ranges for XL capsules and capsules specifically crafted for milk.
For single espresso shots, you can select from the light and sweet Voltesso capsules to the highly intense and powerful Diavolitto capsules.
There's a level for all lovers of espresso drinks. The double espresso range even has its own range of capsules, including the dense and wild double espresso Chiaro, and the dark and bold double espresso Scuro. For the Americano, you have a choice from the light, decaffeinated Decaffeinato Ontuoso, or you can go as intense as the full-bodied Fortado (and plenty in between).
Related: How Much Caffeine in Nespresso? Is it More Than Coffee?
When it comes to regular coffee, you have intensity levels as low as 2 for some capsules, such as the light and fruity Soleilo. For max intensity, go for a level 8 rich and strong Stormio or a level 9 deep and dense Intenso.
For extra-large brews, Nespresso Vertuo also offers the Alto XL range, consisting of the smooth Dolce XL or the more intense Intenso XL. Finally, the milk-friendly range includes the Bianco Forte and the Bianco Leggero, which have a sweet caramel flavor to them.
Quality of Coffee
The Nespresso Next coffee machine brews coffee to a higher quality of richness and aroma, with an authentic crema that makes for a rich and smooth coffee taste. With over 30 blends of Vertuo Next coffee pods to choose from, each one produces a velvety crema indicative of the highest quality of espresso and coffee drinks. The synergy between this espresso machine and its Vertuo Next premium Nespresso capsules is simply unmatched. With centrifusion brewing technology, you get to enjoy a cup of espresso coffee that has been optimally extracted from a uniquely crafted capsule.
Nespresso Vertuo vs Original
The Nespresso Vertuo series is significantly different from Nespresso's Original line, having a greater range of cup sizes and a more unique, specifically shaped pod range with barcodes imprinted on each capsule for enabling centrifusion precision brewing.
While both the Vertuo and Original lines have plenty of Nespresso capsules available to them, the Original series does have more third-party options available to them, for example, Nespresso-compatible Starbucks pods. On the other hand, Vertuo has significantly more regular coffee blends, making it less restrictive towards espresso drinks. Learn more about them in our Original vs. Vertuo post.
How to use the Nespresso Vertuo Next coffee maker?
The Next espresso machine uses a single-button control panel, meaning you treat every type of Vertuo capsule the same once you insert it, i.e. no selecting between espresso or lungo sizes. This is because of the precision brewing technology that automatically detects the optimal size for that specific capsule, so the only thinking you really have to do is decide which blend or coffee type you desire, and select the appropriate Vertuo pod. Below is a quick rundown (not exact instructions) of how to use the Nespresso Vertuo Next:
Decide what size of coffee or espresso you want (5oz, 8oz, 18oz, single, double)
Decide what flavor or blend you want.
Open the pod compartment by rotating the lever to "unlock" so the lid springs open.
Insert the pod and close the pod compartment by rotating the lever to "lock."
Press the single brew button (it's the only button there, you can't miss it!).
As you can see, a great portion of the steps required to use the Vertuo Next machine is simply to do with selecting a pod, and that is indeed the reality of this seamlessly easy-to-use next-generation Nespresso machine.
Pros and Cons of the Nespresso Vertuo Next
Pros
Precision centrifusion brewing with barcode-scanning technology.
Richer, more authentic crema makes for a more quality coffee.
The 37oz water tank allows for 10 capsules of coffee before refilling is required.
A removable drip tray makes it easier to clean and provides taller cup support.
Comes with a welcome pack of 12 Vertuo capsule varieties.
Automatic capsule ejection and storage.
Compact dimensions provide space-saving advantages.
The spring-loaded lid is easy to operate using the rotating lever.
2-year limited warranty (1)
Cons
Not compatible with Original line Nespresso pods.
No Aeroccino milk frother included.
Compare the Different Vertuo Next Models
Delonghi vs. Breville
Breville uses a very similar design as Delonghi when it comes to the Vertuo coffee machine, though there are minor notable differences. Most importantly, you should be aware that both these models perform the same functions with regards to precision brewing via Vertuo capsules and centrifusion technology. The first (and perhaps only) difference you'll notice right off the bat is the differing colors, with Delonghi sporting a white color while Breville goes for a light grey shade.
While they both have other color options to choose from for their respective models, you'll be surprised that both Breville and Delonghi do not share any identical common colors, so I would suggest examining both options and going with the one with your preferred look. The price range is mostly the same, but if you are counting pennies then you perhaps will sway towards Breville for a slightly lower price point.
Nespresso Vertuo Next vs Evoluo
While both these Nespresso machines are partnered with DeLonghi, they are significantly different models for numerous reasons. Basically, the Evoluo coffee machine is the "older sibling" of the Next. It has a much larger water tank at 54 ounces and a greater capacity pod storage compartment, holding 17 capsules. To top it off, the heat time of this Evoluo machine is also much faster, coming in at 15 seconds heat-up time and comes with an Aeroccino barista frother. Naturally, with all of these superior features, the Evoluo comes at a significantly higher price range than the Next, so take that into account before jumping ship!
Nespresso Vertuo Next vs Deluxe
Similar to the Evoluo, the Deluxe Plus coffee machine also comes with an extra-large water reservoir and a bigger pod storage compartment. However, it is made with Breville instead. Despite its differences in size, the Deluxe performs on equal terms with the Next in terms of brewing, though it does come with an Aeroccino milk frother, so you may want to consider it. In terms of design differences, the Next coffee machine has a seemingly easier opening method for its pod compartment via the rotational lever, as opposed to the more basic compartment of the Deluxe Plus.
Nespresso Vertuo Next vs Vertuo
The main selling point of the original Vertuo vs. the Vertuo Next is the vintage chrome look and its greater capacity for pod storage and water reservoir capacity. It is also significantly wider than the Next, with 9-inches of width as opposed to Next's 5-inches, meaning it will take up significantly more counter space, so keep in mind your space situation. The original Vertuo machine is also a couple of pounds heavier than the Next, so it may not be a viable option for portability.
Cleaning and Maintenance
Descaling
To descale your Vertuo coffee machine, fill up the water reservoir with water and 1 unit of Nespresso descaling solution and prepare an empty 1L container to sit under the dispenser. For more details see our How to Descale a Nespresso post.
Next, empty the pod compartment, give it a rinse, and turn the lever into "locked" mode.
Next, press the brew button 3 times in succession to enter the descaling phase, allow it to flow the solution through the machine, and just wait until it stops dispensing (no need to stop the machine manually).
Repeat this process using fresh water instead of descaling the solution to give the machine a good rinse.
When finished, simply wait for 10 minutes for the machine to dry before brewing your next coffee or espresso.
Cleaning Machine
To clean the machine, that is, the exterior surface, use a wet cloth to wipe down the area. You may detach the removable drip tray and water reservoir and place them in the dishwasher if you wish.
The pod compartment should be emptied and rinsed accordingly. If you do this regularly, you should have no problem cleaning and maintaining your Vertuo coffee machine.
Frequently Asked Questions (FAQ)
Is a Nespresso Vertuo worth it?
Yes. If you are curious or wish to take your coffee experience to a level beyond the Nespresso Original line, the Vertuo is a worthwhile investment to give you a cutting-edge coffee brewing experience.
Is Vertuo plus or Vertuo next better?
The Vertuo Plus is, as its name suggests, the "plus" version of the Next, meaning it has the same foundations but grander features such as larger water tanks, pod storage, and faster heat time. On the downside, it's a little larger and heavier than the Next, making it less portable and less compact while also boasting a greater price range.
Is Vertuo Next better than the original Nespresso?
While it is ultimately a subjective matter, the Vertuo does use more advanced coffee extraction technology and so for many coffee enthusiasts, the Vertuo provides a better coffee or espresso brewing and drinking experience than the original Nespresso line.
Does Nespresso Vertuo next make espresso?
Yes, Vertuo makes standard coffee and espresso, and there is an abundance of Vertuo capsules to choose from on either end.
Check out our Best Nespresso Capsule Holders
Which Nespresso Vertuo Next Should You Buy?
I would recommend the Nespresso Vertuo Next for your next coffee maker purchase, particularly if you already have a coffee machine. While models like the DeluxePlus or the Evoluo are overall better buys in terms of superior features, the Next provides the best introduction to the Vertuo series without compromising kitchen table space.
It's a great choice to ease you into the world of Vertuo, and with its small and compact build, you could easily fit it side-by-side with your original Nespresso (or other) espresso machine.
On the other hand, if you are 100% invested in the Vertuo experience, I would definitely recommend the Evoluo, as it simply takes all the features of the Next and puts it several notches higher into the elite status.
Overall Review of Nespresso Vertuo Next
All things considered, I stand by my word that the Nespresso Vertuo Next is the ultimate introduction to the world of Vertuo's cutting-edge coffee-extraction brewing methods. Its small, compact design makes it easy to fit in your kitchen space and also eases the cleaning and maintenance process. Yes,  Nespresso is worth it.
I honestly believe anyone who considers themselves a fan of coffee needs to experience the velvety, rich, and authentic crema taste of Vertuo's standard coffee and espresso drinks. Nespresso makes its Vertuo machine with precise centrifusion brewing technology on equal playing fields with the most authentic ground coffee brews you would have tasted. It's so good we've added it to our best coffee makers under $200 list.
If you consider yourself a "techy" or perhaps a millennial and a lover of the internet and wi-fi, then you'll want to download the Nespresso app to keep track of your pods, so you know when to re-order once your stocks are low. You'll also be able to scroll through the enormous range of Nespresso's original and Vertuo capsules so you can mix, match, and experiment so that you discover that perfect cup of coffee or espresso for yourself!
Now Read About These Other Coffee Maker Reviews