If you enjoy a delicious cup of coffee and care about coffee quality, the Nespresso Essenza Mini Coffee and Espresso Machine may be a great fit for your coffee consumption needs. The Essenza Mini features a minimalist design and is easy to use to make espresso or lungo. This Nespresso Essenza Mini review will explain what comes in the box when you purchase this coffee machine, outline key specs and features of the product, and answer some common questions you may have to help you decide about the purchase.
We will also compare the Essenza Mini to other machines to help you make the best purchase decision for your needs and desires.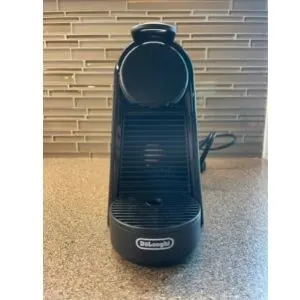 Nespresso Essenza Mini Review
✅ Founder's Choice
19 bar high pressure pump creates a barista-like Coffee every time with
2 programmable buttons for the best single serve Espresso and Lungo beverages.
Ultra light and compact Espresso and Coffee maker with 20.3 oz water tank.
Espresso maker heats up in under 30 seconds with a single touch and powers off after 9 minutes.
Reduced Energy consumption after 3 minutes.
*Founders' Choice means the founders of Millennial Homeowner use this product and recommend it.
What's in the Box
Espresso machine
Starter kit with 16 Nespresso capsules
Optional Aeroccino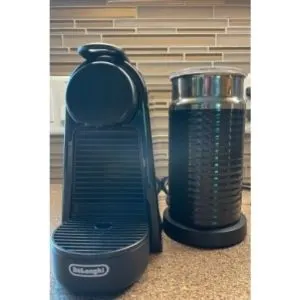 You can also purchase an aeroccino, or milk frother, to accompany your Nespresso Essenza Mini. This is useful if you enjoy drinks such as lattes or cappuccinos.
Specs
Cord Length – 39 inches
Reservoir Size – 20.3 ounces
Weight – 5 pounds
Dimensions – 4.3 inches wide x 8.0 inches deep x 12.8 inches tall
Features of Nespresso Essenza Mini
Cup Sizes
With this single-serve espresso machine, you can choose between two cup sizes. Using the buttons on the top of the machine, you can choose between making an espresso cup or a lungo cup. If you choose the espresso option, 1.35 ounces will be dispensed. If you push the lungo button, 3.7 ounces will be poured.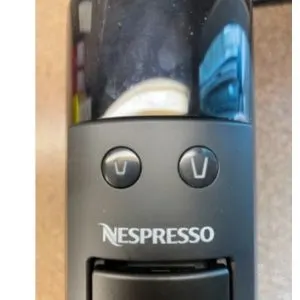 Water Reservoir
The water tank is removable and holds approximately 20 ounces of water. This means you will not have to refill the water reservoir before each use but will refill it regularly.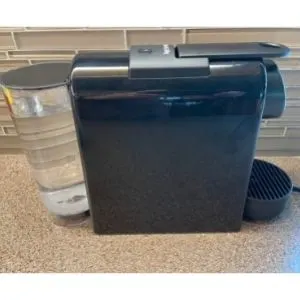 Time To Heat up
The Essenza Mini heats up in less than thirty seconds with just a single touch. So in less than a minute, you can be brewing a great cup of coffee.
Low Energy Consumption
The Nespresso Essenza Mini offers an energy-saving mode. The machine will reduce energy consumption after three minutes and automatically shut off after nine minutes.
Brewing Method
This machine has two programmable cup sizes. You can use it to make espresso and lungo. It is designed to be simple and easy to use, with unrivaled quality so that you make the perfect cup of coffee every time.
Pros and Cons of the Nespresso Essenza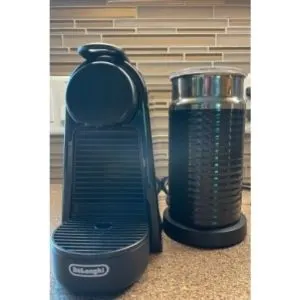 Pros
The machine is only five pounds
The compact size means it takes up minimal counter space
19 bar high-pressure pump
Simple to use functionality
Cons
The machine only makes espresso or lungo
The capsule capacity is limited
The water tank size is not too big
Only a five-inch cup clearance
How to Use a Nespresso Essenza Mini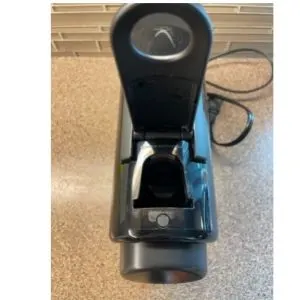 Using the Nespresso Essenza Mini is very easy. After ensuring that there is a sufficient amount of water in the reservoir, open the lid at the top, insert a single-serve coffee capsule, choose your drink size, and watch as delicious espresso or lungo pours into your cup from the coffee outlet. The machine has space for up to six capsules.
What is the Aeroccino, and what does it do?
The Aeroccino is a milk frother. This is a necessary additional piece to accompany the espresso maker if you want to make drinks such as lattes or cappuccinos that use frothed milk in addition to espresso shots. All you have to do is pour the milk into the Aeroccino and press the button. This accessory makes hot or cold milk froth and can be added to your espresso shot to make great-tasting coffee.
How Does It Compare with Other Machines?
Original vs. Vertuo
The Original Nespresso line uses a 19 bar pump to extract espresso shots from the capsules. The Vertuo line, on the other hand, uses rapid capsule spinning to extract the shots. This line also brews standard coffee as well. With a Vertuo product, you can make coffee from 1.35 ounces to 18 ounces.
If you are a coffee drinker who also likes espresso, the Vertuo is a better option for you. On the other hand, die-hard espresso lovers will likely prefer the Original line. The Original line makes espresso from .85 ounces to 5 ounces. If you traditionally drink espresso or cappuccinos, this may be the better option for you as it is a compact machine that packs a punch.
Learn the differences between Nespresso Vertuo vs Original here.
Delonghi vs. Breville
Delonghi
The Essenza Mini by DeLonghi features a triangular shape and is available in black, lime, or red. The unit's water reservoir is at the back, and there is a drip tray at the bottom underneath where you will place the cup to catch any spillover.
A 19 bar high-pressure pump is used to create a barista-life coffee with each use. There are two programmable buttons at the top to produce single-serve espresso or lungo drinks. The DeLonghi model is 1150 watts. This machine is very user-friendly and intuitive. It is also ultra-light and very compact.
The water reservoir holds approximately 20 ounces. The Essenza Mini by DeLonghi heats up in under a minute with just the touch of a button. After nine minutes of no use, it will automatically power off. This model also offers a reduced energy consumption after three minutes of nonuse has passed. In addition to the coffee machine, your purchase also comes with a complimentary gift of Nespresso Original capsules in an array of unique aromas.
Read a full description in Nespresso Delonghi vs Breville: Which is best?
Breville
The Breville model offers a slim, rectangular design. It is the smallest single-serve espresso maker Nespresso makes. Though it is a small machine, it does not lack functionality and design. The Breville model is available in piano black or pure white. The machine is portable, sleek, and has modern smooth lines.
This makes it very compact and easy to store without taking up too much counter space. Like the DeLonghi model, the Breville unit has a one-touch operation and extraction system that uses 19 bars of pressure.
You do not have to wait long for water to heat up. With the touch of a button, the water reaches the ideal temperature in less than 30 seconds.
Like the DeLonghi model, this unit also offers an energy-saving mode. You can choose from two sizes with this machine – espresso (1.35 ounces) or lungo (5 ounces).
This is a great single-serve espresso machine. If you prefer drinking iced coffee, you can also pour your creation over ice to enjoy the rich flavor coffee lovers enjoy. This model also comes with a starter set of Nespresso capsules.
Essenza Mini vs Inissia
The Inissia is a small, lightweight coffee machine. It weighs just a little over 5 pounds which makes it easy to move. The machine is 4.6 inches wide x 12.6 inches deep x 9.1 inches tall and 1200 watts. The removable water tank holds 23.8 ounces and is located at the back of the machine. The Inissia can hold 11 used capsule containers. It has fast heat up, an energy-saving mode, and automatically stands by after 30 minutes. This unit uses a manual capsule insertion and ejection and offers a folding drip tray for latte macchiato glasses.
In contrast, the Nespresso Essenza Mini is shaped more triangular. The handle also differs from the Inissia. While the Essenza Mini is taller than it is deep, the Inissia is deeper. As you weigh your option, consider the available counter space you have for a coffee maker.
Essenza Mini c30 vs. d30
Nespresso machines are versatile. The D30 is slightly taller and about an inch wider than the C30.
Cleaning and Maintenance
Easy to Clean
Cleaning the outside of the machine is easy. All you have to do is remove and empty the drip tray, drip base, capsule container, and water tank. Then, wipe it down with a damp cloth or use a mild detergent and rinse the pieces with warm or hot water. Once you dry the parts with a towel, reassemble the pieces of the units. The unit is made of plastic, so it should be easy to clean up any spills or stains on the coffee machine.
Descaling Process
It is important to regularly descale your machine to ensure the insides are clean and continue working properly. This process is simple and only takes about 15 minutes. First, you need to eject the capsule into the used capsule container. Then, empty the drip tray, drip base, and container of used capsules.
Now you are ready to add the descaling solution into the water tank. Once you place a large cup underneath the coffee dispenser, you will turn the machine on and press and hold both the espresso and lungo buttons for 5 seconds. This will cause both LED lights to blink. Then, press the lungo button and wait for the water reservoir to empty.
You will then refill the tank with the used descaling solution and complete the process again. Finally, refill the reservoir with potable water and repeat the process two more times. This will rinse out the inside of the machine.  For more details, see our How to Descale a Nespresso post.
Nespresso Essenza Mini FAQ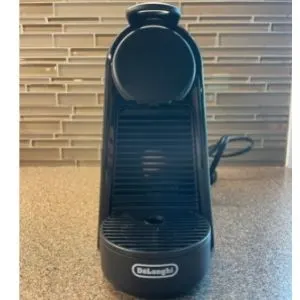 Who Makes the Nespresso Essenza Mini?
The Essenza Mini is made by Nespresso and manufactured by Breville and Delonghi and is one of their popular single-serve espresso machines.
What Pods are compatible with Nespresso Essenza mini?
You will need to use coffee capsules, not coffee pods or coffee beans, with the Nespresso Essenza Mini. Coffee grounds cannot be used in this machine either. However, you can use third-party capsules with this model.
Check out our Best Nespresso Pod Holders
Which Nespresso Essenza is best?
The Nespresso Essenza Mini is the best machine for the money. It has numerous compelling features, including eco mode and a drip grid, making quality espresso and lungo. Though it is small, you do not have to sacrifice functionality with this machine.
Does Nespresso Essenza mini make coffee?
No, it just makes espresso or lungo.
Is Nespresso Essenza discontinued?
The Nespresso Inissia has been discontinued and replaced with the Nespresso Essenza mini.
What Pods are compatible with Nespresso Essenza mini?
You have to purchase Nespresso capsules for the Essenza Mini. Unfortunately, you can't use ground coffee with this machine.
Who is the Essenza Mini Made For?
The Essenza Mini is made for coffee lovers who enjoy flavorful espresso. Similar to the type of coffee a professional barista would make, this small unit does not take up much space on the kitchen counter. Unlike complicated machines, this machine offers two sizes of coffee volume to make either espresso or lungo.
Why You Should Consider Nespresso Essenza Mini
If espresso or espresso-based drinks are your drink of choice, consider the Nespresso Essenza Mini. The programmable settings mean that you can pour your desired amount of espresso with just the push of the espresso button. If you do not desire to use ground coffee in your machine and desire the same coffee quality as your local coffee shop, this model is a great one to consider. The espresso machine can meet your caffeine needs without overwhelming your countertop. It's a great price point and has earned a spot on our top coffee makers under $200 list.
The Nespresso Essenza Mini Review: Final Thoughts
This espresso maker is a great option if you want to make quality drinks like you would get from a coffee shop without leaving your home. This coffee maker allows you to enjoy espresso or lungo beverages with just the push of a button. You can use reusable capsules or a Nespresso capsule.
If you enjoy brewing ground coffee, this is not the machine for you. In addition, making more espresso cups will require frequently refilling the water reservoir as it only holds about 20 ounces. However, if you are just getting started making espresso at home, the simplicity of this machine may be desirable to you.
The Small Footprint
The Essenza Mini has a minimal footprint, and it also doubles as a water heater if you prefer to make an Americano or hot tea. Because of the small size of the machine, the Essenza Mini has a small capacity. Some users complain that the machine is loud when brewing, so that is something to keep in mind when making your purchasing decision. Since the used capsule container only holds up to six capsules, you will need to empty it more often. These are not necessarily major inconveniences, but they are things to be aware of when deciding whether this is a worthwhile investment for you.
Is it the best for newbies?
If you are just beginning to make espresso at home, it can be hard to learn the coffee to water ratio that best fits your desired taste. If you do not want to grind your own coffee or create a recipe to suit your palate, this Essenza Mini may be a worthwhile purchase as it takes the guesswork out of the process. This low-cost model can be a great introduction to the Nespresso machines.
Fast Heating
The fast heat-up start time is a nice benefit of the Essenza Mini. Instead of waiting for that morning cup of joe, you can instead quickly brew your espresso or lungo and be on your way. The auto-shutoff is not only energy-efficient, but it also is a nice safety feature of this model.
This Nespresso Essenza Mini review analyzed the function and design of the machine. An overview of the features were outlined, as well as the pros and cons of the unit. In addition, frequently asked questions were answered, and the Essenza Mini was compared to other popular models to help you make a well-informed decision about what is best for you.
Final Thoughts
This review also covered how to properly clean and care for the machine. In addition, I explained the descaling process, so you know how to care for the machine's exterior and interior.
All in all, the Essenza Mini is a wonderful option if you are short on space and desire a strong cup of espresso or lungo made at home. Without spending a lot of money, you can prepare barista-style drinks at home. This product is a great introduction to the Nespresso line of coffee machines and is worth considering as you make your purchase decision.
Want more Nespresso? Here are some more great reviews!