Do you long for a coffee machine that can give you cafe-quality brews in the comfort of your home with the simple press of a button? I know I do, and that's why I've never looked past my incredible Nespresso machine to get the job done. Even as I write this, I'm enjoying a beautifully brewed iced coffee on a hot day in the comfort of my backyard, and loving every moment. If you're after timeless moments too, then you'll want to pay close attention to this Nespresso Citiz and Milk review!
Citiz and Milk Overview
The fact of the matter is, coffee capsules will always trump instant coffee when it comes to securing the freshness and aroma of the finely ground coffee beans, as they are sealed in airtight aluminum from the day they are grounded.
If that wasn't enough, it's also so much easier to brew up a coffee with a Nespresso machine, as you simply insert a capsule and press a button, as opposed to boiling up water and trying to estimate the perfect amount of instant coffee powder to put into your mug.
Above all else, however, a Nespresso coffee simply tastes that much better than the instant kind, and I suspect George Clooney will attest to that.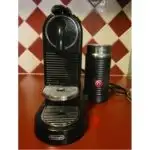 What's in the Box:
Nespresso Citiz and Milk Espresso Machine
Aeroccino 3 Milk Frother
14 Nespresso Grand Crus Capsules
User Manual
Specs
Cord Length: 2.6ft
Reservoir Size: 1L
Weight: 7.30lbs
Dimensions: 10.5 x 13.5 x 11.5
Nespresso Citiz and Milk Features
Cup Sizes
The cup sizes available for the Nespresso coffee maker are known as Espresso (1.35oz) and Lungo (5oz) and are easily identifiable through the small mug button and the large mug button. If you're a fan of stronger coffee like myself, I recommend pressing the Espresso button twice for a double shot, as this will come out stronger than the Lungo option.
Water Reservoir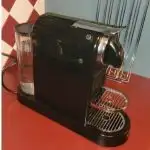 The water reservoir container capacity is 1 liter, meaning you can enjoy plenty of cups of coffee until you need to refill the tank. While it is indeed a removable water reservoir, I prefer to simply grab a kettle of water, open the lid of the water tank, and pour in without detaching it from the espresso maker. It's a time-saving mechanic you'll want to keep in mind for later!
Time To Heat up
From the moment you press the Espresso or Lungo button, it will take a mere 25 seconds to heat up to the perfect temperature and start dispensing that glorious elixir into your coffee cup! This is because of the fast heat-up system of the Nespresso coffee maker, which uses a 19 bar high-pressure pump to perfectly extracting the premium flavors and aromas from the capsule.
Low Energy Consumption
This espresso maker is built with an auto-off feature that automatically turns off the machine after 9 minutes of inactivity, saving you from wasting electricity and power (and doing the environment a favor while you're at it). To give some perspective, this feature consumes 40% less energy than coffee makers rated as "A" according to FEA/CECED labeling.
Brewing Method
The methodology behind brewing is quite simple but fascinating. Once you've inserted your choice of Nespresso pods into the capsule container and selected a brew, the coffee maker will inject hot water into the flat top of the pod. The pod is then spun at an incredibly fast rate of 7000rpm (rotations per minute), infusing the hot water and grounded beans vigorously. Finally, the resultant coffee flows out of the pod, through numerous punctured holes in the pod, and out of the dispenser into your mug!
Related: How Much Caffeine in Nespresso? Is it More Than Coffee?
Aeroccino
A great selling point of the Nespresso coffee maker is the Aeroccino milk frothing bundle (don't worry, I had no idea what it was the first time too). To keep things simple, it's essentially a built-in frother that heats up milk in a cafe-like style and topping it up with a layer of froth for a real coffee connoisseur experience, no matter what you decide to whip up.
Simple to use and easy to clean, the Aeroccino frother simply requires you to fill it up and press a single button that heats it up to the perfect temperature while frothing it in the process. To clean, just detach the Aeroccino from its stand, open up the lid, and rinse it out with water under the sink.
Types of Coffee
The possibilities are endless with the types of coffee you can brew up using the Nespresso Citiz Milk coffee maker. Easily whip up a creamy latte using the Aeroccino or a stronger cappuccino by pressing the espresso button twice. Don't forget your summer drinks either! Grab yourself a cup of ice and brew over the top for a nice iced long black or iced latte, the perfect wake-up for a hot summer's day!
Quality of Coffee
As an owner and frequent user of this espresso maker, I can attest to the pure class of coffee quality produced and the consistency at which it does so. As the leading brand of capsule manufacturing, Nespresso is the cream of the crop when it comes to delivering flavors that appeal to everyone. With an incredibly wide selection available and also compatible with big-name brands such as L'OR, there is a delicious coffee blend out there with your name on it!
How to use the Nespresso Citiz and Milk coffee maker?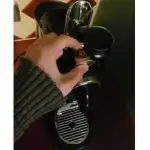 Using the Citiz Milk accessories and espresso maker requires a small learning curve, after which it becomes significantly easier than making instant coffee. The following guide will help first-timers with making their first Nespresso coffee, but you won't be needing it for long!
Step 1: Fill up the water reservoir to your desired level (use filtered water for best results).
Step 2: Open up the pod machine and insert your capsule of choice.
Step 3: Place your mug on the cup tray and select from Espresso and Lungo.
Step 4: Fill up the Aeroccino milk frother to your desired level.
Step 5: Close the lid of your Aeroccino and press the single button.
Step 6: Observe the flashing button of the Aeroccino indicating completion.
Step 7: Pour hot milk straight from Aeroccino into your mug of coffee. Enjoy!
Pros and Cons of the Nespresso Citiz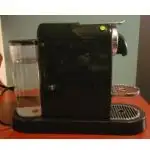 Pros
19 bar pump for fast, optimal brewing that extracts delicate flavor and aroma of capsules and dispenses coffee within 25 seconds of pushing the button.
The 1L water reservoir means you rarely need to refill with water.
Aeroccino frother makes it easy to produce a coffee shop standard tasty latte.
Removable cup tray caters to taller coffee cup recipes and full-sized cups.
Removable water tank and Aeroccino make it easy to clean using water or a damp cloth.
Programmable auto-off feature.
2-year limited warranty and support.
Cons
Not compatible with K-Cups.
Cannot ground coffee.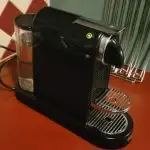 Comparing the Different Citiz Models
Delonghi vs. Nestle
It may be difficult to tell the difference between the Delonghi and Nestle models, as both use the same Nespresso coffee maker and Aeroccino compact design. I would say the difference mainly comes down to the aesthetics and bonus items. The Delonghi comes in a jet black color and a welcome pack that includes an assortment of Nespresso capsules. The Nestle comes in a silvery chrome color and does not include any additional items.
Delonghi vs. Breville
Perhaps the most notable difference between the Delonghi and Breville models is the design and color choice. Delonghi sports the sleek black design, while Breville has chosen a more retro-modern design with its silver textured surface. Despite their differing appearances, each machine produces the same level of results in terms of brewing coffee and frothing. Breville is, however, in a significantly higher price range than Delonghi (especially the Breville Bambino model), though it does come with a few more capsules in the welcome pack.
Nespresso Citiz vs Essenza
The Nespresso Essenza is like the younger sibling of the Citiz, sporting a more compact machine design and coming in an opposing white color. Due to its more compact, portable build, the Essenza only fits about 6 pods in the used capsule container, while Citiz fits about 10.
Available in a lower price range, the Essenza would be the perfect choice for someone looking to potentially travel around with their machine or simply need to fit it in a tighter spot on their kitchen bench. Learn more in our Nespresso Essenza Mini Review.
Nespresso Citiz vs Vertuo
The new Nespresso Vertuo pods are said to be a notch above the regular Nespresso capsules, providing a greater range of brew sizes and using a more advanced coffee extraction technology. Hence, the Vertuo espresso machine was made to cater to this new breed of coffee capsules, essentially enhancing the levels of aroma and flavor of your coffee.
As someone who has used the Citiz Nespresso for years now, it's hard for me to let it go, but I am thrilled at the thought of trying the latest in Nespresso coffee through the improved Vertuo range.
Here are the details of Nespresso Vertuo vs Original
Nespresso Citiz vs. Pixie
The Pixie, as its name implies, is a far smaller, more compact version of the Nespresso Citiz, making it a great option for small counter spaces. Keep in mind the smaller reservoir, however, as this would mean more frequent refills are required.
On the plus side, the Pixie warns you with a flashing light when the water tank is low, so you don't have to constantly check it yourself.
Cleaning and Maintenance
Descaling a Nespresso
To descale your Nespresso machine, simply open up the capsule compartment and empty out the used capsules. Next, hold the Espresso and Lungo buttons until they start flashing, signaling the descale mode. Fill up your water tank with a descaling solution, place an empty container under the dispenser, then click the Lungo button and wait till the tank is empty.
Finish by giving it another round of fresh drinking water in the tank and repeating the process, enabling water flow throughout the brewer. Finally, hold the Lungo and Espresso buttons together once more to return to brewing mode. While not the most intuitive process at first, you'll get used to descaling your machine with time. For more details see our How to Descale a Nespresso post.
Cleaning Machine
Cleaning the machine is simple, but it's important you do not place the whole thing in the dishwasher. The removable components such as the reservoir, built-in milk frother, and drip tray can all be washed using a dishwasher. However, the espresso maker requires a damp towel to wipe clean the surface.
Check out our Best Nespresso Pod Holders
Nespresso Citiz FAQ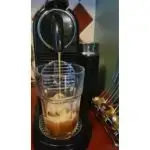 Which Nespresso model is best?
From a personal standpoint, I believe Nespresso's Citiz machine is best because of the good espresso brewing internal mechanisms that make my daily fresh coffee. On the other hand, I do suspect the Nespresso VertuoPlus will be worth trying and is potentially the best Nespresso model out there.
Does the Nespresso CitiZ make regular coffee?
The Citiz Nespresso machine makes all kinds of coffee, from a regular cappuccino to an excellent espresso or a cafe-style coffee for those that prefer lattes.
Is the Nespresso CitiZ discontinued?
No, the Citiz Nespresso is available for purchase as part of Nespresso's original line of products, and you can grab your Citiz machine via the Nespresso website or Amazon.
Which Nespresso is best with milk?
The Nespresso Citiz comes with an Aeroccino milk bundle, making it highly suited to making cafe lattes and cappuccinos.
How long does it take to make a Nespresso?
Making a Nespresso can take as little as a minute, as it only takes 25 seconds for the machine to brew to the optimal temperature, at which point it's up to the type of coffee you wish to make that'll determine the total time is taken (but you're looking at a matter of minutes).
Which Nespresso Citiz and Milk Should You Buy?
I recommend the Delonghi Nespresso machine as a staple for the common coffee drinkers. Depending on your needs, however, you may opt for something smaller like the Pixie, or something a little bulkier like the Breville. The choice of coffee machine is subjective by nature and purely comes down to personal needs and preference.
Overall Review of Nespresso Citiz and Milk
So is Nespresso worth it? It's been almost a decade since I started using the Nespresso Citiz and Milk espresso maker and milk frother, and I've never looked back! With the mere press of a button, I can enjoy my favorite espresso blends , and with a removable drip tray and adjustable folding cup tray, I can do so in any sized mug of my choosing.
To top it off, the water tank capacity is a whole litre, meaning it can go for about 10 cups of coffee before needing a refill, and being the transparent clear plastic reservoir that it is, I have no issues knowing when that time comes.
Complete with a programmable auto-off feature, you will do your electricity bills a favor while making a very slim footprint of carbon for the environment by using this espresso maker machine. As with many Nespresso machines, this one also comes with a welcome pack to get you started brewing capsules right away!
While other machines do provide capacity for more advanced brewing such as the VertuoPlus, I recommend the basic model as an introduction to the world of Nespresso. Not only is this machine super easy to use, but it's also super easy to clean and descale, and the instruction manual will guide you through it all.
Rated a strong 4.7-stars on Amazon reviews from over 2000 global ratings, you can rest assured that this machine brews the utmost highest coffee quality without compromise. Highly acclaimed for its temperature control, flavor, and blending power, even I can attest that these are among the most notable features. You can purchase this incredible coffee machine online through the Nespresso website or Amazon's digital store.
That's a wrap! I hope you've enjoyed my Nespresso Citiz review just as much as I've enjoyed writing it! From its awesome design, key features, and abundance of benefits, keep this machine in mind as you continue to explore your options.
If this Nespresso Citiz review has done it for you though, then say no more and get your hands on it today. There are plenty of great quality Nespresso machines out there, and I urge you to find the one that's best for you!
Looking for a different Nespresso? Check these out: