In this Keurig Mini Review, I will cover some of its main features and benefits, as well as its true value and why it is the right choice for any kitchen. This article aims to answer any questions you might have and hopefully help you decide if you should purchase one for yourself as well.
The Keurig K-Mini is a stylish, compact coffee maker that streamlines the entire process without breaking the bank and makes it onto our list of best Keurig coffee makers. If you are a coffee lover that prefers a single cup or just a compact travel option, it can feel daunting to review all of the coffee machines on the market.
Keurig Mini Review: Things to Know
What's in the Box
Keurig K-Mini single-serve coffee maker
Specs
Cord Length: 26 inches
Weight: 4.6 pounds
Color: a variety of matte-finish colors
Dimensions: 12.1" l x 4.5" w x 11.3" d
Features of the Keurig Mini Coffee Maker
Design
K-Mini is advertised as being a blend of sleek simplicity with a modern style. It is the slimmest model yet, at only 5-inches wide, and is designed to fit almost anywhere. Its 2-button control panel ensures an intuitive, easy-to-use brew process. Plus, it is available in 5 beautiful matte-finish colors: black, dusty rose, oasis, poppy red, and studio gray.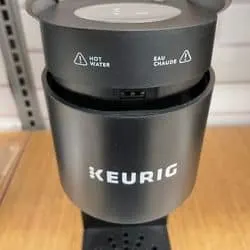 Easy To Use Control Panel
Simplicity and convenience were included in every aspect of the K-Mini. For example, its control panel consists only of a power button, a brew button, and a "ready to brew" notification light. This design simplifies the entire brewing process, allowing you to simply pop in a K-cup and push the brew button for a cup of coffee.
Water Reservoir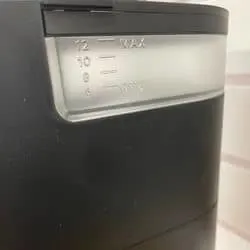 Its water reservoir is built into the machine and can hold up to 12-ounces of water.
In comparison, the K-Mini Plus has a similar sized one that is removable, and the K-Slim has a removable one that holds 46-ounces.
Keurig Mini cup sizes
The K-Mini can brew anywhere from 6 to 12 ounces. You do not have to select a specific cup size because the actual size is determined by how many ounces of water you added into the water reservoir, with 6 ounces being the minimum and 12 ounces being the maximum to brew.
You do not have to worry about fumbling with buttons to pick your cup size; it will brew exactly what you pour in.
Removable Drip Tray Accent
Its drip tray can hold an accidental brew and be completely removed to accommodate a coffee mug or travel mug up to 7-inches tall.
Cord Storage
The 26-inch cord is retractable into the machine, making it easy to transport or to have tidy counters. You can pull out the exact length that you need rather than fumbling with a too-long cord.
Warranty and Support For K-Mini
Keurig provides a one-year limited warranty for their single-serve coffee makers. In addition, you can reach out directly to their customer care through their website or customer service number if anything arises.
They also offer product support on their website, including an extensive database of articles covering how-to instructions, coffee recipes, troubleshooting guides, etc., depending on your needs.
Benefits of the Keurig K-Mini
Look and Size
The K-mini has a sleek and compact design that can fit almost anywhere. In addition, it is available in 4 matte-finish colors to match anyone's kitchen.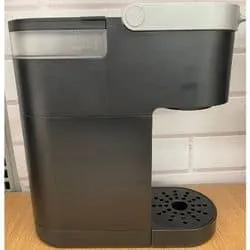 Easy to Use
This model's very simple design and 2-button control panel makes it one of the easiest models to use. For example, to brew your coffee, you only need to pop in one of the K-cups and press the button to get it started. See how easy it is in our How to Use a Keurig article.
Quality Coffee on Demand
The entire process is so simple and fast that it feels like having coffee on demand. It only takes a couple of minutes to heat the water and brew one cup of coffee. In the end, the most time you will spend preparing your coffee is selecting your K-cup and choosing what coffee or travel mug to use for your first cup.
Coffee Sizes
Cup size is determined by how much water you put in. If you want a 9-ounces cup of coffee, then you can pour in exactly that. If you prefer a smaller cup, then you can pour in just 6-ounces for your coffee maker to brew.
Cleaning
It is important to regularly clean your K-Mini to keep it running smoothly. It can be easily cleaned with a damp, soapy cloth and a run-thru of hot water. If you notice that it is dispensing your coffee really slow, see our How to Clean a Keurig Needle article.
Maintenance
Unlike some of Keurig's other coffee makers, the K-Mini does not have automatic reminders for cleaning or descaling your unit. It is recommended that you descale your unit every three to six months. This process ensures that it continues to brew delicious coffee and work properly, so I recommend adding a calendar reminder or some way to remind you.
For detailed instructions on how to descale your machine, see our how to descale a Keurig when the Keurig descale light comes on.
Pros and Cons of Keurig Mini
Pros
Auto-off feature shuts down your coffee maker after 90 seconds
The power cord is retractable for a convenient cord storage
Extremely convenient to use with its 2-button control panel
The slim, compact size makes it ideal for traveling or small spaces
Great value for its price
Cons
The water reservoir is not removable
No programming or customization options
Why choose Keurig K-Mini over other coffee machines?
There are so many reasons why you should choose the Keurig K-Mini as your single-serve coffee maker. Its slim design allows you to put it almost anywhere without taking up too much counter space. The entire brew process only takes a couple of minutes, including the time it takes to heat the water from room temperature. Every brew is the perfect amount, brewing only what you put into the water tank. Plus, its compact size and conveniences like cord storage make it easy to pack up and move almost anywhere.
It is also highly reviewed by customers; every website from Amazon to Keurig to Best Buy, the K-Mini received 4.5 to 4.6-stars rating. The K-Mini's great value, compact size, and reviews are why you should purchase it over another machine.
Who is Keurig K-Mini made for?
The K-Mini is a practical addition for almost anyone. It is small enough to fit in a variety of small spaces, from RV to tiny kitchens and more. The one-cup brew simplifies the coffee-making process for coffee drinkers that only want a single cup a day. It also conveniently packs up for the traveler that wants coffee first thing in the morning, no matter where they are.
Who should not buy the Keurig K-Mini?
If you are a coffee enthusiast looking for more control or flexibility over your coffee, then the Keurig K-Mini is not the one for you. It is designed for simplicity. If you want to have control over the brewing process, like the brew strength, cup size, delay brew, etc., then you will want to upgrade to a bigger Keurig model.
How does the Keurig Mini work?
It only takes a couple of minutes for a perfect cup of coffee with the Keurig K-Mini. Pour a cup of water into the water tank, pop in a K-cup pod, and press the silver button to brew.
You can read detailed instructions in our full post on How to work a Keurig.
How to use a Keurig Mini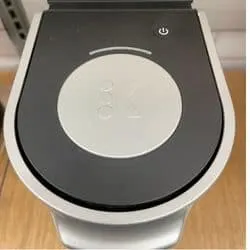 Using a Keurig Mini is super easy to do. Here are the steps for how to use a Keurig Min
Plug in the machine and press the power button on top
Pour 8 ounces of water in the back reservoir using the coffee mug you are going to drink from
Lift up the front handle and insert your favorite Keurig K-cup
Press the large button on the top of the machine
Wait for your water to heat up and pass through the K-cup to make your perfect cup of coffee
How does Keurig Mini compare to Other Keurigs?
Keurig Mini vs. Mini Plus
The Keurig K-Mini Plus boasts all of the same features that the K-Mini offers; however, it includes a few additional conveniences that make it worth its slightly higher price. It allows you to increase the strength of the brew with its strong brew button. Its water reservoir is removable for convenient refilling. Plus, it comes with a k-cup pod storage unit that conveniently fits into your brewer. If you would like to learn more, see our Keurig K-Mini Plus Review.   Read a full comparison in our Keurig Mini vs Mini Plus: Which is best? post.
Keurig Mini vs. Slim
Keurig Slim vs Mini: Which is the right one? K-Slim is very similar to the K-Mini line of coffee machines. However, it offers a little more flexibility in the cup size and how often you have to refill it. It comes with a 46-ounces water reservoir with the option to brew 8, 10, or 12-ounces. The larger reservoir does not affect its slim design though, just makes it slightly longer to accommodate the larger tank. To learn more, see our Keurig K-Slim Review.
Keurig Mini vs. Supreme
Although slightly larger to accommodate its 76-ounces water tank, the K-Supreme offers a similar slim design as the K-Mini. It also offers customization options to users that the K-Mini and K-Mini Plus do not even come close to. Although still a great value, the K-Supreme comes at a higher price as well. To learn more, see our Keurig K-Supreme Review.
Keurig Mini vs. Compact
Like the K-Mini model, K-Compact is advertised as one of their slimmest coffee makers with a removable reservoir. It holds up to 36-ounces, allowing for multiple cups of coffee before refilling. It is similarly priced to the K-Mini. If you would like to learn more, see our Keurig K-Compact Review.
Keurig Mini vs. Classic
K-Classic is Keurig's standard design for coffee makers. It includes a large, removable reservoir making it convenient for multiple cups of coffee and easy refills. K-Classic provides a little more information on the brewing process with its LED lights that show what your coffee machine needs: more water, descaling, heating up, etc. It is at a slightly higher price than the K-Mini, but not much more than the K-Mini Plus. To learn more, see our Keurig K-Classic Review.
Other Keurig options
If you are starting to rethink a smaller Keurig and want a larger one, here are some of the best Keurig coffee machines.
Keurig K-Select Coffee Maker
The K-Select includes many more customizable features and is considered a mid-range model. It is also significantly larger than the K-Mini with its one-cup reservoir. To learn more, see our Keurig K-Select Review. 
Keurig K-Elite Coffee Maker
K-Elite is considered a higher-priced option and features a large 75-ounces water reservoir, delay brew options, temperature control, and brew strength option. It can also brew iced coffee. If you would like to learn more, see our Keurig K-Elite Review. 
Keurig K-Duo Coffee Maker
K-Duo features the combined flexibility of a single-serve coffee maker with a carafe coffee machine, depending on your needs for the day. It is in a higher price range than the K-Mini but offers value if you need the flexibility of a carafe. Learn more in our Keurig K-Duo Review. 
Keurig K155 Office Pro Commercial Coffee Maker
K155 Office Pro Commercial is designed for commercial office use. It boasts a powerful touchscreen and many customizable brew options. Plus, its water reservoir can be completely drained for storage, which none of the non-commercial models are capable of. To learn more, see our Keurig K155 Office Pro Commercial Coffee Maker Review.
Keurig K-Cafe Special Edition
K-Cafe is considered a high-range model. Its most notable feature is its ability to craft specialty drinks from the comfort of your own home. It includes a built-in milk frother, giving you the ability to make lattes, cappuccinos, and other specialty drinks. You can learn more about this model in our Keurig K-Cafe Review.
Keurig K-Mini FAQ
Which Keurig Mini is the best?
It depends on your own brewing preferences and needs, but there is not necessarily a "best" option. The Keurig K-Mini Plus offers a few additional features like a strong brew button and a removable water reservoir. Both the K-Mini and the K-Mini Plus are excellent options.
Does the Keurig Mini make good coffee?
Yes, the K-Mini uses K-cups and brews the same good coffee that Keurig fans have grown to love.
Does Keurig K Mini use pods?
Yes, it uses Keurig's coffee pods, the K-cups. If you do not want to use a single-serve K-cup or just prefer your own ground coffee, it is also compatible with their My K-Cup Reusable Universal Coffee Filter.
Is the Keurig Mini worth it?
Yes, this Keurig model is a really great value. It offers you the Keurig experience without all the bells & whistles or price tag of a larger machine. In addition to this, it has a high star rating with 4.6-stars on Amazon, showing that other users really agree with its value.
What is the difference between Keurig K-Mini and K-Mini Plus?
The K-Mini Plus coffee maker includes the same features as the K-Mini with a few additional conveniences. It has a removable water reservoir, a chrome drip tray, K-cup pod storage, and a strong brew button.
How long does a Keurig Mini last?
While researching the product reviews of the K-Mini, I found that many customers left comments sharing that their coffee machine lasted for 2+ years.
Should I buy a Keurig K-Mini, coffee maker?
Yes, the K-Mini should definitely be your next purchase, especially if you only drink one cup a day or want an option that can travel with you. This coffee machine is compact and easy to use, plus it is a great price that works for almost any budget.
If the convenience feature does not sell you on it, it also has a 4.6 out of 5-stars rating on Amazon from over 45,000 reviews. You can read the coffee maker reviews here.
Overall Review of the Keurig Mini Coffee Maker
The biggest selling point of the K-Mini is its size. It is designed to fit in a variety of small spaces, making it a convenient addition to your home. Not to mention, it is very lightweight and easy to travel with if you choose to. Simply box up with some k-cups and a couple of travel mugs, and you are good to go wherever you are.
Overall, the K-Mini feels intuitive and simple to use. Its control panel consists of only two buttons: the brew button and the power button. This saves you the hassle of trying to set up your coffee, especially when you are feeling groggy and not quite awake. To brew, just pour your desired amount of water in the reservoir, place a K-cup into the machine, and press the button. I also appreciated the auto-off feature that turns it off 90 seconds after the brew cycle, so I do not have to worry about turning it off after making my cup of coffee.
There are so many other convenient features to this coffee brewer outside of its compact size and easy-to-use design. It is a 1-cup reservoir, so you just add fresh water before each brew. Your cup size is determined by how much water you add. Its drip tray is removable, allowing it to accommodate a mug up to 7-inches tall. Not to mention, if in-place, the drip tray can hold a full accidental brew for easier cleanup. The cord storage makes it easy to move anywhere or keep a tidy kitchen. It is also compatible with the My K-Cup Universal Reusable Coffee Filter, which means you can continue using your favorite ground coffee rather than switching exclusively to K-cups.
In conclusion, the K-Mini is a great value purchase. If you are a coffee drinker that is looking for an affordable Keurig option without worrying about all the customization features, then this is the right choice for you. Or even if you are just looking for a convenient option for coffee-on-the-go without having to run to purchase coffee from the closest coffee shop. Users seem to see the value in the K-Mini as well, as it has a high star rating on Amazon: 4.6-stars from over 45,000 reviewers.
As I have stressed throughout the review, Keurig K-Mini is an excellent value with its compact, sleek look and streamlined intuitive brewing process. Hopefully, this article has convinced you to purchase your own K-Mini.
What's the Best Keurig Coffee Maker?
We've reviewed all of the current Keurig coffee makers, so we know a thing or two about Keurig. Here are all the different models reviewed for your reading pleasure plus the best Keurig coffee maker
Other Keurig Related Reading: