This Keurig K-Compact review will help you determine whether this coffee machine is worth your money based on your coffee consumption needs. Do you need that cup of coffee to help you get your morning started or to make it through that mid-afternoon slump?
If you enjoy preparing a delicious cup of coffee at home, you should check out the Keurig K-Compact. Keurig coffee machines are known for their easy use and variety of coffee pods that are ideal for making coffee at home. This model is designed to take up less space while still providing you with a cup of coffee you will love.
Things to Know About the Keurig K-Compact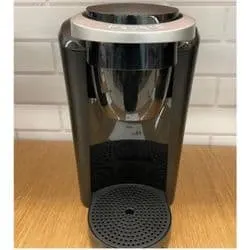 What's in the Box
Specs
Cord Length – 30 inches
Reservoir Size – 36 ounces
Weight – 6.9 pounds
Color – Black
Dimensions – 12.5" tall (16.25" when the lid is open) x 8.2" wide x 13.2" deep
Features of the Keurig K-Compact Coffee Maker
Design
This machine offers a sleek design. The unit is black with silver accents. Its slim size means it will not take up too much counter space. The K-Compact is the slimmest Keurig machine that still has a removable water reservoir. The water tank is located at the back of the machine.
Taste
You can choose from a variety of coffee pods to select the perfect tasting coffee for your tastebuds. Users love the flexibility of the Keurig and the wide variety of coffee flavors available.
Water Dispenser and Tray
If you do not want to make a cup of coffee but still need a cup of hot water, you can do that with the K-Compact as well. Simply lift the brewer handle and close it without inserting a pod. Once you select the size cup you want to be made, hot water will be dispensed on demand. This is just one of many great features of this product.
At the bottom of the K-Compact, beneath where you will set your coffee cups or travel mugs, is a drip tray with holes on the top. Any water or coffee that spills over will flow into the tray for easy clean-up. If you need more space for a taller cup like some travel mugs, you can remove the drip tray for additional space.
Ease of Use
One of the best parts about the Keurig K-Compact is how easy it is to use. All you have to do is be sure there is water in the reservoir, push the power button, insert a pod, select the cup size you want to be brewed, and watch in wonder as your delicious cup of coffee is ready in less than one minute.
Brewing Features
This Keurig offers a simple design and functionality. It brews coffee or other beverages effortlessly. The only choices you have to make are what type of pod you want to use and what size cup you want brewed. The experience could not be easier! Because of the use of K-cup pods, you can choose to brew other drinks besides coffee. Pods also can be used for drinks such as hot chocolate or hot apple cider.
Cup Sizes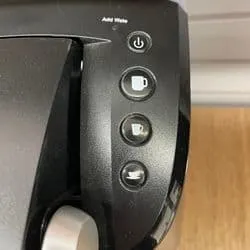 You can brew a variety of cup sizes with this product. Choose between a 6, 8, or 10-ounce cup of coffee. If you like a strong brew, choose the 6-ounce cup size.
Related: How to use a Reusable k cup
Maintenance Alerts
There are no maintenance alerts displayed on the machine. However, you should plan to descale your machine regularly. How to properly care for your machine will be discussed further in the Cleaning & Maintenance section.
Benefits of the Keurig K Compact
The main selling point of this Keurig brewing machine is its small size. Without overwhelming your countertop, you can make multiple cups of coffee from the K-Compact due to the large water tank. The machine is easy to use, thanks to the simplicity of its design and the availability of just a few buttons on the top.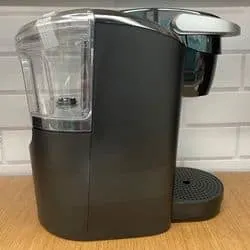 This coffee maker does not offer all of the bells and whistles, but if you are looking for a small coffee machine that makes single-serve coffees or other beverages from K cup pods, this is a great option to consider. It makes the coffee fast, which is perfect for busy people like a mom who does not have a lot of extra time to spend waiting for that first cup of joe to help her wake up.
Another main benefit is that you can choose the size cup you want to brew with the push of a button.
Cleaning & Maintenance
To clean the outside of the machine, you can use a damp cloth to wipe it down. The machine is plastic, so it is easy to clean any spills or smudges.
To maintain the inside of coffee makers, you need to descale them regularly. This involves running a descaling solution through the machine to clean out any build-up on the inside of the unit. To learn more about how to descale your machine properly, check out our here's how to descale a Keurig when the Keurig descale light stays on.
The other element of the cleaning and maintenance process is to clean the Keurig Needle. This is the part that the coffee or other beverage comes out of. To learn more about this process, you can reference our How to Clean a Keurig Needle post.
Overall, the cleaning process for a Keurig will not take much effort. With some basic information and a calendar reminder set to remember to do it, you can be on your way to protecting the integrity and durability of your machine.
Pros and Cons of Keurig K-Compact
Pros
Choose your brew size – 6, 8, or 10 ounces
You can make a variety of styles or flavors of coffee from this machine. Just use your favorite pod.
The compact design makes it easy to store or keep on the counter without taking up too much space
The water reservoir holds enough water so that you do not have to refill it each time you want to make a cup of coffee
Brews quickly in less than one minute
Cons
Not available in a wide variety of color options.
The water filter is not included
Some comments were made about it being loud
There is no temperature control
Who is Keurig K-Compact made for?
This product is made for people who enjoy drinking coffee made from a single-serve machine, especially those who are concerned about the space a coffee machine will take up in their kitchen.
If you want to quickly brew a cup of coffee and you do not need a lot of fancy features, this product is worth checking out. However, if you are looking for something more sophisticated, another Keurig may be a better option for you.
Who should not buy the Keurig K-Compact?
If you want to make fancy coffee drinks at home, the K-Compact is not for you. This single-serve machine allows you to make a variety of drinks based upon the type of pod used, but you cannot make lattes or cappuccinos with this machine. If you want more features, like the ability to program your machine to automatically brew coffee, or greater functionality, this simple Keurig may not be the best fit for you.
Other Keurig options
Keurig K-Select Coffee Maker
The K-Select Coffee Maker is more expensive than the K-Compact, but it offers a larger water tank which means you can brew more cups of coffee before you have to refill the water. You can also choose between four cup sizes on the K-Select (6, 8, 10, and 12 ounces). The K-Select model is larger, so be sure to measure your space so you will know if this machine will comfortably fit on your kitchen counter. To learn more, see our Keurig K-Select Coffee Maker review.
Keurig K-Elite Coffee Maker
If you want more options and controls than the K-Compact offers, you may want to check out the K-Elite Coffee Maker. The K-Elite is more expensive but offers more features like programmable settings, temperature control, a larger water reservoir, and five cup sizes (4, 6, 8, 10, and 12 ounces).
Most compelling for many people is the ability to make iced coffee with the K-Elite. It also has a Strong Brew function for a stronger, more intense cup of coffee. To learn more, see our Keurig K-Elite Coffee Maker review.
Keurig K-Mini Plus Coffee Maker
The K-Mini Plus packs a punch without a hefty price tag. The K-Mini Plus is about the same price as the K-Compact however there are a variety of color options available. The K-Mini Plus offers the Strong Brew feature and a slim body that is less than 5 inches wide.
However, you will have to add water each time you want to make a cup of coffee, as the water reservoir is only large enough for one cup. The K-Mini Plus offers built-in storage for up to nine coffee pods in the brewer. To learn more, see our Keurig K-Mini Plus Coffee Maker review.
Keurig K-Duo Coffee Maker
The K-Duo Coffee Maker allows you to choose whether you want to make coffee from a coffee pod or using ground coffee. It is more expensive than the K-Compact but offers more options. Choose between brewing 6, 8, 10, or 12 cups in the carafe or 6, 8, 10, or 12 ounces for a single cup.
The K-Duo machine is bulkier than the K-Compact, so be sure to consider the size to determine whether it will comfortably fit in your space. The K-Duo is programmable, so if you want to auto-brew coffee in the carafe, you can easily do so. To learn more, see our Keurig K-Duo Coffee Maker review.
Keurig K-Cafe Special Edition
If you like to enjoy fancy coffee like lattes or cappuccinos but hate the time and money spent at the local coffee shop, check out the Keurig K-Cafe Special Edition. It is significantly more expensive than the K-Compact, but there are so many more brewing options.
With the K-Cafe, you can make coffee shots for specialty drinks, froth fresh milk, and enjoy stronger coffee by using the Strong Brew option. To learn more, see our Keurig K-Cafe Special Edition review.
Keurig K-Compact FAQ
Does K Compact use K cups?
Yes, you will use K cups in this coffee machine.
How do you use Keurig K Compact?
Add water to the water reservoir and power the machine on. Then, lift the lid and insert the K cup of your choice. Close the lid and place your cup or travel mug underneath the spout. Once you choose the desired cup size, the machine will begin brewing an excellent cup of coffee. Learn more here in our How to Use a Keurig post.
Do you need a water filter for Keurig K Compact?
For best results, you should use filtered water in your Keurig. This unit does not come with a water filter, but you can buy a rear reservoir filter holder.
Is the Keurig compact noisy?
Many customer reviews indicate that this machine is noisy when in use.
Can the Keurig K Compact make hot chocolate?
Yes, you can make hot chocolate using the K Compact. Either buy the hot chocolate K cups or use the machine to pour hot water and add in your own hot chocolate mix.
Should you buy the Keurig K Compact?
As far as simple single-serve coffee makers go, the Keurig K Compact is a good option for the price. However, its functionality is limited, so if you want a more deluxe experience, another Keurig may better fit your needs.
The Keurig brand is best known for single-serve coffee made via coffee pods. The simple design and functionality is a key element of the products. If you like the option to pop in a pod, choose your cup size, and enjoy a fresh cup of coffee quickly, the K Compact is a great option to buy.
If you prefer the option to make fancier coffee drinks at home, this machine cannot handle that, but other Keurigs can provide those brewing options. You also cannot program this machine, so if that is an important feature for you, you will want to upgrade to a larger Keurig machine. If you decide to buy the K Compact, you can find it at Walmart or by clicking on the Amazon links in this article.
Overall Review of the Keurig K-Compact Coffee Maker
The K-Compact Keurig model offers a range of features that may make it a great option for you. The large water tank means that your morning routine will be more efficient because you do not have to refill it before making each cup of coffee. You can also choose the brew size you would like. Whether you are wanting a small cup or a travel mug of coffee to get you going, this machine can handle it.
The K-Compact model is simple to use and designed to be easy and straightforward. Just a few steps separate you from an enjoyable coffee experience. The size of this unit is a compelling feature as well. It will not take up too much space but can still provide a quality cup of coffee that you come to expect from the Keurig name.
I like that it uses K-cups. This gives you a wide variety of types and flavors of coffee to enjoy. If you like a variety, you can purchase a variety pack of K cups. You are also not limited to just coffee. You can use pods for hot chocolate, hot apple cider, and other types of drinks as well. The use of pods also makes it better for serving coffee to guests.
Instead of having to brew multiple types of coffee, you can offer people their choice of pods and each person can have the type of coffee they prefer. This is more economical, user-friendly, and cuts down on waste from brewing a type of coffee not many people want to drink. For basic coffee needs, the K-Compact is a worthwhile product to consider purchasing.
Want the Best Keurig Coffee Maker?
We've reviewed all of the current Keurig coffee makers, so we know a thing or two about Keurig. Here are all the different models reviewed for your reading pleasure plus the best Keurig coffee maker.