If you are like me and simply cannot function as a human being without that damned cup of coffee, then you'll want to pay special attention to this article. The Keurig K-Slim Coffee Maker is the all-American coffee machine that is recognized by some of the biggest global chains out there, such as McCafe, Dunkin Donuts, and Tully's Coffee, to name a few! In this Keurig K-Slim review, I'll be covering the specs, features, and frequently asked questions about Keurig's best-selling coffee maker while giving brief reviews about some of Keurig's other similar products.
By the end of this article, you should be well-informed about Keurig's K-Slim model, as well as other brewers offered by Keurig, so that you can make an informed choice about the type of coffee maker that best fits you. I hope to clear all questions you have about brewers, machine size, water tank, and much more!
Click here for the current price now  
Things to Know About the Keurig K-Slim
What's in the Box
Keurig K-Slim Single Serve Coffee Maker
Multiple Cup Water Reservoir
Maintenance Alerts
3 Cup Size Dispense Options
One Year Warranty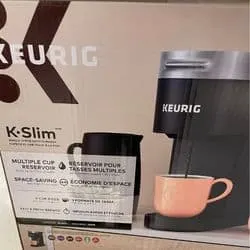 Specs
Cord Length: 30-inches
Reservoir Size: 46oz
Weight: 9 Pounds
Color: Black
Dimensions: 18 x 15 x 8 inches
Features of the Keurig Slim Coffee Maker
Design
The Keurig K-Slim coffee brewer is designed to be highly lightweight and space-efficient at less than 5-inches wide and 9 pounds heavy, meaning you don't need to worry about making room for it on your kitchen table because it will find its way in. Designed to save you space and time through its slim build and simple functionality, you will have no issues getting along with this.
Water Dispenser and Tray
Built with a multiple-cup water reservoir that holds 46oz of water per refill, you can enjoy the bliss of brewing up to 4 cups of coffee before worrying about maintenance. Additionally, it comes with a drip tray that is removable, allowing additional space for a cup up to 7-inches tall.
Ease of Use
Using this Keurig coffee brewer is an absolute breeze. Simply fill up the water reservoir with regular tap water or equivalent, insert your choice of a compatible coffee pod, and select a dispense option. If there's ever one thing I'd have to choose for my number 1 coffee brewer preference, it's how easy it is to use. No one wants a morning hassle to start their day, and I certainly wouldn't want to fill the reservoir every morning.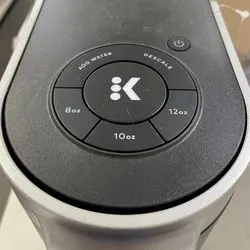 Brewing Features
When it comes to the brew, the K-slim brewer allows you to brew up to 4 cups before refilling the water reservoir. Additionally, you can brew for a range of serving sizes and even accommodate for travel mugs of up to 7-inches tall. With a lasting water reservoir and several options for your choice of brew size, it is the perfect appliance for home, traveling, or even office use.
Cup sizes
This machine has a brew button for 8oz, 10oz, and 12oz brew sizes, covering a range of preferences for different sized cups and making it a highly flexible brewer. The K-Slim coffee brewer also accommodates the Keurig single-serve K-cup, a specially designed mug of a specific cup size made for this machine that is sold separately.
Maintenance Alerts
To save you power and energy, this coffee maker automatically shuts off its brewer after 5 minutes have passed since the last brew. It also comes with an "add water" alert and a "descale" alert, signaling you to either refill the water reservoir or clean up the empty pods or other coffee particles that have dirtied the machine. You will also notice the "K-Button" light up each time the machine is processing a task, helping you keep track of your machine's status.
Benefits of the Keurig K-Slim
Compatibility with your Favorite Brands
The Keurig K-Slim coffee brewer is compatible with some of the best brands in America and the rest of the world. You can enjoy coffee brews from your favorite cafes, including world-famous cafe outlets such as Starbucks, Dunkin' Donuts, and Caribou Coffee. If you find yourself craving your favorite cafe beverages but are unable to leave home (perhaps due to a pandemic?), then you now have the option of enjoying a cup of Starbucks coffee in the comfort and safety of your kingdom.
Not only can you use the best coffee pods to make your cup of deliciously brewed coffee, but if you are more of a coffee connoisseur and prefer to brew your own ground coffee, then you will be pleased to know the K-Slim coffee maker is compatible with a K-Cup Universal Coffee Filter, allowing you to brew your own coffee from scratch. Enjoy a cup of cafe-quality coffee using your own brew, thanks to the K-Cup filter, and have fun experimenting with the possibilities of your own barista skills!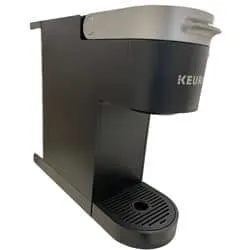 Slim, Aesthetic Design
The gorgeous black color and slim design of the K-slim coffee brewer is more than just a pretty face, and you can enjoy the luxury of fitting it on the smallest of kitchen benches. It's also extremely lightweight at just 9 pounds, so you won't have any problems repositioning this thing around your kitchen countertop. At just 5-inches of width, this product does not ask for much in terms of kitchen space, so you can simply slide it between your toasters and sandwich presses for a perfect, non-obstructing fit!
Flexibility and an Easy Brew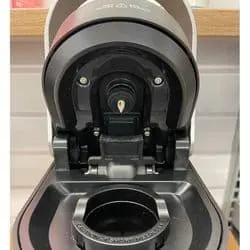 As I've mentioned in the previous section, no one wants to start their day with a morning hassle, so having a machine that's both flexible and easy to use is key for an awesome wake-up routine. The brew options let you dispense coffee at 8, 10, or 12 ounces per cup, and the removable drip tray makes it possible to cater to any sized mug of your choice!
The inclusion of a water reservoir that holds up to 4 cups of coffee before a refill is required makes life a lot easier for sure. With minimum maintenance and maximum ease of use, you have everything to gain and nothing to lose with the Keurig K-Slim coffee maker!
One Year Warranty and Top Ratings
Backed by a one-year warranty, you can rest assured that for the first year of obtaining your K-Slim machine, you will be guaranteed a satisfactory level of quality without compromise. In addition, this product is backed by an incredible Amazon rating of 4.7-stars from over 28,000 reviews, making it a highly praised and approved maker of coffee by the most important critics, the everyday people.
Pros and Cons of Keurig Slim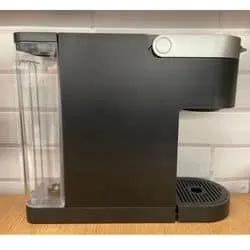 Pros
Design is compact, slim, and aesthetic, making it a gorgeous addition to any kitchen counter and saving on counter space.
Compatible with all your favorite American and global brands.
Brew options cater to different serving sizes, including 8oz, 10oz, and 12oz cups.
Water reservoir holds up to 4 cups worth of 12oz serving sizes each cycle.
A removable water tray creates extra height to accommodate travel mugs up to 7-inches tall.
Maintenance alerts notify you when the water reservoir needs refilling and when the machine needs cleaning/emptying.
One-year limited warranty.
Cons
Not compatible with Nespresso.
K-Cups and a K-Cup universal coffee filter are not included with the purchase.
Who is Keurig K-Slim made for?
Keurig K-Slim coffee makers are made for coffee lovers of all kinds, from the coffee connoisseur to the everyday coffee drinker and even those who love a good cup of hot chocolate. Its sleek, compact design makes it a great choice for people struggling in kitchen countertop space, while its removable drip tray makes it perfect for lovers of eco-friendly travel mugs!
With an abundance of coffee pod choices, the K-Slim coffee brewer appeals to lovers of big-name coffee brands, allowing you to enjoy a cup of Starbucks or Lavazza-style coffee in the comfort of your own home, provided you use their specified pods. The inclusion of maintenance alerts makes it easy to use and clean your coffee machine, keeping it in good knick as you enjoy an effortless morning to set you up for a great day.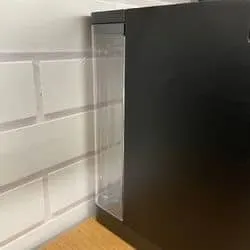 Who should not buy the Keurig K-Slim?
Obviously, do not buy this machine if you aren't a fan of coffee or hot chocolate. Jokes aside, I'd recommend loyal advocates of Nespresso brewers to steer clear from the Keurig K-slim machine, as they are not compatible. You also may not want this machine if you are fussy about colors, as it is only available in black.
How does the Keurig Slim work?
The Keurig K-Slim machine works by filling up the water reservoir, placing your mug on the tray, inserting the pod of your choice into the machine, and finally selecting one of three serving sizes to brew. You can read more about how to operate your K-Slim single-serve coffee maker in our "How to use a Keurig" article.
Other Keurig Options
Keurig K-Select Coffee Maker
Within the same price range is the Keurig K-Select model, which specializes in strength control and hot water dispensing on-demand, allowing you to make yourself a cup of tea in addition to coffee. To learn more, see our Keurig K-Select review.
Keurig K-Classic Brewer
The K-Classic Brewer is a small notch above the K-Slim model in terms of the price range, double the width, and caters for smaller ounces of coffee brewed down to 6oz sizes. To learn more, see our Keurig K-Classic Brewer review.
Keurig K-Supreme Plus Coffee Maker
Significantly higher in quality and price range is the K-Supreme Plus, which enables one to brew far more sizes than the K-Slim, and comes with multi-stream technology that locks in the aroma. To learn more, see our Keurig K-Supreme Plus Coffee Maker review.
Keurig K-Duo Coffee Maker
Not quite as pricey as the K-Supreme Plus, but still significantly higher than the K-Slim is the K-Duo, which specializes in brewing large amounts of ground coffee for coffee pots that can hold up to 12 cups. To learn more, see our Keurig K-Duo review.
Keurig K-Mini Plus Coffee Maker
The K-Mini Plus, as its name suggests, is even more small and compact than the K-Slim (but still within the same price range), making it a great choice for traveling or for a single individual while catering for 6oz to 12oz serving sizes. To learn more, see our Keurig K-Mini Plus Coffee Maker review. For a full comparison check out Keurig Slim vs Mini: Which is the right one?
Keurig K-Slim FAQ
What is the difference between Keurig Mini and Slim?
The main difference between the Keurig K-Mini and the K-Slim is the water tank. The K-Mini requires you to add water with each use, while the K-Slim can hold up to 4 cups worth of coffee using the refillable water tank.
Does K-Slim use K cups?
Yes, the K-Slim coffee brewer is compatible with K-Cups; however, they are sold separately. You can purchase your single-serve K-Cup through the company website or via Amazon.
Does Keurig K-Slim need a filter?
If you intend to ground your own coffee or do not wish to use pods, then you will need to buy a K-Cup Universal Coffee Filter separately. Otherwise, if you intend to use pods to make coffee, the filter is not needed.
Does the Keurig K-Slim make iced coffee?
The K-Slim does not directly dispense cold or iced coffee. However, you can still use the K-Slim to make iced coffee using special instructions. Essentially, you can simply dispense coffee over a cup of ice using your K-Slim coffee maker.
Should I buy a Keurig K-Slim coffee maker?
As one of the most loved coffee makers in the world, you should definitely consider buying a Keurig K-Slim coffee maker if you love a good cup of coffee (or a good cup of hot chocolate!). If you long to enjoy a cup of coffee from Starbucks, Dunkin' Donuts, or whatever your favorite brand is in the comfort of your own home, the Keurig K-Slim will help you make that dream a reality!
Want the Best Keurig Coffee Maker?
We've reviewed all of the current Keurig coffee makers, so we know a thing or two about Keurig. Here are all the different models reviewed for your reading pleasure, plus the best Keurig coffee maker.
Overall Review of the Keurig K-Slim Coffee Maker
The Keurig K-Slim Coffee Maker is one of the most reputable coffee makers in America, not to mention the rest of the world. From its sleek and slim design to its various functionalities that just make life that much easier, there is always a spot on the countertop for a K-Slim coffee machine. Brew all of your favorite coffees with this highly compatible coffee maker, which features a water reservoir that holds up to 4 cups of coffee before requiring a tank refill.
Speaking of refilling the water reservoir, you don't need to bother checking the water levels all the time, as the machine simply notifies you every time you need to refill the water tank. In addition to this awesome feature, the maintenance alert also notifies you when your machine requires an internal clean via the "descale" function (here's how to descale a Keurig when the Keurig descale light stays on), helping you avoid excess coffee particles building up in the machine. Focus less on maintenance and more on getting that perfect cup of coffee with this state-of-the-art coffee maker!
The flexibility you get from the K-Slim is great, allowing you to brew coffee of many different serving sizes while also enabling you to brew for taller cups by removing the tray. As one of the slimmest coffee machines in the world, by comparison, you can save a load of space and time through this easy-to-use and easy-to-store coffee brewer. The K-Slim is a great choice for office use due to its size and space-saving capabilities, not to mention its flexibility in brew sizes.
Final Thoughts on the K-Slim Coffee Maker
On a final note, I personally would consider the K-Slim coffee maker simply because of its incredibly high Amazon ratings, which highly regards its ease of use, flavor, and simple cleaning.
The last thing I want in the morning is a headache trying to get my first sip of caffeine to start the engine, so investing in convenience and ease is an incredibly wise decision in my books.
Getting your hands on this life-changer has never been easier. By using our Amazon links, simply provide your email address and billing info, and your K-Slim coffee maker will be well on its way into your kitchen benchtop!