In this review, two of the most globally recognized coffee maker brands shall battle it out to decide which is best once and for all. So strap yourselves in and keep your eyes peeled because you won't want to miss this epic matchup featuring Nespresso vs. Keurig, an all-out bout where both brands will be weighed up against each other on the scales of supremacy. By the end of this duel, I will be nominating a clear winner based on my own criteria as we look into the pros and cons of each brand, what they offer, what they lack, and what gives them the edge over their rivals in coffee brewing.
If you live in the US (and love coffee), you undoubtedly would've heard of Keurig, the leading manufacturer of single-serve coffee makers, K-Cup coffee pods, and ground coffee filters. On the other hand, if you happen to reside in other global regions such as Australia (like myself) or Europe, you would be more familiar with the Nestle-owned, Swiss brand of coffee makers known as Nespresso. What's so interesting is that both Keurig and Nespresso are huge brands on a global scale, and yet they differ in very significant ways. In this review of Keurig vs. Nespresso, you'll come to understand exactly what those differences are and how they are relevant to your own preferences, and that's where the fun begins.
Keurig Overview
Keurig is a beverage brewing system, otherwise known as a coffee maker, owned and manufactured by the Keurig Dr. Pepper company in America. In addition to selling coffee machines, they also sell single-serve coffee containers known as K-Cup pods, as well as various other beverage pods such as tea and hot chocolate. Trusted by some of the biggest coffee brands in America, including Starbucks, Green Mountain, and Cinnabon, Keurig has truly established itself as the go-to coffee machine distributor in the United States.
Nespresso Overview
Based in Switzerland, Nespresso is an operating unit under the brand Nestle, a name that combines "espresso" with "Nestle. The company is known for producing coffee machines, single-use capsules, pods, and other brewing-related goods and has since become a world leader in the espresso industry and a trusted brand among coffee lovers everywhere. With its new Nespresso Vertuo range, the brand has embarked into new coffee brewing territory and is considered, in many ways, a pioneer of coffee making.
Nespresso vs. Keurig: What's the difference?
Design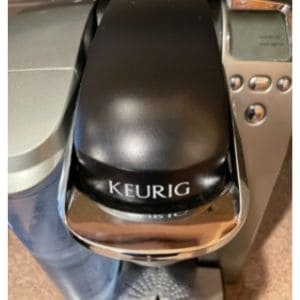 Nespresso machines are designed to be quite compact and aesthetic in appearance. These machines come with a water reservoir, a Nespresso capsule compartment, and, depending on the model, an Aeroccino milk frother. The control panel is quite simple but effective, and you'll get used to working it out in no time.
Keurig machines are also made in a compact design and deliver the same durability and reliability you'll find in a Nespresso machine. In terms of control interface, some Keurig models come with an LCD digital touch-screen display, which makes for a more interactive brewing experience.
Winner: Keurig
While both machines have proven to be reliable and durable while producing their intended results, Nespresso cannot match the sophistication of some of the Keurig interfaces. It could be argued that such interface technologies are not needed for Nespresso, but I do think it's a critical component that affects the overall experience of making coffee; hence Keurig triumphs in this battle.
Storage
Nespresso machines usually allow about 10 Nespresso capsules to fit in the empty pod cartridge, meaning you can have about 10 cups of espresso before needing to empty it out. The machine's dimensions make it easy to store in tight spots on the kitchen top, and its slim build allows it to sneak between your other appliances.
Keurig machines mostly don't come with pod storage, with exceptions such as the K-Mini Plus or the K-Slim, which come with small pod compartments. More often than not, Keurig coffee makers have large water reservoirs as they are often built with the intention of making carafes of coffee or tall Americanos. While this is great for brewing more coffee before refilling the water tank, it's not so great for saving on counter space.
Winner: Nespresso
A larger water reservoir is usually a good thing, but not when it comes to storage, and that's why Nespresso's got the edge on this one. Not only that, of course, as all Nespresso machines come with some sort of capsule container storage, something which is not as common with Keurigs. Of course, it all comes down to the specific model, but on an overall note, I have to give Nespresso the win when it comes to storage features.
Usability / Ease Of Use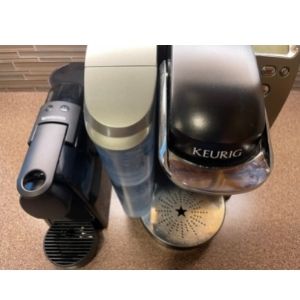 Nespresso coffee makers are designed to be easy and convenient, with no need to ground your own coffee or measure the right amount of coffee powder. While this is true for most coffee makers, Nespresso takes it to another level by incorporating straightforward controls that brew quality coffee and froth milk with the press of a single button (like this Nespresso Essenza Mini featured above).
Keurig coffee makers differ slightly in that they don't often come with a milk frother unless you go for the Keurig K-Café model. On the other hand, many Keurigs have an LCD touch-screen control panel interface, something not seen on Nespresso models. These controls come with adjustable brew temperature, a wide range of cup sizes, and even language preference.
Winner: Keurig
Both Nespresso and Keurigs come with a simple control panel that can brew different sizes of coffees or espressos. While Nespresso may have a more simplistic design, and many will argue it's actually easier to use than Keurig, my pick still goes to Keurig. The touch-screen interface simply provides far more customizable options than Nespresso, and if you're like me and enjoy trying different brews, sizes, and temperatures, then you'll find it a lot easier to achieve this with a Keurig.
Coffee machines range
Nespresso's range of single-serve espresso machines is far and wide. With the inclusion of the Nespresso Vertuo premium capsules, the brand has truly perfected the art of espresso brewing. Perhaps the main selling point, in my opinion, for Nespresso's machines are their Aeroccino milk frothers, which adds an exciting new dynamic to their products.
Keurig's line of machines ranges from the single-serve coffee maker to the Keurig K-Elite and K-Cafe range. You really can't brew a proper espresso without the Keurig K-Cafe, though, and that is one of the downfalls of the American brand. On the other hand, if you do find yourself with a K-Cafe, you'll experience a quality of coffee potentially better than your local coffee shop!
Winner: Keurig
Nespresso models are certainly impressive, especially with its Aeroccinos that make real barista-style froth. Keurigs, however, simply have a greater range of machines available with very specific tasks that can be tackled. For instance, the Keurig K-Cafe, which tackles cafe-quality coffees and frothing, or the Keurig K-Duo, which makes carafes of coffee for groups of people to enjoy.
Range of coffee pods
Nespresso's range of coffee pods truly shines with its inclusion of the Nespresso Vertuo range. This gives an edge over Keurig in terms of the types of Nespresso capsules available to them, but the downside is that this new line of pods requires a Nespresso Vertuo coffee maker.
Keurig's range of K-Cups definitely has the upper hand when it comes to brand power and variety, but each K-Cup is essentially designed the same.
Winner: Nespresso
The Nespresso Vertuo line takes the concept of variety to a different level by incorporating a completely different type of capsule altogether. If you're lucky enough to have a Nespresso Vertuo machine, then you will have access to the original and Vertuo lines of capsules, allowing for a more diverse range of brewing.
Price
Nespresso offers a large range of machines at different prices, and they often vary based on their size and additional features.
Keurig is similar in this way, as the price fluctuates between machines based on its reservoir size, core functionalities, and bonus features.
Winner: Keurig
At the end of the day, if you compare the Keurig equivalent of a Nespresso model, it'll almost always come at a lower price point. As an example, compare the Keurig K-Slim with the similarly designed Nespresso single-serve Citiz, and you'll notice a considerable difference in price with Keurig winning the battle of affordability.
Brewing
Nespresso offers a more rich taste, utilizing a brewing method encapsulating fresh coffee grounds in an airtight pod. The coffee maker comes with two buttons known as "Espresso" and "Lungo," the latter of which pours a larger ounce of coffee (though not a strong brew). As its name suggests, Nespresso is intended for primarily brewing espressos, and its new Vertuo line can do both espressos and regular coffee.
Keurig is primarily intended for brewing up regular coffees such as the Americano and is unable to do espresso brews. They are, however, designed to be compatible with hundreds upon hundreds of K-Cup brands, providing a far larger variety of flavors than Nespresso. Additionally, the Keurig K-Café model is a new machine range that actually brews both regular coffee and espresso, putting it on equal playing fields with the Nespresso Vertuoline.
Winner: Nespresso
If you've read everything up till now, you would've noticed that despite Keurig having more sophisticated controls and interfaces, I always express how simple the design of the Nespresso is. Weighing up these two machines on an even playing field will likely result in a draw, so other factors must come into play. For me, Nespresso's method of brewing coffee is just that much more simple, and even though it lacks some of the custom options that Keurig has, simplicity wins me over for this one.
Environmental impact
Nespresso generally does not have the option of reusing coffee capsules available. However there are models few and far between that can make it happen, though only with the Nespresso Vertuo machines. Nevertheless, a Nespresso capsule is free of harmful plastics and made purely from recyclable aluminum, making them highly eco-friendly and sustainable.
Keurig provides reusable K-Cups so that you have the option of brewing your own grounded coffee beans using your Keurig machine, a concept that is still in the works for Nespresso. However, when it comes to recyclability, Keurig's K-Cups are made of plastic which ultimately is harmful to the environment.
Winner: Nespresso
While Keurig has trumped Nespresso in providing reusable K-Cups, which in itself is an environmentally-friendly method of brewing, their regular pods are still made of plastic which has a larger carbon footprint. Comparing Nespresso to this, they use recyclable aluminum, which promotes eco-friendliness and sustainability.
Coffee brands
Nespresso has a huge selection of compatible coffee pods, including their very own Nespresso Vertuo pods, L'or pods, Moccona pods, and even Starbucks pods. Each brand of capsules also has an extended range of flavors and blends, providing something for everyone.
Keurig is the brand powerhouse of American coffee making. Keurig brews are highly brand-based, meaning you have hundreds of coffee brands available to you, as there is a K-Cup for everything. Beyond just Starbucks, K-Cups provide access to Dunkin Donuts, McCafe, Tully's, and Green Mountain brews, and that's just naming a few.
Winner: Keurig
One cannot simply contend with the sheer variety of brands compatible with Keurig, and while this is more to do with the company being American-based and having access to a seemingly limitless amount of brews and blends, the fact of the matter is Nespresso simple does not have the same level of compatible brands to choose from.
Beverage Variety
Nespresso allows you to make more than just espresso, including making hot chocolate, iced coffee, and other espresso based drinks. These drinks may include iced vanilla lattes, long blacks, or chai lattes.
Keurig machines brew coffee as well as hot chocolate but have the edge over Nespresso by also incorporating K-Cups from tea companies. The Keurig K-Cafe model also makes it possible to brew coffee shop-style cafe lattes.
Winner: Keurig
Both brands are extraordinarily well-versed in compatibility of many high-quality coffee beverages, but Keurig simply has the edge with its accessibility to the world of K-Cups. From tea brands to hot chocolates, and an endless amount of coffee flavors, Keurig is great for tea lovers as well as the everyday coffee fan.
Cleaning
Nespresso's coffee makers have a descaling mode which is quite simple to use. You simply hold the Espresso and Lungo buttons until they flash, then fill up the water tank with a descale solution and hit the Lungo button.
Keurigs often don't have pod compartments, and in a way, their machines probably don't need to be descaled as often as a Nespresso. In terms of the process, descaling a Keurig is more or less the same as Nespresso. For more details see our How to Descale a Nespresso post or how to descale a Keurig when the Keurig descale light stays on.
Winner: Keurig
While Keurig and Nespresso machines are relatively easy to clean and even have a removable drip tray each, the fact of the matter is that one of Keurig's downfalls, which is their lack of pod storage, actually becomes a benefit when it comes to the self-cleaning cycle. This is because you don't end up with a pile of empty K-Cups in your machine spreading coffee ground residue over time.
Cost per cup
Nespresso's original line can save you quite a lot per cup, as each capsule can be quite cheap depending on the variant. The Vertuo capsules are usually more expensive (here is the difference between Nespresso Vertuo vs Original).
Keurig's single K-Cup is at an even lower price point than a regular Nespresso pod, and in general, the most expensive K-Cups are still cheaper than the cheapest Nespresso capsules.
Winner: Keurig
There's no doubt that Keurig wins this bout, as they are cheaper than Nespresso in practically every way when it comes to cost per cup.
Related: Keurig vs Ninja Coffee Makers
Keurig vs Nespresso FAQ
Does Keurig or Nespresso make better coffee?
Keurig typically makes better regular coffee while Nespresso makes better espresso, though this is more of a consensus figure rather than a concrete fact.
Why is Nespresso so much better than Keurig?
Nespresso is superior to Keurig when it comes to pod storage, recyclability, and richer espresso-style coffee. To say they are better than Keurig overall would be a subjective statement.
Can you use Nespresso pods in a Keurig?
No, Keurig is not compatible with Nespresso pods, and vice-versa, Nespresso is not compatible with K-Cups. See our post: Can You Use Nespresso Pods in a Keurig?
Are Nespresso pods the same as K cups?
No, Nespresso capsules are made using recyclable aluminum in airtight capsules while Keurig K-Cups are made using plastic and aluminum.
What's the difference between Keurig and Nespresso?
The major difference is that Keurig specializes in regular coffee brewing using K-Cups while Nespresso specializes in rich espressos using Nespresso capsules/pods.
Is Nespresso as good as real espresso?
Yes, Nespresso is designed for the sole purpose of giving you the fresh ground coffee experience of a high-quality espresso.
Why does Nespresso taste so much better than Keurig?
Due to its richer flavor and aroma, often resulting in a strong coffee, some may prefer the taste of Nespresso to Keurig, though it comes down to personal preference.
Which is better, Keurig or Nespresso milk frother?
Nespresso's Aeroccino milk frother is generally easier to use, as it heats milk with the push of a button. Keurig usually doesn't offer milk frothers apart from its K-Cafe range.
What is the difference between a Keurig and an espresso machine?
Keurig machines brew quality coffee using K-Cups to make regular single-serve coffee while an espresso machine dispenses shots of espresso.
Can you make espresso in a Keurig?
Some later models, such as the Keurig K-Cafe, can make regular coffee as well as brew espresso.
Does Nespresso taste better than Keurig?
If you prefer richer, or a stronger coffee such as an espresso, then you'll prefer the taste of Nespresso over a Keurig. If you're a fan of Americanos, then the Keurig will likely taste better for you.
Which is better Keurig or Nespresso
Going through each component of the Keurig vs Nespresso, the clear cut winner between the battle must be Keurig, with 8 wins to 4 in its favor. Despite the overwhelming victory to Keurig, each feature was extremely close and could have gone either way, so don't count Nespresso out just yet.
The points that Nespresso won were definitely steamroll wins, from its storage to its impact on the environment, I almost wanted to give them 2 points each for these wins. Nevertheless, a winner must be decided, and Keurig has proven to have the upper hand in the features that matter most (at least to me). From its coffee machine range to its brand power, and down to its cost per cup, the winner goes to Keurig!
Click here to see the best Keurigs.
Click here to see the best Nespresso coffee makers.