Do you enjoy sipping on a fancy coffee at a coffee shop but hate the drain on your pocketbook or the time it adds to your morning routine? What if you could enjoy the same quality beverage at home for a fraction of the price? If you are looking for a machine that allows you to make fancy coffee like lattes and cappuccinos at home, check out our Keurig K-Café review. 
Keurig coffee makers are best known for using K-cup pods. You can use a K cup pod in this machine as well, but it also has the ability to make fancier, better-tasting coffee if you prefer lattes or cappuccinos. This Keurig K Cafe review will provide the product specs, key features, and benefits and answer some frequently asked questions. Through it all, the goal is to help you determine whether the Keurig K Cafe is right for you and your coffee consumption needs.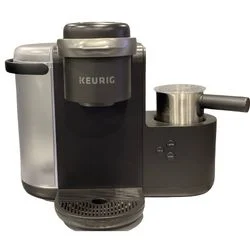 Things to Know About the Keurig K-Café
What's in the Box
Keurig K Cafe coffee maker
Milk frother
Specs
Cord Length – 30 inches
Reservoir Size – 60 ounces
Weight – 10.2 pounds
Dimensions – 12.5 inches high (16.7 inches when the top is open) x 15.3 inches wide x 11.7 inches deep
Features of the Keurig K-Café Coffee Maker
Let's review Keurig K Cafe features to help you make an informed purchasing decision. The goal of this Keurig K Cafe review is to provide you with the needed information to determine if this is a wise purchase for you. The editors independently research the products to assist you in the decision-making process.
Design
The Keurig K-Café is a dark charcoal color with silver detailing. This coffee maker is designed to hold a coffee cup or travel mugs up to 7.2" tall. Unlike other machines that are bulky, this machine's compact design allows you to prepare your favorite cup of coffee easily. Simply pop in the K Cup pod of your choice and prepare to make a delicious cup of coffee in just a few steps. If you prefer to brew ground coffee, you can use the My K-Cup Universal Reusable Coffee Filter in this machine as well.
On the left side of the machine is the water reservoir. The coffee machine part, including controls, is located in the middle of the unit. On the right side is the milk frother. This modern design is a departure from the typical Keurig aesthetic and is bulkier and heavier.
Programmable and Customizable
This machine produces a single-serve brew. The Keurig K-Café has a "Shot" button so that you can brew a concentrated shot of coffee from the K Cup pod. The coffee maker also features a Smart Start design. This feature allows the coffee maker to heat and brew coffee in one step, which reduces your wait time before enjoying the cup of joe. It is also energy efficient. The machine has an automatic shutoff feature where it will turn itself off 2 hours after the last brew.
With this coffee maker, you get choices. What type of drink do you want to enjoy? Do you want it regular or strong? Iced or hot? Enjoy variety in your coffee brew all from one machine. However, if you want to program your machine to make a repetitive drink, this is not the best option. You cannot set it to automatically come on at a certain time or control the temperature used.
Water Reservoir
The Keurig K-Café offers an impressive 60-ounce water reservoir. This means that you can brew up to 6 cups of coffee before you have to refill the reservoir. This convenient design feature saves you time and is one less thing you have to do each morning. The water tank is also removable, which makes refilling it simple.
Coffee Styles Available
You can enjoy a regular cup of coffee or a latte or cappuccino from this Keurig coffee maker.
You can also use any K Cup pod in this machine.
K Cafe Cup Sizes
With the Keurig K-Café, you can choose between four cup sizes – 6 ounces, 8 ounces, 10 ounces, or 12 ounces. This is great for those days when you need an afternoon pick-up but do not want to drink a large cup of coffee.
Control Panels
This coffee maker has buttons on the top of the machine that serves as the control panel. From there, you can choose the size cup of coffee you would like. There are also buttons for strong and shot options. Needing an even bigger caffeine boost? Choose the strong shot option. You can also choose whether you want coffee or a cappuccino, or a latte.
It is incredibly easy to use this Keurig machine. Pushing the coffee button will result in a cup of regular K-cup coffee. The strong brew option means it will produce a more concentrated beverage. The shot button results in a 2-ounce cup of bold coffee to add to your frothed milk.
Warranty and Support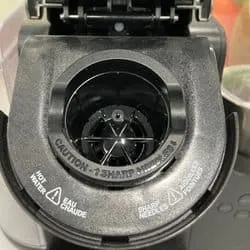 If you need help with your product, feel free to reach out to Keurig. Their website lists a support phone number and email address and offers a chat feature. There is also an extensive database of support articles, so be sure to search your question there first.
The company provides a one-year warranty against defects in materials and workmanship under normal home use.
Benefits of the Keurig K-Café
The Keurig K-Café is a powerful machine offering users many compelling benefits. Let's explore a few of the most prominent benefits you will enjoy.
Milk Frother
A milk frother is essential to making a fancy cup of coffee at home. Coffee lovers know that frothed milk adds to the luxury feeling and sets the beverage apart from a basic cup of drip coffee. The Keurig K-Café contains a dishwasher-safe milk frother. The frother uses a simple design with a magnet in the base to spin the agitator ring in order to produce the foam.
In addition, it also offers a cold setting if you are a coffee lover who prefers cold-frothed milk. You can use a variety of milk types, including almond, soy, and skim milk. This feature allows you to easily make lattes and cappuccinos at home, which will help you save money when compared to the cost of picking up a drink at a local coffee shop.
Brewing Features
Do you prefer strong coffee? Use the Strong Brew setting to increase the strength and give your coffee a bold taste. Because you are making single-serve coffee with this machine, you can prepare exactly what you want and brew lattes and cappuccinos with a plethora of flavor varieties.
Cleaning a Keurig
The drip tray, milk frother, and water reservoir are all removable, which makes cleaning easier. You can place the detachable parts in the top rack of the dishwasher, with the exception of the water reservoir. I really like that some pieces are dishwasher safe as it's one less thing to worry about when preparing your morning brew.
If you prefer to wash the pieces by hand, simply use warm, soapy water. Be sure not to use a washrag with a lot of fibers that are shed inside the water reservoir because you do not want to have strings in your coffee.
In addition to cleaning the removable parts, you also need to occasionally clean the inside pieces of the machine as well. There are two processes you need to be aware of. The first is descaling, and the second is cleaning the Keurig needle.
Descaling a Keurig K-Cafe
Descaling takes about 30 minutes. To complete this process, follow these steps:
Empty the water reservoir.
Then, add 10 ounces of vinegar or a descaling solution and fill the reservoir with water to the max fill line.
Next, place a large bowl under the nozzle.
Select a cup size to begin the brewing process. Do not insert a pod. You just want the water and vinegar or descaling solution to filter through the machine.
Repeat this until all the water is out of the reservoir.
When you are done, simply wash the reservoir with soap and water before using it again. That is all you have to do!
You have now descaled your machine and are good to go for about three months. It is cheaper to use vinegar, but beware that it may leave a residual smell and aftertaste in the machine that would require cleaning it multiple times. Instead, use the descaling solution, which will not impact the drink's flavor or leave a smell. For more information, check out our how to descale a Keurig when the Keurig descale light comes or stays on.
You will also need to occasionally clean the needle. You can buy an accessory or use a paper clip. Read more in our Keurig Needle Maintenance post here.
Maintenance
The Keurig K-Café coffee maker will alert you when it is time to descale the coffee maker. Descaling is an important maintenance function as it breaks down calcium buildups in the machine. This directly impacts the quality of the brew, so it is an important step. The machine alert makes this one less thing to worry about forgetting.
Who is the Keurig K-cafe Best for?
Compared to other coffee machines that can make lattes and cappuccinos, this is not a large machine. However, it is a large machine compared to other Keurig models. In most kitchens, it will not take up too much counter space, but be sure to measure before you buy it. If you are a regular coffee drinker who enjoys specialty beverages, the Keurig K-Café is a great option to consider to save money by making your own coffee at home. You are not limited to delicious lattes that are hot. You can also prepare iced lattes or other specialty drinks. If you want to brew coffee to fill your travel mug easily, this machine is tall enough to handle that as well.
Who is this Keurig not for?
If you do not regularly enjoy lattes or cappuccinos, this machine is not for you. There are simpler machines available if you just want to make a cup of coffee using a coffee pod. In addition, if you are a hard-core espresso drinker, this machine will likely not satisfy your tastebuds.
What's the difference between K Cafe and K Cafe Special Edition?
The Keurig K Cafe Special Edition features a sleek, modern design. It has a premium nickel color finish, a metal handle, and a drip tray. The Keurig K Cafe, on the other hand, is a dark charcoal color. Both prepare single-serve pod coffee using K cup pods.
Check the current price on the special edition now
Keurig K-Café FAQ
Does the Keurig K Cafe make good espresso?
If you are a hard-core espresso connoisseur, you may find that this machine is lacking a bit in the concentrated coffee department. However, many coffee drinkers will be satisfied by the Keurig K-Café's strong features. It is not true espresso, though.
How does the Keurig K Cafe froth milk?
There is a separate milk container with lines on the inside to indicate the amount of milk needed based upon the type of drink you are preparing. Place the container into its slot and choose whether you are making a latte or a cappuccino and if you want the milk to be cold.
Can Keurig machines make lattes?
Yes, you can make a delicious latte in this Keurig.
How does the Keurig Latte Maker work?
To prepare a decadent latte at home for a fraction of the price you would pay at the coffee shop, just follow these easy steps:
Insert a K-Cup.
Place a mug or cup under the nozzle and press the Shot button on the top. This will produce two ounces of concentrated coffee.
Pour the milk of your choice into the frother up to the fill line for lattes. Wait for the whipping mechanism to finish.
Add the frothed milk to the shot of coffee.
Add flavored syrup if desired.
How good is Keurig espresso?
With this Keurig machine, you can choose how strong you want your coffee, ensuring your drink is made to your satisfaction. Though a drink you make can have an espresso-like flavor, it is not truly espresso.
Is the Keurig Frother Dishwasher Safe?
Yes, you can clean the frother in the dishwasher which makes these coffees even easier to make!
Is there a Keurig that makes espresso and coffee?
No. Espresso is made by combining hot water and high pressure. Keurig machines do not use high pressure like espresso machines do. However, you can get close to the taste of espresso using the Keurig. You just will not have a lot of crema, the foam at the top of the espresso shot.
Does the Keurig K Cafe Special Edition make iced coffee?
Yes, you can use the K-Café to make iced coffee.
Does the Keurig Latte Maker make espresso?
Technically, it does not. However, you can make a concentrated coffee that will taste similar to espresso.
How do you use a latte and cappuccino maker on a Keurig?
After inserting the pod, press the latte & cappuccino button on the control panel to make those types of drinks. Fill the milk frother to the appropriate fill line and froth it. Pour the resulting milk on top of the brewed coffee. Enjoy!
Can I make a cappuccino with Keurig?
Yes, you can make a delicious cappuccino with the Keurig K-Café. Simply follow the steps outlined above and be sure to pour enough milk to reach the cappuccino fill line before frothing it.
Is Keurig K-Café worth the money?
Yes, for many coffee drinkers, this coffee machine is worth the money. You can choose your cup size, drink type, and if you want a stronger brew. You can also make both hot or iced coffee with one machine.
As outlined in this review of the Keurig K-Cafe, this coffee maker can serve up a variety of delicious drinks. While most pod coffee is just drip coffee, you can make fancy drinks with this machine. You can froth a variety of types of milk, including almond milk, to enjoy the flavor of steamed milk in your latte or cappuccinos without having to purchase separate electric frothers. So, yes, it's worth the money. Plus it's on our best coffee makers under $200 list.
Overall Review of the Keurig K-Café
Overall, this coffee machine is user-friendly and easy to operate. It has a brew button that is labeled for simplicity's sake, and you can even fill up travel mugs with this coffee maker. I like the option to choose cup sizes before brewing. You can enhance your drink with a coffee shot and use whatever type of K cups you wish. It is easy to clean with a removable drip tray, water tank, and a dishwasher-safe frother.
However, this machine does not offer temperature control or real espresso. Instead, it offers an espresso-like product to allow you to enjoy lattes or cappuccinos from home. If you are an avid espresso drinker, you may notice the quality difference between this and true espresso machines. It also is lacking the quiet brew technology that other coffee makers offer.
If you are looking for a single-serve coffee machine that allows you to make lattes or cappuccinos, the Keurig K Cafe is a great option to consider for your morning brew. It is simple to pop in a coffee pod, and with a few pushes of buttons, be enjoying a fancy coffee drink from the comfort of your home without worrying about measuring out the perfect coffee ratio.
Want the Best Keurig Coffee Maker?
We've reviewed all of the current Keurig coffee makers, so we know a thing or two about Keurig. Here are all the different models reviewed for your reading pleasure, plus the best Keurig coffee maker.