The Keurig K-Supreme is a higher-end Keurig model with a great design and solid features. It brews coffee in less than a minute, has a strong brew option, an iced coffee option, and features multi-stream technology, allowing it to pour water more evenly through the K-cup pod for an even better brew. By comparing it to other Keurig's and general coffee makers, the goal of this Keurig K-Supreme review is to help you decide whether it's the right Keurig for you.
Things to Know About the Keurig K-Supreme
What's in the Box
K-Supreme Coffee Maker
Water filter and handle
Specs
66 oz. Reservoir
7.68 pounds
3 Colors: Black, Grey, or White
12.1" H x 7.9" W x 12.0" D
Features of the Keurig K-Supreme Coffee Maker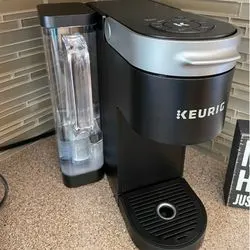 Design
A Keurig coffee brewer is great for the convenience of getting a single cup of coffee quickly in the morning with no hassle. The K-Supreme has an elegant design with a slim, K-mini style design in the middle and a clear water reservoir kept on one side or on the back, depending on your preference. The control wheel on top is easy to understand and use.
Taste
The K-Supreme uses multi-stream technology to infuse each K-cup pod with an even spread of water, enriching the flavor and aroma. The strong brew and iced coffee features mean even more choices when it comes to taste, allowing you to have your coffee your way.
Editors Note: After a month of using this new Keurig, the bold flavor adds a new dimension to the taste of the coffee pods I have been drinking for years.
Water Dispenser and Tray
With a 66 oz water reservoir and drip tray, it's easy to make multiple coffees throughout the day without refilling the machine. Both are removable and easy to clean with just soap and water, making for a convenient maintenance experience.
Ease of Use
Keurig machines, in general, are easy to use, and the K-Supreme is no exception. Simply place the desired K-cup pod into the top of the machine, choose your options on the easy-to-understand control wheel on top, and then select your preferred size of drink. The coffee will be pouring nearly instantly. See how easy it is in our How to use a Keurig post.
Brewing Features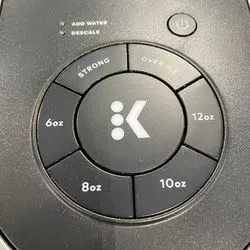 The K-Supreme features a strong brew option, brewing the grounds longer before pouring for a richer taste. Some other Keurig coffee makers don't have this option.
Iced Coffee
The K-Supreme can also brew coffee that has been super concentrated to pour over ice, making for an excellent iced coffee flavor.
Cup sizes
The K-Supreme has four sizes to choose from: 6, 8, 10, and 12 oz.
Multi-Stream Technology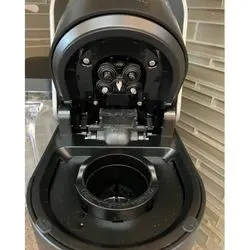 The K-Supreme's Multi-Stream Technology creates a more even brew with 5 water streams, heightening the taste and aroma of any K-cup pod. After using the multistream technology for a few months it's great. Instead of one hole in the top of the K cup, it does 5 which allows for the water to come out faster. The cups of coffee using Keurig multistream have been much better than the old single puncture cups. 
Maintenance Alerts
The K-Supreme has convenient maintenance alerts that tell you when it needs descaling and when to add more water.
Benefits of the Keurig K Supreme
Keurig K-Cups
The K-Cup is the big selling point of buying a new Keurig coffee maker. In case you don't know what it is, a K-cup holds a miniature version of the coffee brewing experience. It has a miniature filter, some coffee grounds, and a plastic seal. The K-Supreme's multi-stream technology injects not just one stream but five streams of hot water into the capsule, filling it more evenly for a more robust coffee flavor.
K-cup coffee makers use a special kind of pressure in the pods to quickly extract the flavor from the grounds, allowing them to achieve a perfect brew in less than a minute. This is perfect for those of us looking to get our coffee fix quickly early in the morning, and the single-serve amount that a K-cup provides is excellent for single-person households.
It is also very convenient that each K-cup remains individually sealed. This means you can collect a variety of brands and store them for quite a while without the danger of the grounds going stale. I can't tell you how many times I've gotten a bag of coffee and forgot about it in a back cupboard for weeks, wasting tons of coffee. It's just easier with a Keurig to buy it and forget about it without worrying.
Lastly, it's also nice to not have to guesstimate how much grounds and water to use. The machine just does all the measuring for you, and you can even keep lots of water in the reservoir for multiple drinks over time.
Controls and Cup-sizes
The K-Supreme has a simple to use control wheel on the top, allowing you to easily select your size and brew strength. The over-ice option allows you to brew the coffee especially strong, if that's what you're looking for, and works great if you are going to dilute it with ice and cream for a delicious iced coffee.
There are also over 75 brands available for purchase as K-cup pods, including Starbucks, Folgers, McCafe, and more. K-cup pods also come in quite a few different varieties, including decaf, flavored, and hot chocolate. As a result, a K-cup coffee maker often isn't a compromise in brand choice or quality.
The couple of options missing from the K-Supreme are setting a temperature control and making specialty drinks with a milk frother such as a latte or cappuccino. For these, you'll have to purchase a different Keurig option.
Other Benefits
The K-Supreme features a 66 oz water reservoir and easy maintenance routine with lights to indicate when you need to descale.
The water reservoir can be placed in the back or on the side as you prefer.
If you want to brew your own coffee, this machine also has a My-K-Cup Universal Reusable Coffee Filter accessory that lets you do so with local and gifted grounds without needing an additional device.
Washing the Keurig
It's best to wash the removable parts of your Keurig every week.
First, unplug the machine. Then, disassemble the water reservoir, lid, drip tray, and K-cup holder to prepare them to be washed.
Clean both with soap and water.
Wipe down the water reservoir and lip with a soapy cloth, then rinse it and let it dry.
Replace all parts of the machine before plugging it back in.
Also, see our post on How to Clean a Keurig Needle for more information on how to clean the needle in your Keurig machine.
How to Descale a Keurig Supreme
Depending on your water, you should descale your K-Supreme every three to six months to get rid of any hard water mineral build-up. There is a light on the Keurig Supreme that will light up when it is time to activate the descale setting.
First, turn off the Keurig Supreme
Fill the water reservoir with 16 oz of white vinegar or Keurig's Descaling Solution. Then, add 16 oz. of water or the amount specified in the descaling solution.
Hold down the 8 and 12 oz brew buttons with the power off to activate the descale cycle.
Next, start a brew cycle without a K-cup coffee pod in the machine, which will activate just the hot water. Use a cup to collect the liquid.
Once one cup is done, dispose of it in the sink.
Repeat until the whole reservoir is drained into cups and the Add More Water button is on.
Then, let the coffee machine rest for 30 minutes before emptying and rinsing the reservoir thoroughly to remove any leftover vinegar or descaling solution.
Let it dry, then refill the water tank and use as normal.
See our post on how to descale a Keurig when the Keurig descale light stays on for more information.
Pros and Cons of Keurig K-Supreme
Pros
Multi-stream technology: five streams of hot water for a better and more even brew
Beautiful design
Easy to use control wheel
Strong brew and over ice options
Water reservoir placement choice
Cons
Pricier than some Keurig machines
No temperature control
No specialty drinks
Who is Keurig K-Supreme made for?
The K-Supreme is great for single-person or smaller households who are looking for an exceptional coffee experience with the convenience of K-cup coffee pods. Keurig machines are great for making a couple of different single cups of coffee in a day and so are especially useful for single or dual-person households.
Who should not buy the Keurig K-Supreme?
The K-Supreme is still missing some special features like temperature control and the ability to brew specialty drinks.
It is also not as cost-efficient for larger households where four or more people would want the same kind of coffee simultaneously or shared spaces like an office with a similar set-up.
What is the difference between Keurig K-supreme and Keurig K Supreme Plus?
The K-Supreme Plus has a larger reservoir at 78 oz., features a stainless steel metal wrap, one more cup size (4 oz.), programmable favorites, and some options to control temperature. It also costs more. Compared with the K-Supreme, the Keurig K-Supreme Plus has quite a bit improvements, but a substantiation cost increase for them.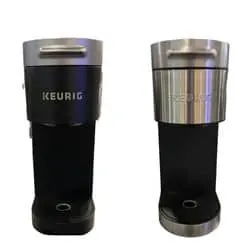 Other Keurig options
Keurig K-Mini Coffee Maker
The Keurig K-Mini Plus differs from the K-mini because it has a strong brew option, a removable water reservoir, and a couple of other minor features. Its main difference from the K-Supreme is being smaller and having only a single-cup reservoir.
To learn more, see our Keurig K-Mini Coffee Maker review.
Keurig K-Select Coffee Maker
The Keurig K-Select is a nice step up from some of the basic offerings, but still lacks the multi-stream technology of the K-supreme, as well as the over ice and a couple other minor features. However, the K-Select is quite a bit more affordable.
To learn more, see our Keurig K-Select Coffee Maker review.
Keurig K-Elite Coffee Maker
The Keurig K-Elite has some temperature control options, one smaller size available, and a larger reservoir. However, it lacks multi-stream technology and has a much bulkier design profile. The K-Elite is around the same price as the K-Supreme.
To learn more, see our Keurig K-Elite Coffee Maker review.
Keurig K-Mini Plus Coffee Maker
The Keurig K-Mini Plus is a single-cup machine that comes with features such as a strong brew option and a removable water reservoir. It differs from the other machines in its range because it has only one cup size – to make each serving, you have to refill this tiny little thing every time. The main difference between the K-mini plus and Supreme model would be size -the former being smaller but having all of these useful functions within itself while not compromising on space at your kitchen countertop!
To learn more, see our Keurig K-Mini Plus Coffee Maker review.
Keurig K-Duo Coffee Maker
The Keurig K-Duo lets you brew regular ground coffee into a carafe alongside the single-serve K-cup option for a 2-in-1 machine. Unfortunately, it lacks many of the special features of the K-Supreme. However, the dual brew feature and a few other options give it a unique spin.
To learn more, see our Keurig K-Duo Coffee Maker review.
Keurig K155 Office Pro Commercial Coffee Maker
The Keurig K155 Office Pro has a powerful touchscreen and some different features than the K-Supreme, such as a larger water tank. The K-Supreme also holds some features over the Office Pro. It is also quite a bit more expensive than the K-Supreme.
To learn more, see our Keurig K155 Office Pro Commercial Coffee Maker review.
Keurig K-Cafe Special Edition
The Keurig K-Cafe Special Edition can make specialty drinks alongside regular drip coffee and includes a milk frother for this purpose. It can make cappuccinos, lattes, and other specialty drinks using K-Cups. For this, it is also quite a bit more expensive than the K-Supreme.
To learn more, see our Keurig K-Cafe Special Edition review.
Keurig K-Supreme FAQ
Which is better Keurig Supreme or Select?
Both Keurig coffee makers are solid, making this a difficult choice that comes down to design and the multi-stream feature. The K-Supreme has a sleek, slim design with water reservoir placement options. The K-Select is cheaper.
What is the difference between Keurig Supreme and Elite?
The K-Elite has more capacity and a couple of additional features, including some options to control the temperature. But, its design is bulkier, and it doesn't have the multi-stream technology which brews a more flavorful cup of hot coffee. They are relatively close in price.
Is the Keurig Supreme worth it?
The taste difference with the Supreme is noticeable to some but not others. I really like the design and prefer it for that reason alone to most other Keurigs. Except for some special specialty features, it really has everything you want in a solid, single-cup coffee maker and is excellent for that purpose. The Keurig K-Supreme Plus is another option to look into in this line.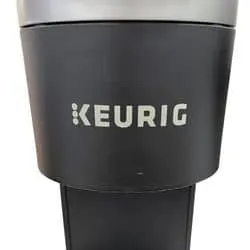 Does the Supreme make Iced Coffee?
The K-Supreme can make extra concentrated coffee with the 'over ice' button, which you can then stir with ice and your preference of base for a delicious iced coffee.
Does the Keurig K-supreme plus have a clock?
No, the Keurig K-supreme plus does not have a clock.
How hot does the Keurig K-supreme get?
The K-Supreme heats water to approximately 192 degrees F.
Should you buy the Keurig K Supreme?
The short answer is yes. The long answer depends on if the multi-stream technology matters to you. It's a nice feature for coffee lovers looking for a boost in quality with k-cup pods. It is quite a bit more expensive than some other Keurig options with fewer features, so that's also something to consider.
Overall Review of the Keurig K-Supreme Coffee Maker
Overall, the K-Supreme is one of my personal favorite Keurig machines. I love the design, and the multi-stream technology is a big plus for me. It also has a whole suite of solid additional features, such as the strong brew option, a good-sized water reservoir, and maintenance lights.
The only thing I might miss is the ability to brew specialty drinks, but that requires quite a big jump in price. On the budget side of things, since I prefer the strong brew option, there aren't that many models for much cheaper that have that option. On the other hand, if you don't need the option, then the K-mini plus might be a solid budget option, as long as you don't mind refilling the water tank for every cup.