Are you a coffee lover who enjoys espresso drinks? If you are looking for a higher-end Espresso Machine, the Breville Barista Express is a powerful option to consider. Instead of having to stop by the local coffee shop each morning, you can instead prepare a fancy coffee at home. This Breville Barista Express Review will cover key specs of the machine, an overview of it, and answer important questions about using the Breville Barista Express and other frequently asked questions.
This review aims to help you decide if the coffee machine is the right fit for your coffee consumption needs. 
Breville Barista Express Review
What's in the Box:
Razor Dose Trimming Tool
Stainless Steel Portafilter
Single and Dual Wall Filter Baskets
Coffee Scoop
Integrated Tamper
Stainless Steel Milk Jug
Cleaning Disc
Brush Tool and Allen Key
Water Filter and Filter Holder
Tablets
Specs
Cord Length – 36 inches
Reservoir Size – 67 ounces
Weight – 23 pounds
Dimensions – 12″ wide x 11″ deep x 13.5″ tall
Design
This is an all-in-one espresso machine that has numerous buttons and dials, but the good news is this is a semi-automatic machine. This means that while you have control over the settings similar to the way the big, fancy machines at your local coffee shop work, the Barista Express is set up to automate more of the process.
It has a conical burr coffee grinder built-in so that you can grind your coffee and brew a great-tasting shot of espresso. The machine also has a built-in milk frother if you enjoy drinks such as lattes or cappuccinos.
One perk of this machine is the ability to customize the controls. This gives you more control of the coffee-making process that you have with other machines.
You can also adjust settings to brew the exact type of espresso shot you desire, especially with the pressure gauge. This is crucial to making a great shot of espresso. You will feel like a home barista with this machine.
The Barista Express is available in brushed stainless steel or black and offers a sleek design.
Features
The Breville Barista Express offers dose-control grinding. This means that the integrated burr grinder will grind the coffee beans to produce the correct amount of freshly ground coffee to the portafilter. In addition, you can set the dial for your desired grind size ranging from coarse to extremely fine.
This can be suited to your taste preferences with any roast of beans. The bean hopper will hold ½ pound of beans. You can also choose whether you prefer a single or double shot of espresso.
The machine also offers precise espresso extraction. Because of the digital temperature control feature, the machine will deliver water at the exact right temperature to help ensure the espresso extraction is optimal. This will enhance the taste of your beverage.
If you enjoy cappuccinos or lattes, you can utilize the steam wand for micro-foam milk texturing. The steam wand means that you can hand texture milk to enhance your drink's flavor. You can also create latte art with the milk if you enjoy that coffee shop feel.
If you want some hot water, this machine can provide that as well. The hot water dispenser is a unique feature of the Breville Barista Express. It can be used for making tea, ciders, soups, and more.
Accessories
The Barista Express also comes with numerous accessories. This will save you money over the long haul and helps you jump right into experimenting with your brewing settings to make the ideal shot of espresso. For example, to extract espresso well, you need a tamper. The Barista Express comes with one.
While you could buy a heavier tamper, the benefit of the included one is that it is magnetic. So when you are not using it, you can suspend it by the magnet on the machine. I like this feature and the ability to keep the accessory handy without it being in the way.
The backwater tank is removable and holds half a gallon. This is the standard size on home espresso machines. When deciding whether to fill it all the way up, consider your coffee consumption needs.
You do not want to use stale water that has stayed in the reservoir for too long, as it will affect the espresso's flavor. Instead, it is better to use fresh water to make better coffee.
PID Controller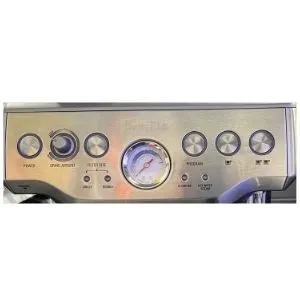 The PID controller is centered on the actively heated group head. The purpose of this controller is to monitor the brew head so that the espresso extraction is perfect. You also have control of the water temperature with this machine. You can adjust the temperature between 187 degrees and 205 degrees Fahrenheit in one-degree increments.
This type of control is not typically found on beginner home espresso machines. Instead, the PID ensures that the brewing water is at the right temperature for quality espresso extraction.
If the sensor finds that the water is too hot, the release valve will activate and cause some water to go into the drip tray. The Barista Express has a thermocoil heating system that allows the water to reach the desired temperature in about one minute.
If you are interested in making better espresso, you need to be concerned with the pressure the machine will generate when pulling shots or steaming milk and the temperature of the brewing water.
To make espresso, the machine uses pressure to force hot water through fine, fresh ground coffee.
Similarly, to produce microfoam, sufficient pressure is needed to steam the milk. Therefore, if the steam wand lacks pressure, the milk will not make foam.
Portafilter Baskets
The Barista Express comes with four portafilter baskets. This is where the coffee grounds are held while brewing. The filter baskets included are for a single shot or a double shot and both pressurized and standard.
A standard filter basket has numerous tiny holes in the bottom of the metal basket. Therefore, to brew a high-quality shot from a standard filter basket, you need to have the grind size perfect.
This is because there is nothing creating resistance except for the coffee grounds themselves. If you grind the beans too coarse, the shot will flow through too fast. The result will be sour, watery espresso.
The other option is a pressurized portafilter basket. These have fewer holes in the bottom. As a result, this creates more pressure which enhances the shot. Using a pressurized portafilter basket is more forgiving and will produce a shot with heavy crema, even if your coffee grind level was not optimal.
In essence, while the shot may not be as tasty if you use the pressurized portafilter, it is easier to brew. As a result, it is not uncommon for new users to begin with the pressurized portafilters while gaining confidence and then using the normal ones.
Pros
The design is all in one, so you will not have to buy a separate coffee grinder or milk frother.
Sleek design
Powerful machine with settings that can be modified and adjusted to fit your taste
Precise temperature control for optimal espresso extraction
Cafe style results at home
Has a pressure gauge
Cons
There is a learning curve with using this machine.
The settings can seem complicated and take some time to experiment with to find your desired outcome.
You cannot steam and brew simultaneously, so your espresso shot has to sit while you steam the milk.
Set up and First Use
Espresso can be considered a hobby, so you may have to try out different size shots, doses, and particle size combinations to brew to your desired taste. The initial setup will take some time, so do not expect to open up the package and quickly make your first beverage.
However, the Breville Barista comes with a very detailed instruction guide to help you make the most of your machine. It is not that the process is too complicated. It can just be time-consuming and require some experimentation.
This is a complex machine, so do not be surprised if it takes some time to figure out the best settings for your desired coffee taste. However, once you determine your settings, the machine is easy to use.
If you want something easy to set up right out of the box, you might be better off with a super-automatic espresso machine.
However, suppose you want to know how to best brew coffee to your specifications. In that case, this machine is excellent for experimenting and controlling various elements that will impact the taste of the espresso.
With this machine, you can enjoy the smell of coffee beans, develop a leveling and tamping technique using the portafilter, and learn how to make your perfect shot of espresso. If you are a coffee enthusiast, this is a great machine to learn on.
Grind Size
When it comes to the grind size, it is best to start with the finest level. You can adjust the coarseness from there to determine your optimal extraction. While the bean hopper holds half a pound of beans, that may be too many to pour in there at one time.
Depending on the number of times the machine is used each day, it may take too long for a half-pound of beans to be fully utilized, and the bean flavor can change over time. Instead, opt to refill the hopper more often and do not fill it completely.
The Barista Express is similar to a professional machine in that you have to grind and tamp the coffee and steam the milk manually. However, you do not just push a button and get coffee. It will probably take making at least ten drinks until you feel that you have figured out the best settings for your palette.
The manual is very helpful, especially when you are just starting out. As you experiment and get the hang of the machine's settings, do not be afraid to refer to the manual or use cheap beans so you do not feel wasteful if things do not turn out the way you hoped.
How do you use the Breville Barista Express?
To use the machine, you pour your beans in the hopper, grind them, tamp and razor them, select your brew, and steam the milk, if desired.
How do you use the Milk Frother?
If you enjoy an espresso, you know that the velvety texture is important. In order to achieve this texture, you need a quality steam wand. The manual steam wand on the Breville Barista Express allows you to create microfoam milk. This can be used for latte art or just to enhance the espresso's flavor.
The included milk pitcher holds 17 ounces. To use the milk frother, swivel the wand out and turn the dial on the side of the machine. The milk frother will generate enough water pressure to create microfoam that is evenly textured.
How do you use the Burr Grinder?
The Breville Barista Express has an 18-level integrated conical burr grinder. The grinder will dispense freshly ground coffee beans into the portafilter basket. This means that there is one less step necessary before you can prepare your espresso shot. Just pour the beans in the hopper, select the grind and filter size, and push the portafilter in.
Who is this product for?
The Barista Express is for people who enjoy espresso or espresso-based drinks and want to make them at home. You need to be willing to learn and experiment in order to hone your espresso making skills.
If you are an aspiring home barista, this semi-automatic espresso machine is a great option to consider. It has some high-end features without the price tag of many fancy espresso machines.
Types of Coffee You Can Make
With this machine, you can make delicious espresso or drinks that use espresso shots such as lattes, cappuccinos, or macchiatos. If you regularly purchase those types of drinks from your local coffee shop and want to learn how to make them for yourself at home, this machine can rival the products you buy at the cafe.
Quality of Coffee the Barista Express Makes
If you are willing to invest the time and money in the Barista Express and learn how to best use it, you can brew high-quality coffee. This machine is not like a cheap coffee pot you can buy from a big box store.
Instead, it has numerous features that are customizable so that you can make a great espresso shot. It will take a little practice to hone your barista skills, but with time, this machine can produce quality coffee drinks for you to enjoy in the comfort of your home.
Related:  Delonghi La Specialista vs Breville Barista Express: Which is better?
How do you clean the Breville Barista Express?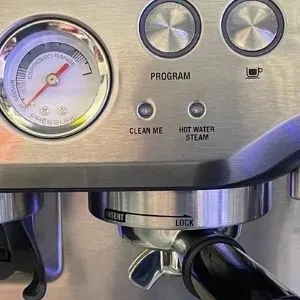 The machine has a helpful "Clean Me" light on the front to let you know when it is time to clean the unit.
To clean the Barista Express, you will need to clean out the drip tray and grounds tray, as well as the steam wand. You can also flush the machine using short bursts of steam.
Be sure to clean the steam wand by wiping it down after use. If you do not do this, a thick residue can build up on it which is harder to clean off. You will also need to clean the portafilter after each use.
I like that the drip tray on the Barista Express has a full indicator to let you know when it is time to empty it. The indicator floats and when it is visible, you know it is time to empty the tray. The tray is easy to remove so that you can empty it and clean it without much hassle.
Descaling is another important cleaning process you will need to do to keep the inside of your machine clean and working well. This process is a bit of a hassle, but it only has to be done a few times a year. The descaling process takes about 30 minutes from start to finish.
Breville Barista Express FAQ
Is Breville Barista Express worth it?
Yes, this machine is worth it if you want to make high-quality, fancy coffee drinks at home. Though this machine is not the cheapest one available, it is much more powerful than cheaper machines. With this one unit, you can grind coffee beans, make espresso shots, and froth milk.
This all-in-one design will be easier to maintain and more compact than buying multiple accessories. This coffee machine will allow you to make espresso like coffee shops do but at a more affordable price point.
How long does the Breville Barista Express last?
Great news! If you take good care of your machine, it will likely last a very long time. The machine is well-made using durable materials. The reliability and durability are key selling points of this machine, as it means the money you spend will be put to good use. The Barista Express machines can easily last for five to ten years.
Is Breville Barista Express easy to use?
At first, this machine will require some fine-tuning, and you may be concerned that it is not easy to use right out of the box. However, once you get the settings the way you like them, the machine is not complicated to use.
There is a learning curve, but it is not insurmountable if you refer to the manual, watch a YouTube video, or do some Internet research.
Are Breville espresso machines any good?
If you are looking for a higher-end espresso machine, Breville is a well-known and trusted brand. The machines are very reliable, and the Breville brand has been around for a while. Breville is known for quality kitchen appliances that are designed to perform well with quality guaranteed.
Is the Barista Pro better than the Express?
The Pro and Express are two different models offered by Breville. A key difference between them is the display. The Express has analog displays, while the Pro has digital displays. Internally, the key difference between the two models has to do with how the water is heated.
The Express uses thermocoil water heating where water is pulled into a heated coil in order to reach 200 degrees Fahrenheit. In order to allow the machine time to warm up, you need to give it a minute or two.
Alternatively, the Pro uses thermojet heating. This means that you can pull a shot within 20 seconds of turning the machine on.
The warm-up time for steaming milk is also very fast on the Pro, so there is little downtime required between brewing beverages. All in all, there are some differences between the two, but the Pro is not inherently better than the Express. Visually, the decision boils down to your preference on display type.
Check the current price of the pro  
Is Breville Barista Express discontinued?
The BES860XL model was discontinued and replaced with the BES870XL model of the Breville Barista Express.
How long does Breville bes870xl last?
Breville is known for quality. The company has a reputation for producing dependable coffee makers. With proper maintenance, this automatic espresso machine will last for many years to come.
Where Can You Buy The Barista Express?
You can buy the Barista Express from many retailers, including Amazon, Bed Bath & Beyond, and Williams-Sonoma. However, there are benefits to buying it directly from Breville. For example, the company offers a 30-day return policy on items ordered directly from Breville, USA. This does not apply if you bought the machine from another retailer.
Final Thoughts on the Breville Barista Express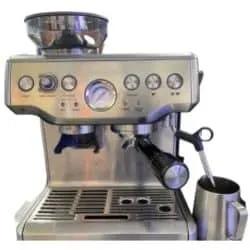 The purpose of this Breville Barista Express review was to provide an overview of the machine and its features and to help you determine if it is the right purchase for you. This is a powerful machine that can make a quality shot of espresso at home. It has many higher-end features that are found on much more expensive machines.
While it will take some trial and error to figure out the right settings, remember that espresso making is an art. There are many compelling features and included accessories that make this a worthwhile investment if you want to hone your espresso making skills at home.
Looking For A Coffee Maker? Here are more coffee maker reviews: