Arguably the two best manufacturers of high-quality espresso machines and home appliances on the market today are DeLonghi La Specialista and the Breville Barista Express. Today, we have an excellent article for you weighing up the differences, similarities, and gritty details of two highly-esteemed machines from each of these elite brands.
This review will feature an in-depth comparison of the DeLonghi La Specialista vs. Breville Barista Express as we analyze the pros and cons of each to give you some critical insights on what to expect upon purchasing either one.
What's the difference between Delonghi La Specialista vs Breville Barista Express?
Delonghi La Specialista:
Breville Barista Express:
What is the difference between La Specialista and Barista Express?
Features
While these two machines both perform at a high level when brewing delicious cups of coffee, there are quite a few differences between them. The variations in their features, whether big or small, affect how you brew your coffee. In addition, they affect the things you can and can't do to tailor the brewing process to suit your unique preferences.
Below, we'll discuss the primary differences between the DeLonghi La Specialista and Barista Express. Then, we'll dive deep into the details of what truly separates these two espresso machines.
DeLonghi La Specialista
DeLonghi's La Specialista is a top-tier espresso machine built with sensor grinder technology and a dual heating system. It turns freshly ground coffee beans into a delicious authentic espresso. In addition, it comes with an Advanced Latte System. This puts you in full control of your coffee, from the grinding to the brewing and even to the milk frothing.
The La Specialista is built with a steam wand that gives you customizable power over your milk froth. This allows you to control the temperature and level of froth for the perfect top-up to your milk-based coffee.
Breville Barista Express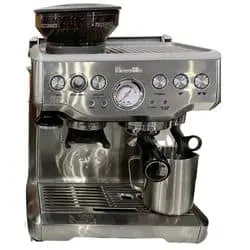 Breville's Barista Express is a gorgeous espresso machine made of brushed stainless steel. It provides a simpler design than the La Specialista. However, despite its more straightforward control panel, the Barista Express also gives you the ability to grind your coffee out of a bean hopper. Using this, you can control both the size and coarseness.
This machine comes with a stainless steel portafilter, single and dual water filter baskets, and a hot water spout. However, it may not brew as quickly as the Specialista. Still, you'll find plenty of reasons to also consider the Breville Barista Express after reading about the unique things it offers down below.
Cost
La Specialista
The DeLonghi La Specialista is not the machine you would choose while on a budget, but it certainly offers plenty of bang for your buck. With that said, it's also not the most expensive espresso machine out there. You have to understand the investment benefits of purchasing this machine and how they align with your own goals and budget. If you do, you won't have any financial regrets when purchasing.
Coming with sensor grinding technology, a smart tamping station, and a milk steaming wand, it's no wonder this machine is several notches pricier than the average coffee maker.
Barista Express
The Breville Barista Express is slightly more affordable but roughly within the same price range as the La Specialista.
This espresso machine does not incorporate the same sensory grinding technology for grinding beans.  It also doesn't have an integrated tamping system for smoothing out your grounds. However, it does include PID digital temperature control, an easier-to-use interface, and a more compact design for more accessible storage. For these reasons, it's not surprising that the Barista Express is priced within the same range as the La Specialista, as both reap unique benefits for their users.
Steaming Performance
La Specialista
The steam wand of La Specialista does more than just heat-up milk. It provides customizable options to control the texture and temperature of your creamy coffee top-up. Choosing the micro-foam frothing option will allow you to make stylish latte art to express your creativity. You can create designs that you and your family are sure to love.
If you want to skip the pleasantries, you can go for the rich froth option. This provides flat hot milk for an even and consistent cappuccino, latte, or flat white.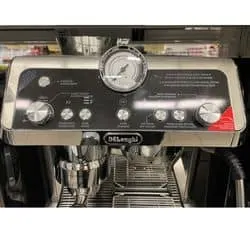 Barista Express
Like the La Specialista, the Barista Express also uses a steam wand that enables micro-foam steaming. As a result, you can create awesome latte art and top-up your cappuccino with a velvety mouthfeel of true micro-foam milk. This provides a perfect silky taste to your beverage.
On the downside, the Barista Express espresso machine does not provide customizable options, such as catering to hot flat milk like the La Specialista. You may still be able to do it. It just means you need to apply the correct techniques to do it manually. This may be a deal-breaker for those looking for an easier steaming route.
Water Tank Capacity
La Specialista
The water tank capacity for the La Specialista checks in at 84.5 ounces and is entirely transparent and removable. This means you can enjoy plenty of cups of coffee or even a full carafe before you need to refill the reservoir. Additionally, cleaning this tank is easy using a dishwasher or under the sink as it is dishwasher-friendly and, of course, detachable.
Barista Express
While not as impressive as the La Specialista, the Barista Express still boasts a reasonably large water reservoir of 67 ounces. It's also removable and dishwasher-safe, just like its competitor. As a result, you'll find just as much ease when it comes to cleaning and maintenance.
Of course, you can also brew plenty of cups and even a carafe of coffee before refilling is required. So, the reduced capacity compared to the La Specialista is unlikely to affect the average user.
Bar Pump
La Specialista
The espresso quality of the La Specialista espresso machine is quite profound, with an above-average coffee extraction mechanism of 15-bars of pressure. This means more pressure is applied when extracting coffee as they gently expand grinds, resulting in bolder and richer flavors that are more aromatic.
This, coupled with the integrated burr grinder and the automatic tamping station, leads to optimal coffee extraction that starts from freshly ground coffee directly into your cup.
Barista Express
The Barista Express is no push-over with its bar pump features, also sporting 15-bars of pressure that delivers optimal espresso extraction. However, the difference lies in how this machine uses its bar pressures instead of the La Specialista.
The Breville Barista Express delivers a lower pressure to start the brewing process, as it utilizes pre-infusion mechanisms that soak the grinds first. It then builds up to higher bars of pressure as the extraction process commences. This results in an even richer and bolder flavor that is also sweet and vicious.
Espresso Performace
La Specialista
The La Specialista is several notches above common espresso machines in terms of price and espresso quality. This is because of its sophisticated controls and integrated technology that cannot be found in an entry-level espresso machine.
This enables you to adjust grind quantities using sophisticated grind settings and sensory technology. You can enjoy consistent grinding and the optimal dose for espresso. Use these functions in conjunction with your choice of filter basket for the perfectly tailored espresso.
Barista Express
The Barista Express is made with third-wave specialty coffee meaning its been approved by the SCA – Special Coffee Association as a high-quality good espresso coffee brewer.
Breville machines such as this are part of the brand's Barista Series which comprises all-in-one espresso machines with an integrated grinder to go from coffee beans to espresso in under a minute. Using optimal water pressure and precise espresso extraction, the Breville Barista Express delivers delicious espresso with an extra kick at the push of a button.
Additional Features
What does the La Specialista come with?
The La Specialista uses active temperature control, meaning you have full control over the temperature of your brewing cycle, even down to the minute degree Fahrenheit. In addition, using two independent heating systems, the La Specialista allows you to brew coffee and steam milk at the same time. This saves you time and lightens the burden of the machine's heating systems.
Unlike the Barista Express, the La Specialista comes with a descaling solution and cleaning brush, courtesy of DeLonghi espresso machines.
What does the Barista Express come with?
In addition to the features mentioned above, the Barista Express also comes with dedicated hot water outlets. So, you can do more than just make coffee and espresso. You can also do tea, instant soup, or oatmeal. Plus, it allows you to top up your espresso shot for a delicious Americano coffee.
You can also choose a single or double-shot pressurized filter basket, and the machine gives you manual override options to overtake the brewing process. This is useful should you change your mind or wish to exert more control over your brew strength and cup size.
Warranty
La Specialista
Backed by DeLonghi's 3-year limited warranty, the La Specialista can be replaced at no extra charge for any defects experienced relating to manufacturing or materials. With this extra-long warranty, buyers can have peace of mind when making the purchase. In addition, they can guarantee themselves at least three years of quality brewing.
Barista Express
Breville provides a 1-year limited warranty for any material or manufacturing defects upon purchasing the Barista Express. Of course, this is significantly shorter than the La Specialista and could easily be a deal-breaker for some. For others, however, one year is more than enough time to gauge whether this machine is right for you.
Who is La Specialista best suited for?
The La Specialista espresso machine is best suited for those looking for a more automated machine as DeLonghi are great for super-automatic machines like this. The La Specialista makes each step easier and more convenient for you. However, it still makes high-quality coffee brewed at precisely the right temperature. This works from grinding the beans to brewing the coffee and steaming the milk.
Who is Barista Express best suited for?
The Barista Express espresso machine is better for lovers of semi-automatic machines. It provides some automatic functions but mostly puts you in the driver's seat when it comes to brewing your perfect cup of long coffee or short espresso. With a manual milk texturing component that enables velvety smooth crema and a deliciously infused coffee, this Breville machine is one of the brand's best coffee machines.
Click here to buy now  
Which is Right for You?
The contest between the DeLonghi La Specialista vs. Breville Barista Express is a fierce one. But, unfortunately, there can be no clear-cut winner for the majority.
Choosing the right product between these two espresso machines depends on how well you know yourself. I'd recommend the Barista Express for a more simplified machine that puts you in full command over how you make your coffee. This suits anyone with a bit of expert coffee-making experience who trusts their own skills more than some of the machine's preset features.
The La Specialista is more of a hybrid when it comes to giving the automatic experience and allowing you to control some things yourself. I'd recommend the La Specialista to fans of coffee brewing technology. It incorporates many sophisticated features that make it easy to get your morning fresh ground coffee into your cup.
Delonghi La Specialista vs Barista Express FAQ
Is La Specialista better than Express?
The La Specialista trumps the Barista Express to incorporate technological components for brewing and grinding and even has a more extended warranty. On the other hand, the Express provides a more compact machine and a slower, more in-depth coffee extraction process. This gives it a slight edge over the La Specialista in terms of espresso taste.
Is the La Specialista worth it?
For lovers of tech-brewing and smart features, the La Specialista is worth every penny as it is designed to make the entire brew cycle easy and effective. Using the built-in grinder and an independent heating system, you can turn pre-ground coffee beans into deliciously smooth and rich coffee. The heating system keeps track using a detailed pressure gauge. So you have all the tools you need to brew tailor-made coffee every time.
Which Breville Barista is best?
The Breville Barista Pro is a great choice if you want more automated controls over the brewing process, as it is very much like the Breville version of DeLonghi's La Specialista. In addition, with a longer warranty than the Barista Express and also several notches higher, you may choose the Barista Pro if you desire more integrated and technology-based brewing rather than the manual benefits of the Barista Express.
What is the difference between the La Specialista and Barista Express?
The La Specialista and Barista Express differences mainly come down to smart-brewing or simple manual brewing. There is also a significant difference in warranties, with the La Specialista comes with three years of warranty while the Barista Express is only one year.
Is Breville worth the money?
Breville is a top-tier provider of fantastic coffee makers, grinders, espresso brewers, and many other home appliances. Backed by at least one year of warranty (some of which are more) for their products, many customers find plenty of satisfaction by choosing Breville for their next espresso machine.
Delonghi La Specialista and Barista Express: Should You Upgrade?
All things considered, choosing between the DeLonghi La Specialista and Breville Barista Express espresso machines actually becomes a simple task when you are empowered with knowledge. This article has discussed the differences between the two and hopefully gave you a better idea of what each entails and which is right for you.
Rated a strong 4.2-stars on Amazon reviews by over 1,000 global customers, the La Specialista is highly praised for its value for money, delicious coffee flavor, and ease of use. On the other hand, the Breville Barista Express has received a higher rating of 4.7-stars from over 15,400 global reviews. It was also highly noted for its ease of use and its versatility and quality of the material. This gives it the upper hand based on customer satisfaction.
If you are still torn between the Breville machine and the De'Longhi machine, perhaps a look into the different customer reviews. See how each machine either helped them or did not fulfill their needs. It can assist in shedding some more light on your decision. Use the links below to see what customers are saying about the DeLonghi La Specialista Espresso Machine and the Breville Barista Express Espresso Machine:
DeLonghi La Specialista – https://www.amazon.com/dp/B07QMWZ6PT#customerReviews
Breville Barista Express – https://www.amazon.com/dp/B00CH9QWOU#customerReviews
Related Espresso Machine Reviews
Best Espresso Machine Under $300