Cuisinart DCC-3200 Coffee Brewer Review
Perhaps one of the most common issues with the average coffee machine is that most are just barely hot enough once the cup is ready. While most of us don't like to burn our lips on our cup of coffee, there is undoubtedly a good portion of us that wants hotter coffee. This Cuisinart DCC-3200 review is for all you hot coffee lovers out there that are tired of microwaving your cups.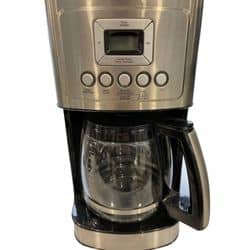 Coffee should be ready to drink from the get-go! So, get your brew-game face on as we dive in deep to bring you the specs, features, design, taste, and performance of the Cuisinart DCC 3200 PerfecTemp Coffee Maker. The fun doesn't stop there because we will also be covering how to use this superb machine.
We'll be giving you the maintenance run down, so you know how to keep it in top-notch, squeaky-clean shape! If the questions are already starting to pile up in your mind, then rest assured that our FAQ segment at the end is sure to clear your mind of concerns.
Specs
Product Dimensions: 7.75 x 9 x 14-inches
Weight: 8.75 lbs
Color: Stainless Steel
Water Reservoir: 14 cups
Carafe Size: 14 cups
Warranty: 3-Years Limited
What's Included
Cuisinart DCC-3200 PerfecTemp Coffee Maker
14 Cup Capacity Glass Carafe
Reusable Gold Tone Filter
Charcoal Water Filter
PerfecTemp Hotter Coffee Technology
3-Year Limited Warranty
Key Features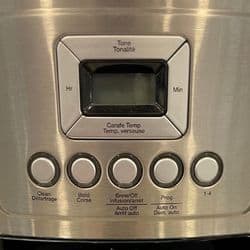 The major selling points for the Cuisinart DCC coffee brewer are mostly related to its state-of-the-art PerfecTemp heating technology. This exclusive Cuisinart machine brews the coffee at the ideal temperature to ensure hotter coffee every time. They also provide a hot plate to keep your cup of coffee nice and hot before and after the brewing process is complete.
The Cuisinart DCC 3200 delivers bold coffee flavor, fully automatic with 24-hour programmability, self-clean, quality brew-strength control, and auto-off functionality. Another significant component is the brew-pause feature. It allows you to pour yourself a cup of coffee before the brewing process is finished, and then resume as needed. Finally, the gold-tone coffee filter is included to provide optimal freshness and flavor.
Design
Built with strong stainless steel material, the Cuisinart DCC 3200 is designed to last. The material is complemented by an excellent natural silver color courtesy of the stainless steel surface. At 8.75 pounds, the machine is far lighter than it looks. Thanks to its compact design, which combined with its lightweight properties, makes it the ultimate in portability and ease of handling. You can enjoy placing this coffee maker anywhere on your kitchen counter because it will fit in even the tightest of spaces. In addition, its aesthetic can suit just about any interior design.
Taste
The key element of this machine is the superior temperature control designed to retain the aromatic flavor of the coffee. However, this is not all there is to it, as the inclusion of a gold-tone filter basket allows the natural oils of the coffee grounds to seep through, resulting in a more prosperous and fuller coffee flavor enhancement. Additionally, the charcoaled water filter ensures the water is clean and pure, leading to great-tasting coffee with every use.
Performance
The Cuisinart coffee machine delivers exceptional results while catering to your every need when it comes to performance. For example, 24-hour programmability means you can set the machine to brew your coffee ahead of time. This lets you effortlessly enjoy your morning cup of coffee without a hair of stress by programming the machine the day before.
Fully programmable and built with PerfecTemp technology, you can enjoy extra hot bold coffee, mild, regular coffee, or a mix of the two. Your experience is entirely in your hands. The brew-pause feature allows you to stop the brewing process from pouring a cup without waiting for the entire carafe to be filled up first.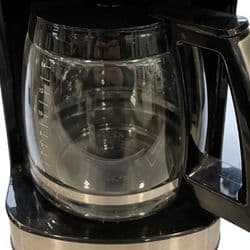 Pros
PerfecTemp technology and the hot plate enable hot coffee without sacrificing flavor.
Stainless steel build is strong, durable, and resistant to rust.
A large water reservoir of 70 oz allows you to brew plenty of coffee before refilling.
Optional ready alert tone notifies you with a sound when the coffee is ready.
Approved and certified by the Specialty Coffee Association.
24-hour programmability, self-clean, and auto-shutoff for easy, customizable, and sustainable use.
The 14 cup programmable coffeemaker allows you to brew for large groups of friends and family.
Thermal carafe with 14 cup-size capacity included.
3-year limited warranty by Cuisinart.
Cons
Not compatible with pods, capsules, or instant coffee.
Does not brew espressos.
Cuisinart DCC 3200 Review
Making coffee has never been better, as the Cuisinart DCC 3200 makes life easy with accurate filling and customizable brew strength. Unlike many coffee makers, the DCC 3200 coffee machine gives lovers of hot coffee precisely what they want. And what is that? A coffee that burns through their insides, but in a delightful manner, of course. PerfecTemp technology and a warming plate brew hot coffees while keeping your coffee warm long after filling the cup.
Rated 4.5-stars from over 30,000 customers, the Cuisinart DCC 3200 coffee brewer is overwhelmingly praised for its superior flavor, ease of use, ease of cleaning, versatility in brewing, quality of material, and lasting durability. The machine comes complete with its own thermal carafe and a 3-year warranty by the Cuisinart brand. It is also available at a great price, and I would highly recommend it to lovers of hotter coffees made from fresh coffee grinds. Check out the endless stream of comments with the link below!
https://www.amazon.com/dp/B00MVWGQX0#customerReviews
How do I use my Cuisinart coffee maker DCC 3200?
Using the Cuisinart DCC 3200 machine is a walk in the park, and is significantly less complex than a drip coffee maker. Follow the steps below for a simple guide to use your Cuisinart machine (not to be used as a detailed guide):
Open the machine lid and take out the filter holder and gold-tone brew basket.
Soak and rinse the charcoal water filter and place it in the filter holder and back into the coffee maker.
Fill the gold-tone filter basket with grounded coffee of your choice and place in the coffee maker.
Fill up the water reservoir to your desired amount using the imprinted measurements provided.
Choose your desired temperature using the carafe temp button between low, medium, or high levels.
(Optional) Press the bold button for a stronger coffee.
Press the 1-4 cup button for smaller batches of coffee e.g. a single cup.
Turn the machine on by pressing the brew button and enjoy your perfect cup or carafe of coffee.
Cleaning and Maintenance
To ensure lasting quality and operation life, you should ensure that your Cuisinart DCC 3200 machine is cleaned regularly. The easiest part is cleaning the outside, use a damp microfibre towel or equivalent with a bit of soap, and wipe down the surface from top to bottom until the steel shines bright.
Descaling a Cuisinart coffee maker is quite simple too. Simply fill up the glass carafe with about 9 ½ cups of water and 4 ½ cups of white vinegar and remove the filter holder from the coffee machine. Pour the contents of the carafe into the machine's water reservoir, close the lid, and put the empty carafe back underneath the dispenser.
Press and hold the clean button until it flashes red to signal the start of the descaling cycle. Then, wait until the carafe is full with the used cleaning solution and the cleaning cycle has ended.
Finish the descaling process by emptying and refilling the carafe completely with fresh water. Pour the full capacity into the water reservoir, and run the descale cycle by pressing and holding the clean button one more time to rinse out your machine. Place the filter holder back into the machine and close the lid, ready for the next brewing cycle.
Cuisinart DCC 1800 vs 3200
The Cuisinart DCC 3200 is essentially a newer DCC 1800, though both machines perform the same operations. The most notable difference is the control panel's layout, with the DCC 1800 having a more classical or traditional look.
Another noteworthy difference is that the DCC 3200 comes in various colors, whereas the outdated 1800 is only available in its default theme. The 1800 DCC is, however, typically available at a lower price range, making it more affordable to those on a budget.
Cuisinart DCC 3200 FAQ
How do you clean a Cuisinart DCC 3200 coffee maker?
Cleaning the Cuisinart DCC 3200 coffee brewer is simple, and descaling it is easy to learn first, use a damp cloth to wipe down the exterior of the machine and use the clean button for an interior descaling clean using a white vinegar and water solution. Ensure this process is repeated using fresh water before you brew your next coffee.
Is Cuisinart coffee maker a good brand?
Yes. Cuisinart's PerfecTemp brew machine is perfect for a hotter coffee that does not compromise on flavor or taste. As a reputable brand of homeowner products such as cookware, glassware, and coffee machines, Cuisinart takes good care of its customers through limited-time warranties and easily accessible customer support.
Do you need a coffee filter with Cuisinart?
Cuisinart coffee makers come with a charcoal filter for water and a gold-tone filter basket for coffee so you do not need to provide your own one instead, simply fill your gold-tone filter with the ground coffee of your choice and enjoy great coffee full of richness and flavor.
How do you set the timer on a Cuisinart 14 cup coffee maker?
Press the Prog/Auto On button and use the hour and minute buttons above to choose the desired time you wish to brew. Ensure that the coffee grounds and water reservoir are filled before brewing commences and that the Prog/Auto On is lighted up as it indicates that the brew will begin at the pre-programmed time.
How many ounces are in a Cuisinart 14 cup coffee maker?
The size of the water reservoir and carafe are the same, that is, 14 cups worth or 112 ounces. This means you can enjoy 14 cups of coffee before needing to refill the reservoir, resulting in less maintenance and more brew time.
How tall is a Cuisinart coffee maker?
Cuisinart coffee makers are about 14-inches (or 35cm) tall. The height is long enough to brew coffee with ease but short enough to fit in compact spaces of your kitchen countertop.
How much coffee do you put in a 14 cup Cuisinart?
As a general rule, it is best to use one tablespoon of coffee to brew one cup. As such, for a 14 cup size coffee you should use 14 tablespoons as the optimal amount. Of course, you can increase or decrease the ratios based on your preferences.
How do I set the time on my Cuisinart 14 cup coffee maker?
To set the time, press and hold the hour button until it flashes, then keep pushing it until you reach the current time of your preferred time zone. Next, do the same with the minute button to accurately set the time.
What type of filter does the Cuisinart coffee maker use?
Cuisinart coffee makers use charcoal water filters to filter water and gold-tone coffee filters to filter coffee. The gold-tone filter is essential for retaining the natural oils of the coffee grinds and retaining that flavor even when the coffee is extra hot.
Do you need a paper filter for the Cuisinart coffee maker?
Using a paper filter is optional as Cuisinart coffee makers come with charcoal water filters that purify the water by default.
How often do you change the charcoal filter in the Cuisinart coffee maker?
You should ideally change the charcoal filter after about 60 days or otherwise 60 brew cycles. You can purchase replacement NSF-certified charcoal filters online or offline at your preferred retail stores.
Cuisinart DCC-3200 Coffee Maker Review: Should You Buy It?
All things considered, if you're going to like any of Cuisinart's products, then you probably won't regret purchasing their best coffee maker, the Cuisinart DCC-3200. On the other hand, if you aren't familiar with the brand but yearn for a good cup of hotter, higher-quality coffee, then this is also a great coffee maker for you! You should now be equipped with everything you need to know about this incredible machine and make the right choice for yourself.
Say goodbye to drip coffee makers because the Cuisinart 14 cup programmable coffee machine has everything you can ever want in a machine. From hot and flavorsome brewed coffee to a hot plate, brew pause button, auto-off feature, and a bold button for stronger coffee, the possibilities are limitless for your next cup of caffeine goodness. With full control over your coffee's brew strength and temperature, you can adjust your cup to be hot and strong, mild and regular, or a combination thereof.
There's no doubt that Cuisinart has developed one of the best coffee machines you can find on the market! They also back it with a 3-year warranty, plus it has a strong 4.5-star rating from over 30,000 verified global reviews. We also know it's easy to maintain and a pleasure to brew with, so you won't regret buying this quality machine for all your ground coffee needs. Available now at an affordable price point via Amazon. Take that first step towards a greater quality of life and a more luxurious coffee drinking experience!
Check out these other drip coffee makers: