People have differing opinions about what makes the best coffee machine. I believe it comes down to automating the things we don't want to do while giving us complete control over the things we do. In this DeLonghi Magnifica Review, you'll learn about the advantages of super-automatic espresso machines as we delve deep into one of the best-performing coffee makers out there.
By the end of the article, you'll be equipped with the knowledge of what makes the Magnifica a highly-rated machine. So whether you are looking to purchase a Magnifica, have already made your order, or are figuring out how to use it, this review will help every person no matter what stage of the process you're in!
Delonghi Magnifica ESAM 3300 Review
Top Picks!
13 adjustable settings
Grinds fresh beans
Manual frother
Adjustable manual Cappuccino System
Easy to use control panel
Brew cup after cup instantly
Removable water tank and drip tray
All parts are dishwasher safe
A machine that makes you think "magnificent" every time you brew yourself a coffee, the DeLonghi Magnifica is more than a simple coffee maker. It can turn any roast into a supreme cup of coffee. This super-automatic brewer delivers top coffee quality, high-powered brewing speed, and milk-frothing magic.
Brewing espresso beans no longer has to be a hassle. The Magnifica automates all the steps and facilitates the process into one integrated solution. It takes care of the entire brew cycle from the coffee beans to the cup, incorporating the grinding, brewing, and frothing into one easy-to-use machine.
What's Included
DeLonghi Magnifica ESAM 3300 Super Automatic Espresso and Coffee Machine
Steel Burr Grinder
Removable Water Reservoir
Removable Drip Tray
Patented Milk System
Dual Thermoblock System
Removable Waste Bin
Specs
Product Dimensions: 11 x 15.3 x 14.4-inches
Weight: 23.1 lbs
Material: Stainless Steel
Color: Silver
Water Tank: 60 oz
Check the latest price
Features and Benefits
Brew Options
The Magnifica coffee machine brews anything between fresh espresso shots, Americanos, cappuccinos, lattes, and more. This machine even comes with a hot water dispenser for a cup of tea or morning oatmeal.
In addition, you can use the programmable features to set your own custom coffee brew. The Magnifica can "remember" your preset brew strength, cup size, and other settings. All of these are easily done through a simple, easy-to-use control panel. This gives you access to all these brewing options at the mere push of a button.
Steel Burr Grinder
Also included with the Magnifica is a quiet, stainless steel burr grinder. It integrates the grinding process into the machine's automatic brewing features.
In addition, the Magnifica manages to give you plenty of control despite automating this process. It has a sophisticated control panel that includes a dial to control the coarseness of your coffee grounds. Of course, you don't have to use the grinder if you don't want to, as the machine also caters to pre-ground coffee with a separate compartment.
Dual ThermoBlock System
The great thing about the Magnifica is not only its supreme brew quality but also its super convenient automation that saves you time and effort. One thing that makes this possible is the in-built Dual ThermoBlock system. The Dual ThermoBlock system provides fast heating capabilities that accelerate the brew speed to a 60-second heat-up time.
You can also brew two cups at a time using the twin brewing cycle feature for an even more timely coffee-making experience, especially when you have guests over!
Check the latest price
Patented Milk System
The Magnifica comes with an integrated milk frother. It is an adjustable manual Cappuccino System that mixes steam and milk to create a thicker, longer-lasting foam for a delicious latte or cappuccino of your choice. The advanced frother works by incorporating a sophisticated steam wand adjusted for a smooth and flat finish or a more creamy froth as preferred.
It gives you the full café experience and access to a broad spectrum of espresso-based drinks. Furthermore, the dual thermoblock system allows you to brew espresso and steam milk simultaneously. This way, you save time and get to enjoy your coffee at the optimal temperature before your espresso shot gets cold!
Water Tank
The Magnifica coffee and espresso machine is just as easy to clean as it is to use, with a variety of removable components to make the brewing process easier. One such component is the 60-ounce water reservoir that can brew up around 10 cups of coffee before needing a refill.
Thanks to its detachable nature, you can easily refill the tank under a tap without a hassle. Cleaning it is just as easy as you can handwash under the sink or opt to use the dishwasher for effortless cleaning.
Drip Tray
Coffee makers are designed to make coffee, not messes. The Magnifica prevents messes by incorporating a drip tray that can catch any accidental spills from the dual dispenser or steam wand milk frother.
Just like the water tank, this component can also be removed for an easy wash under the sink. Removing the drip tray can also accommodate more space for a taller cup, such as a travel mug. This lets you use larger cup sizes to suit the needs of all the coffee lovers in your household.
Pros
Adjustable burr grinder with 13 settings between smooth and coarse grounds.
Dual heating elements mean you can brew coffee and froth milk simultaneously using the ideal temperature.
No coffee puck is needed as grinding and brewing processes are automated.
The Control panel is easy to use and gives you plenty of options for adjusting brew strength and cup size to suit any preference.
A hot water dispenser enables teas and oatmeal creations in addition to coffee.
Light indicators notify you when the machine needs cleaning.
Manual milk frother lets you choose how you steam your milk, with options including flat and smooth or thick and foamy for a creamy latte.
Cons
Not compatible with capsules or K-Cups.
Quite heavy despite its compact design.
Click here to buy now  
Full Review of the Delonghi ESAM 3300 Magnifica
The DeLonghi Magnifica is your quick access to superb customized coffee just the way you like it. Fresh beans are ground to perfection using the integrated stainless steel burr grinder. It grinds the coffee beans in 13 different styles, from finely grounded powder to rough course bits.
You can create your perfect cup of coffee using the preset programmable functions from the bean through to the brew and, finally, the milk frothing sequence. In addition, the machine can store your "recipe" in the system so you can brew your exact preference of drink with the push of a button.
The brew strength and cup size can be customized using the control panel menu, and you can even adjust the temperature to your specific liking. Built with a patented cappuccino system to complement the brewing unit, you also have access to top-quality milk frothing mechanics. The manual frother mixes steam and milk to create rich, creamy froth for evenly textured drinks that any coffee nerd will love!
Indeed, its super-automatic machine features are met with customizable, manual controls. This well-rounded machine delivers exceptionally aromatic espresso with its stainless steel double boiler, providing optimal extraction and brewing results. In addition, it makes preparing espresso easy through excellent heat distribution of the coffee grounds. Finally, you can get your individual preferences for coffee strength, size, and temperature.
Customer Satisfaction
Rated 4.3-stars on Amazon reviews by over 3,000 global users, the Magnifica coffee machine is a one-of-a-kind brew unit that delivers plenty of bang for its buck. The Magnifica is regarded highly for its blending power, flavor, and versatility on a per-feature basis. This is not too surprising given all the customizable brew options.
If you are tired of lining up at coffee shops for your morning coffee, consider the DeLonghi Magnifica for your next coffee machine purchase. To find out more about what people are saying, use this link.
How to Set up the Delonghi ESAM 3300
The DeLonghi ESAM 3300 Magnifica can be set up using the following steps:
First, open the box and place the coffee machine on your kitchen countertop or corresponding location.
Ensure the area is spacious with at least 2-inches of free space surrounding the machine.
Ensure your power outlet has a minimum voltage rating of 10A.
Plug in the cable to the appropriate outlet and turn the machine on.
Fill up the water reservoir by removing it and holding it under a tap.
That's it! Your machine is ready to brew.
How to Use the Delonghi Magnifica
Using your DeLonghi Magnifica brewing system is simple once you've learned the steps. Use the guide below to brew up an espresso drink:
Power on your machine by pushing the power button in the top-left corner.
Ensure the water tank is full.
Fill the grinder with your choice of coffee beans or fill the coffee grounds container with pre-ground coffee.
Select your preferred grind level by rotating the knob between smooth and coarse.
Select your brew strength, cup size, and temperature.
Choose between one or two shots and press the button to begin brewing.
For a cappuccino or latte, add fresh whole milk (or equivalent) to the milk system and use the dial and steam wand to froth milk the way you like it.
That's it! Your delicious espresso coffee is ready to drink.
How to Clean the Delonghi ESAM 3300
How to descale
Descaling your Magnifica once in a while will ensure you always get the best results with your coffee. Use the step by step guide below to descale your machine:
Fill the reservoir with about 125mL of descaling solution and 1 liter of water.
Place a container of at least 34 oz under the dispenser and steam wand.
Press and hold the two buttons indicated by the water drops and triangle pattern to engage the descale process.
Turn the steam knob half-a-turn anti-clockwise and let the descaling cycle comment.
After 30 minutes, the light will indicate descaling is complete, so you can begin the rinsing cycle.
Empty the solution from the container.
Turn the knob back to its original off position as you refill the water reservoir with clean water.
Rinse the machine by once again turning the steam knob half a turn anti-clockwise.
Repeat steps 6 and 7 for a final rinse, then turn the knob back to the off position.
That's it! Your Magnifica is ready to brew coffee.
How to clean
To clean your DeLonghi machine, follow the steps below:
First, prepare a damp cleaning cloth and wipe down the machine's exterior from top to bottom.
Remove the water tank, drip tray, and any other removable components as you see fit.
Handwash under a sink using soap and water as preferred.
DO NOT use a dishwasher to clean these components as it may result in damage.
Empty out the coffee puck drawer and rinse out any residual ground coffee under the sink.
Remove the infuser and clean out any coffee residuals using a plastic or wooden fork.
Ensure you never immerse the machine itself in water.
Reattach all removable components back to their rightful positions.
Ensure the machine is completely dry before commencing your next brew!
Delonghi Magnifica Alternatives
Spinn Coffee Maker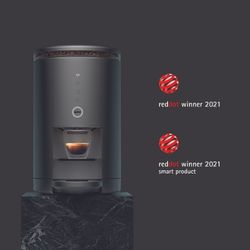 The Spinn coffee maker is a revolutionary machine that has created a precision brewer that streamlines the entire process from bean to cup. Unlike the Magnifica, the Spinn machine uses roast recognition technology to set the parameters of the brew as the roasters had intended.
Despite its brilliant brewing technology and ability to connect to smartphone devices, there are some reasons to consider the Magnifica instead. For example, the Magnifica comes with a milk frothing system, so you can access cappuccinos and lattes.
Also, the Magnifica would suit those who aren't too fond of their smartphones and prefer to brew coffee the manual way. Nevertheless, the Spinn coffee maker is an excellent choice for modern coffee-making and suits millennial coffee lovers worldwide. To learn more about this machine, see our Spinn Coffee Maker Review:
https://coffeecourage.com/spinn-coffee-review/
Philips 3200 Lattego
The Philips 3200 LatteGo is a more modern-looking machine than the Magnifica, with a more interactive control panel and interface. Designed to give you the full cafe experience, the LatteGo aims to offer you a selection of latte drinks, espressos, and Americanos. This is so that you don't need to line up at cafes for quality coffee.
While it is a notch above the Magnifica in terms of the price range, it's a worthwhile investment, particularly with its sophisticated milk frothing feature. Its milk frother automates the entire process from bean to cappuccino. For this reason, the LatteGo is one of the best super-automatic coffee machines available today.
It's particularly significant for those looking to automate more of the brewing process. To find out more, read our Philips 3200 LatteGo Review.
Breville BES990BSS Oracle Touch Fully Automatic Espresso Machine
Yet another awesome coffee maker on the market is the Breville Oracle Touch fully automatic espresso machine. This brewer probably has the best touch-screen interface I've ever seen on a coffee maker. It really makes you feel like you are ordering from a café.
Other than the differences in control panels, this machine is fairly similar to the Magnifica. This includes things from the grinding to the brewing and the milk frothing. However, there are still some more significant differences to be aware of. For example, the Breville's more conical burr grinder compared to the Magnifica's in-built grinder.
The Breville Oracle Touch also comes with a water filter built into the reservoir, allowing for more delicious coffee brewing that is more likely to be safe to consume. Other differences to consider are the portafilter present with the Breville but not so much with the Magnifica. The Magnifica uses a ground coffee compartment instead.
While both may prove to be reliable coffee machines for you, I would base my decision on how you like to brew your coffee. It all depends on whether you prefer using the portafilter and tamping method or if you want to insert your grounds directly into the machine via a compartment.
Click here for the Breville Oracle Touch Latest Price
Gaggia Brera Super Automatic Espresso Machine
Another high-profile super-automatic machine you want to have on your radar is the Gaggia Brera Super Automatic Espresso Machine. It boasts an integrated grinder and pre-ground coffee bypass, just like the Magnifica, giving you options to grind fresh beans or provide your coffee grounds as preferred.
Like the Magnifica, the Gaggia Brera also comes with a steam wand for frothing milk the way you want it, heating up to optimal temperatures in under 10 seconds. This machine also comes with a cup tray that keeps your cups warm. This makes it so the temperature of your coffee does not get compromised upon brewing, enabling a hotter, more enjoyable coffee.
Once again, I would have to give the point to the Magnifica's competition regarding the control panel, because the Gaggia Brera excels in this area. A gorgeous yet straightforward LCD interface really takes the user experience to another level by incorporating a few dedicated buttons that can achieve a lot on screen. You can easily create custom brews or select from the basic varieties available.
On the downside, the Gaggia Brera's water reservoir is only 40 oz compared to Magnifica's much larger 60 oz water tank capacity. Regardless, you may find the Gaggia Brera espresso machine outperforms many other machines regarding user experience and quality brewing. It certainly gives the DeLonghi Magnifica a run for its money! See our Gaggia Brera Review for more details.
Click here for the Gaggia Latest Price
Delonghi Magnifica FAQ
Where is Delonghi Magnifica ESAM 3300 made?
DeLonghi is headquartered in Treviso, Italy, where it was founded. However, they also have distribution channels in China. The DeLonghi Magnifica ESAM 3300 coffee machine is made in Italy at the manufacturing headquarters.
Is Delonghi a good brand?
With a rich history in espresso-making, DeLonghi is born and headquartered in the motherland of espresso in Treviso, Italy. Here they have been manufacturing magnificent coffee and espresso makers for over a century now (alongside other kitchen appliances).
Trusted by millions of customers worldwide, DeLonghi is a fantastic brand for all things kitchen-related, including coffee makers, pots, pans, and even steam irons. In addition, they offer an abundance of highly-rated products.
How long does a DeLonghi Magnifica last?
The DeLonghi Magnifica will last at least 2-3 years even without properly caring, maintaining, and descaling the machine. However, the Magnifica could last between 10 and 15 years with proper care based on how often you use it.
Is the DeLonghi worth it?
While its coffee and espresso machines are quite high-class in terms of performance and quality, DeLonghi keeps its prices fair and balanced mid-range. They try to make them widely accessible and affordable for the everyday coffee drinker. Additionally, you are guaranteed at least one year of limited warranty by the brand for any flaws or reductions in quality based on manufacturing/factory-related damages.
Is DeLonghi a good coffee machine?
The DeLonghi Magnifica espresso maker is a wonderful machine for brewing high-end, delicious coffee at the push of a button while being relatively easy to clean and maintain. However, check out DeLonghi's other range of products to find the one that suits you best. Their product line includes the La Specialista, EC702, and Nespresso range for a complete variety of quality, highly rated coffee makers.
Does DeLonghi Magnifica make regular coffee?
As its name suggests, the DeLonghi Magnifica is an espresso and coffee maker that gives you utmost versatility in what you can brew. Whether you desire an espresso, Americano, cappuccino, or latte, the Magnifica can make it all possible with the push of a button. They give you control over brew size, strength, and temperature. You can even custom-build your favorite coffee unique to your personal preferences.
Which DeLonghi coffee machine is the best to buy?
Deciding on the best DeLonghi coffee machine is a very personal journey, and the highest-rated products may not necessarily be the best machine for you.
While the Magnifica and Barista Express may be great options for brewing quality coffee using fresh coffee beans, that does not mean it can beat the convenience and speed of a DeLonghi Nespresso machine. So, make sure to take the time to understand what your goals are in a coffee machine before you make a purchase.
What kinds of coffee can the DeLonghi Magnifica make?
The DeLonghi Magnifica is special in that it can make regular coffee as well as espresso shots, enabling a wider range of options for your coffee beverage. Included but not limited to the following, the Magnifica can brew single and double-shot espressos, Americanos, lattes, cappuccinos, flat whites, and much more!
Delonghi Magnifica Review Final Thoughts
All in all, if you are looking for a coffee machine that can provide flexibility in coffee strength, size, and temperature without becoming a nightmare to use, the DeLonghi Magnifica may be what you are looking for. It's a compact machine that really packs a punch.
The Magnifica gives you plenty of customizable options and pre-programming functions to create your own personalized coffee brew that your machine will effectively "remember" and store in the system for quick access. It also comes with advanced milk frothing features so you can brew your favorite cappuccinos and lattes as desired.
The included cup warmer will ensure that once you have ground coffee dispensed into your cup, the temperature will not drop as it does when you grab a room temperature cup straight from the cupboard to brew.
Let's face it, it's not every day you come across a machine that brews exceptional coffee and espresso, as excelling in both is usually not possible with a single machine. Still, with the Magnifica, it most certainly is. Also, a coffee machine is only as easy to use as it is to clean and maintain, and this machine does simplify the process by alerting you when descaling is needed.
It also provides enough removable components from the brew group to the reservoir and drip tray to make that cleaning process a breeze.
With a rating of 4.3-stars on Amazon and coming in at an affordable price point compared to other super-automatic machines, I recommend the DeLonghi Magnifica. It's a simple machine that delivers on quality and convenient brewing.
Click here to buy now  
DeLonghi EC702 Review: Is it worth it?