There has been a growing movement towards building coffee machines that empower their users to influence every aspect of their coffee drinking. We'll be looking at a prime example of such a machine in this Philips 3200 LatteGo review.
As you read through this review, you will come to understand what a fully automatic coffee machine can do. First, we will be pointing out the features, specs, and design components of the Philips 3200 espresso machine. Then, we'll give you an idea of the machine's overall benefits, as well as our personal thoughts. Hopefully, any remaining concerns will be cleared up in the FAQ segment.
By the end of the article, you should be familiar with the concept of fully automatic espresso machines. So, without further ado, let's dive right into it!
Philips 3200 LatteGo Review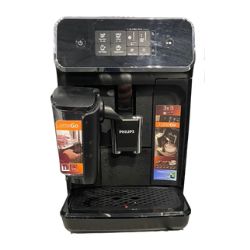 What's Included
Philips 3200 Series Fully Automatic Espresso Machine w/ Milk Frother, Black
Touch Screen Display User Interface
12 Grinder Settings
3 Aroma Strength Settings
3 Temperature Settings
Classic Milk Frother
Specs
Product Dimensions: 20.16 x 20 x 12.2-inches
Weight: 21.1 lbs
Color: Black
Features and Design of the Philips LatteGo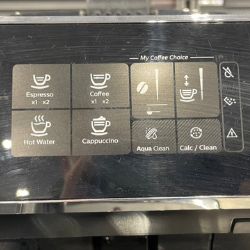 Brewing capacity
The Philips 3200 allows you to brew up an overwhelming 5,000 cups of coffee before it needs descaling. This is because of its in-built AquaClean water filter that purifies the brewing process and keeps things running at the optimal level.
Additionally, you can brew about nine espresso shots before you need to refill the water tank. Thanks to its better-than-average brewing capacity, maintenance is really minimized with the Philips 3200 LatteGo espresso machine.
Ease of Use
Using the Philips 3200 machine is a straightforward process and ultimately comes down to pressing a few buttons. Probably the most difficult task you'll find yourself doing is just filling up the machine with pre-ground coffee and refilling the water reservoir.
The rest comes easy and is simply a matter of getting your cup ready and choosing from the wide variety of coffee options. Whether it's brew strength, temperature, or cup size, there is a perfect cup of coffee for everyone.
The Philips 3200 espresso maker provides various coffee options for you to brew up using the My Coffee Choice menu featured on the machine's interface. Choose from espresso, Americano, regular coffee, all of which provide options for a single or double espresso shot.
Also, you have more "coffee shop" options such as the cappuccino and latte macchiato brews. You can adjust between three different brew sizes, temperature levels, and intensities, providing a wide range of tailor-made coffees. It's sure to appeal to just about any coffee snob out there.
Burr Grinder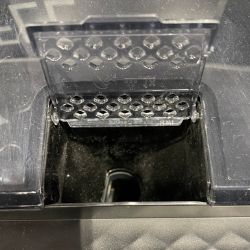 Grinding coffee beans has never been more precise, as the Philips 3200 provides a bean hopper that allows you to grind beans to a specific texture accurately. In addition, this durable grinder can be adjusted to 12 different levels, giving you options from ultra-fine powder to coarse grinding.
In addition, the grinder is made using 100% pure ceramic, resulting in a non-toxic grinding solution. It is made for you to enjoy at least 20,000 cups of fresh aromatic coffee safe for both you and the environment.
Milk Frother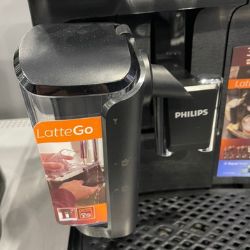 More than just an espresso brewer, the Philips 3200 LatteGo enables the brewing of delicious cappuccinos, lattes, and other milk-based coffee. The LatteGo milk frother allows you to steam and froth for several cups of coffee before you need a refill.
Enjoy your favorite frothed milk drinks with this simple 2-part LatteGo milk system. It's also detachable and super easy to clean with no hidden tubes or parts that cause cleaning hassles. Instead, use a dishwasher or hand wash with a sink, and you will have your frother cleaned in under 15 seconds!
Water Tank Capacity
With 9.6 ounces of water tank capacity, you can enjoy at least 9 cups of coffee before refilling water is needed. The AquaClean water filter ensures a higher quality taste due to cleaner, purified water. The water reservoir is also completely removable, making it easy to refill and seamless to clean. In addition, it gives you the option of using a dishwasher or cleaning under the sink as preferred.
Additional features
In terms of maintenance, you won't need to worry about descaling your Philips 3200 coffee machine until 5,000 cups have been brewed. This gives you an incredibly long period of time without needing to worry about cleaning up. That is thanks to the AquaClean water filter system, which purifies the water tank so that the machine's interior remains cleaner for longer.
Once installed, the descaling notification alarm is turned off automatically. You won't need to descale your machine until about 10 to 15 years of use (depending on how often you brew). This is because the AquaClean filter essentially descales your machine for you with every brew. The clean water prevents any residual or bacteria from building up inside the machine.
Another often overlooked feature is the removable brew group. This allows you to thoroughly clean your machine to meet a high standard of cleanliness. The Philips 3200 LatteGo coffee machine also makes it easier to find the source of problems should you encounter any issues.
The provided 2-year limited warranty will allow you to have your machine fixed or replaced at no extra cost, making it a relatively safe-free purchase.
Philips 3200 LatteGo Pros and Cons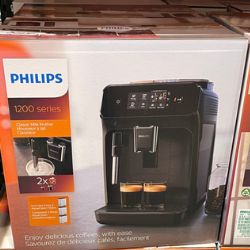 Pros
My Coffee Choice menu provides up to 5 choices of aromatic coffees to suit the needs of all espresso lovers and coffee enthusiasts.
A removable water tank lets you brew 9 cups before a refill is necessary and is also easy to clean via handwash or dishwasher.
The 12-step ceramic flat burr grinder is 100% toxic-free for 20,000 cups of coffee.
It enables precise grinding of coffee beans healthily and safely.
Using automated milk-steaming functionality, you can use the milk froth for cappuccinos, lattes, and other milk-based drinks.
AquaClean water filter removes the need for descaling for about 10-15 years of use.
2-year limited product warranty by Philips guarantees quality in performance.
Cons
Not compatible with pods, capsules, or K-Cup coffee.
Quite heavy and bulky compared to most espresso machines.
Benefits of Owning a Philips LatteGo
There are numerous benefits to using the Philips LatteGo. You don't need to bother with frothing milk with a steam wand for starters. Milk foam can be made using the LatteGo milk system at the mere push of a button. You can adjust the levels of how much milk foam you prefer, the milk volume, and the temperature, giving you full control.
Enjoy coffee at just the right temperature with the provided temperature controls for your espresso brew. Designed with a sophisticated yet straightforward control panel, you'll find it easy to customize and brew a unique tailor-made coffee with the push of a button. Indeed, Philips provides one of the finest automatic espresso makers available on the market.
Another massive benefit of the Philips 3200 Lattego is the bean hopper and 12-step grinder, making grinding beans super accurate and precise. In addition, it gives you all the options between super-fine powder or more coarse coffee grounds.
Cleaning and Maintenance
How to clean a Philips LatteGo machine
Cleaning and maintaining your Philips LatteGo espresso machine is a simple process and generally does not take too much time or effort. Below is a step-by-step guide to cleaning your Philips espresso machine (not to be taken as a detailed guide):
Remove all detachable components e.g., water reservoir, drip tray, coffee beans container, brew head.
Use a dishwasher or handwash under the tap to clean various components.
Leave removable parts out to dry.
Use a damp cloth or paper towel and wipe down the machine's exterior, including the control panel, milk frother, and sides.
Once all removable parts are dry, reattach them to the machine ready for the next brew cycle.
How to Descale a Philips 3200 LatteGo
Descaling your Philips 3200 LatteGo machine is something you only need to do once in a blue moon if you have the AquaClean water filter. Nevertheless, it's important to know how to descale your machine regardless, and you'll know when the time comes as the Calc/Clean light will start to flash. Follow the step-by-step guide below to descale your LatteGo coffee machine (not to be taken as a detailed guide):
Remove the water reservoir and take out the AquaClean filter.
Pour the full bottle of the provided Philips descaling solution into the tank.
Fill the tank with water up until the Calc/Clean measurement arrow.
Place the tank back into the machine and place a large container of about 1.5L under the coffee and hot water spout.
Press and hold the Calc/Clean button for 3 seconds, then press the play button.
Wait until the machine stops dispensing (usually 20 minutes) and empty the container and water tank when complete.
Repeat the process using regular water without descaling solution for a complete rinse.
Overall Philips 3200 LatteGo Review
The Philips 3200 LatteGo is one of the most well-rounded super-automatic espresso machines on the market today. The options available via the My Coffee Choice menu covers all kinds of coffee drinks. They give you the variety and quality resembling the best coffee shops you would have visited. Brewing coffee has never been easier because this machine lets you do it all with a push of a button.
This super-automatic espresso machine grinds whole beans to perfection. It sports a coffee grounds container that provides 12 options between super-fine powder and ultra-coarse grounds.
Unsurprisingly, the Philips 3200 LatteGo coffee maker is rated highly on Amazon reviews, boasting 4.5 stars from over 1,700 real global users. In addition, customers have given exceptionally high praise to its features. That makes it easy to use, provides good value for money, and demonstrates high standards of brewing and coffee flavor.
To top off a fantastic coffee machine, Philips provides its buyers with a limited warranty of 2 years for any material defects encountered by the product. Now, click the link below to see what customers are saying about the Philips 3200 LatteGo espresso machine:
https://www.amazon.com/dp/B07VFY4MXM#customerReviews
How does the 3200 compare to the Philips 2200?
The Philips 2200 fully automatic espresso machine is essentially the younger sibling of the Philips 3200 LatteGo machine. As you probably guess just from their product names, the main difference between these two espresso machines is the milk frothing capabilities.
The Philips 3200 provides more options than the 2200 model on the My Coffee Choice menu. It provides a range of latte options and other milk-based coffee beverages to give off a more cafe-like experience.
The LatteGo also provides a greater range than the 2200 model in terms of brew options. For one, the LatteGo includes the Americano option, which eliminates the need to "do it yourself," reducing room for error.
Essentially, the 3200 is superior to the 2200 in just about every way due to its many additional features. However, you may still opt for the 2200 fully automatic machine if you already have a milk frother. Also, if you do not drink coffee with milk. Going down this route will save you more on the initial purchase.
Which is better Philips 3200 or De'Longhi ECAM35020B Dinamica Espresso Machine
De'Longhi's Dinamica espresso machine specializes in brewing delicious iced-based espresso drinks. The De'Longhi Dinamica would suit iced coffee lovers who want a better, more automated beverage preparation for their cold drinks.
On the other hand, go with the Philips 3200 if you prefer automated milk frothing functions and easy brewing of lattes and cappuccinos. Also, you'll want to consider that the De'Longhi has a 3-year warranty while Philips has a shorter 2-year one.
What is an automatic espresso machine?
A super-automatic machine is essentially a coffee maker that automates the brewing process in all areas. This means the grinding, brewing, and milk frothing process is all done by pressing a button. A semi-automatic machine essentially gives you the best of both worlds. It enables you to brew automatically and gives you the option of programming the machine to use your desired water, grounds, and milk amounts.
A manual machine leaves the whole brewing process up to you and would suit high-level coffee connoisseurs or baristas that are highly skilled who can leverage the extra control over their brew coffee cycle.
Philips LatteGo FAQ
Does the 3200 have an automatic shutoff feature?
Unfortunately, the Philips 3200 does not have an automatic shutoff feature, so you should switch it off after brewing coffee to save power.
How does Philips LatteGo work?
The Philips LatteGo automatic espresso machine works by using a control panel to brew your choice of coffee from the My Coffee Choice menu. Then, add your beans into the bean hopper, fill up the water reservoir and milk container as preferred. Then, choose from a delicious espresso, Americano, latte macchiato, or cappuccino by pressing the allocated button.
What is LatteGo Philips?
Philips LatteGo is a fully automatic espresso machine that turns freshly ground coffee beans into a delicious cafe-quality coffee with the push of a button. Designed to be easy to use, easy to clean, and simply extravagant in flavor, the LatteGo provides more than just a decent coffee.
What kinds of coffees does the LatteGo make?
The LatteGo makes a range of automated coffees and gives you the option of brewing a simple espresso shot while enabling you to adjust the size, temperature, and brew strengths. Options for automatic coffee include espresso, Americano, cappuccino, and macchiato.
Does the Philips 3200 make iced coffee?
While the Philips 3200 does not automatically make espresso over ice (or iced coffee), you can still use the machine to brew a delicious iced beverage. Add your ice to a glass and brew a shot or two of espresso over the ice manually. Then, add your choice of cold water or milk on top as needed, and you have yourself a refreshing iced coffee.
How often do I need to descale the Philips coffee maker?
The Philips 3200 comes with an AquaClean filter in the water reservoir, which practically describes your machine as you use it. This means you do not need to descale your Philips coffee machine for many years or until 5,000 cups of coffee have been brewed.
Is the Philips LatteGo worth the money?
Hopefully, you've enjoyed this review of the Philips LatteGo 3200 coffee machine. To sum up, the Philips LatteGo is a fully automatic espresso machine that provides a wider range of coffee beverages brewed to perfection at the click of a button.
Despite being an automatic machine in every way, you are given sufficient control over things like brew size or brew strength, which can be adjusted using the coffee quantity icon provided.
Of course, the Philips LatteGo is not for everyone, mainly if you do not drink milk-based coffees. For such individuals, the Philips 2200 model would suit you better, as it provides many of the same functionality excluding milk frothing capabilities.
Another deal-breaker might be if you desire more control over the brewing process, and are not looking for something to save you time. Such individuals may include a barista or coffee connoisseur that wants maximum control over the brew cycle.
Enough about deal-breakers though, let's talk about the deal-makers! First, the Philips LatteGo is an incredible machine for coffee lovers of all kinds. This includes everything between strong espresso lungo shots and sweet cappuccinos. Built with an adjustable coffee spout and superior milk frothing functionality, this is an excellent machine for convenience, delicious flavor, and even making your own latte art!
A steam wand and brew group built with the quality of any coffee shop machine, the Philips LatteGo is the undisputed "go-to" for Latte (see what I did there).
Click here to buy now  
Other automated coffee machines