Coming in from the home of espresso, the Gaggia Brera is an Italian-made compact super-automatic espresso machine. It can brew up any caffeinated drink from espresso shots and creamy cappuccinos. Ultimately, this Gaggia Brera review will show you that it's a highly versatile machine that provides high-quality brewing.
Regardless of who you are or where you came from, we're about to help you make a decision wherever you are on your coffee maker journey. We won't just be telling you why this machine is a solid choice, but we will also be looking at the cons. After all, the goal is to help you find the best machine for you, which sometimes means steering you to something else instead.
With that said, this article will feature all the pros and cons of using the Gaggia Brera and provide links to alternate machines that may be better suited to your goals.
Gaggia Brera Review
Top Picks!
Pannarello wand frothing for cappuccinos & lattes.
Push-button controls and an LED display with illuminated.
Quick heat up times and robust brewing and steaming operations.
Water Tank Size:1.27 quart
Hassle-free 1 year warranty handled by Gaggia directly.
The Gaggia Brera is an all-in-one machine that streamlines the brewing process by incorporating its bean hopper, grinder, brewer, milk frother, and hot water dispenser all in one single compact machine.
The brand guarantees premium materials and brewing capabilities, using the finest stainless steel using Italian design and craftsmanship. Built with a simple interface and programmable functionality, you can brew anything from espresso drinks to regular coffee. So design your brew the way you want it.
What's Included
Gaggia Brera Super Automatic Espresso and Coffee Machine.
Built-in Burr Grinder, Bean Hopper, and Bypass Doser.
Pannarello Steam Wand.
1-Year Warranty.
Specs
Product Dimensions: 10 x 15.5 x 11.5-inches
Weight: 22 lbs
Materials: Stainless Steel, Polycarbonate
Reservoir Size: 40 oz
Warranty: 1-Year Limited
Features and Benefits
Check the latest price  
Bean Hopper and Ceramic Burr Grinder
The Gaggia Brera espresso maker comes with a flat ceramic burr grinder that allows you to grind whole beans to your preferred coarseness levels. There is also a bean hopper, so you don't have to refill the grinder manually between brews constantly.
In addition to this, you can opt to use your favorite pre-ground coffee by using the included bypass doser. This feature skips the grinding process and makes the machine more versatile in its compatibility with other sources of coffee grounds.
With five different grind settings and a hopper capacity of 8.8 oz, you can grind your beans according to how the roasters intended them to be. You'll also be able to brew plenty of coffee cups before needing to refill the hopper.
Gaggia Adapting System
The Adapting System is essentially the programmable function of the Gaggia Brera, enabling your machine to remember your preferred coffee 'recipe.' That way, it is always made the way you like it. It takes account of your preferred grind settings, brew strength, temperature, and size.
Using it, you don't have to redo all your preferred settings each time you brew constantly. Instead, adjust it once, then enjoy a lifetime of tailor-made coffee at the push of a single button.
In addition, the Gaggia Brera automatically adjusts its parameters so that the grinder operates according to the type of coffee bean you are using. Its advanced sensor technology identifies the beans and suggests the optimal grind settings for you to use.
Of course, you can override this if you have a specific preference for grind style. However, having the flexibility of options enables a greater versatility with the Brera. This makes it a great choice for families, friends, and shared households where this machine will have more than one user.
LED Interface and Controls
Check the latest price  
I always say a machine is only as good as it is to use. The Gaggia Brera takes super-automatic espresso machines to another level by incorporating a beautiful LED digital display interface. It not only has a great aesthetic but is also a pleasure to use. This screen is used with a simple yet effective control panel with several dedicated buttons.
Whether it's adjusting the grind, selecting brew strengths and cup size, or toggling between hot water dispensing and frothing milk, the LED screen makes it even easier. It brings each button to life through a sophisticated on-screen guide.
Pannarello Frothing Wand
Steaming milk has never been easier with the Pannarello steaming wand. It lets you froth milk in various styles ranging between smooth and velvety flat or creamy and foamy froth. The machine uses rapid steam technology to heat up water to the correct brewing temperature quickly. It also couples with the steam wand to deliver optimal frothing methods by siphoning air directly into the milk.
Made of durable stainless steel material, the Pannarello frothing wand is the perfect tool for unleashing your inner barista. You'll be able to prepare delicious cappuccinos or fancy latte macchiatos in no time.
Going beyond the realm of coffee, the Gaggia Brera comes with a dial on the control panel that allows you to toggle between steaming mode and hot water mode. This lets you change the function of the steam wand for even more uses. For example, you can make your favorite teas using this hot water dispenser or even opt for instant soups, noodles, and oatmeal to complete your breakfast set.
This function also works well for topping up espressos for a delicious Americano or long black. It can even make for a good cup warmer by filling your cup with hot water and emptying it before you brew your coffee.
Water Reservoir, Dregs Drawer, and Drip Tray
The Gaggia Brera coffee machine comes with a 40-ounce water tank that is Brita water filter compatible. This gives you the option of enjoying even more delicious coffee with purified water. In addition, this reservoir can be removed for easy refilling, cleaning, and descaling as needed. It is a highly convenient feature to maintain with your machine with ease.
Likewise, the dregs drawer can also be similarly pulled out. You can clear out the used coffee grounds and residuals with ease, making the cleaning process simple and effective. Lastly, the Brera features a removable drip tray that collects any drips or leaks from your machine's brewer or frother. This prevents messes, minimizing the time you spend cleaning and maximizing your time brewing!
Pros
Control panel and LED digital display are simple in design, easy to use, and perform various functions to put you in control from bean to cup.
The ceramic burr grinder allows you to grind whole coffee beans at six different settings ranging from smooth coffee powder to a coarse finish.
The removable brew group can easily be detached and washed under the sink and then re-inserted into place.
The 40 oz water tank is easily accessible and can brew many cups of coffee before refilling is needed.
The automatic shut-off feature powers off the machine after 1 hour of inactivity, saving you energy and promoting eco-friendliness.
Optiaroma feature lets you customize your cup for a tailor-made coffee just the way you like it.
Limited 1-year warranty by Gaggia.
Cons
Not compatible with K-Cups, coffee pods, or capsules.
No water filter or gold-tone coffee filter is included with the machine.
Full Review of the Gaggia Brera
Overall, the Gaggia Brera is a super-automatic machine that is designed and made in Italy, the motherland of espresso making. The stainless steel exterior gives off a beautiful shine and is quite durable. It's also resistant to corrosion and rusting.
The Brera is relatively compact despite its built-in integrated grinder, brew group, milk frother, and hot water dispenser. As a result, it can fit just about anywhere on your kitchen countertop. Not to mention, it has an aesthetic that suits modern and traditional interior designs alike.
This product puts you in the driver's seat from start to finish, from its various grind settings to its adjustable coffee strength, size, and temperature. Its smart system enables you to brew the perfect espresso every time. In addition to making excellent espresso, you can also make great americanos by adjusting the cup size on the LED interface for, say, a 5 oz coffee dose.
Furthermore, the Gaggia Brera uses a bypass doser for pre-ground coffee, with a bean hopper and burr grinder for coffee beans. This gives you access to a greater variety of options, such as international roasts or decaf coffee. This super-automatic espresso machine is rated a solid 4.1-stars by over 1,000 global customers on Amazon reviews. It is a well-performing product with minimal issues.
Of course, don't forget the included 1-year warranty as part of Gaggia's quality guarantee. Customers love how easy it is to use the Brera. They also highly regard the flavor it produces and its superior brewing via rapid heat transfer. To find out more about what real users of the Gaggia Brera super-automatic espresso machine are saying, click the link above to visit Amazon's review page!
How to Set up the Gaggia Brera
Setting up the Gaggia Brera is quite simple, as when you purchase the machine you'll find that it has mostly been set up for you already. The only components you will need to assemble are the drip tray and water reservoir. Both are simply a matter of inserting them into the right compartment following the instruction manual.
When preparing the machine for use, unbox it and place it in a spacious area on your kitchen counter space or equivalent area near a power socket. There will be a single cord to plug into the power socket. Once you've done that, you can get started by powering on the machine and filling up the water tank, bean hopper, or doser as preferred.
How to use the Gaggia Brera
Using the Gaggia Brera is straightforward, especially when you've already filled up your water tank and bean hopper or doser to your preferred amount. If you are grinding whole beans, you can use the controls to select the appropriate grind setting you prefer. This ranges from smooth powder for a more potent brew or coarse bits for a light coffee.
From there, you can use the range of dedicated control panel buttons to select the type of coffee or espresso you want. Next, brew single or double shots of espresso by toggling through the options on the LED display screen, or you can choose from various sizes of regular coffee. Once you've chosen your desired brew strength, size, and temperature, you can proceed to brew a cup of coffee by pressing the brew button.
How to clean the Gaggia Brera
Ensuring that your Gaggia Brera is nice and clean both inside and out is key to securing an excellent espresso coffee every time. The following step-by-step guides take you through a quick and easy way to keep your coffee machine in tip-top shape all year round!
How to descale
Place a large container under the steam wand and coffee dispenser.
Fill the water reservoir with a mix of descaling solution and water (ratios to be determined by the brand you use, follow instructions on bottle accordingly).
Ensure the machine is on, then press the power again while it's on to enter standby mode.
Press and hold the small and large coffee cup sizes simultaneously.
Observe the descaling light appearing on the LCD digital display screen, signaling the commencement of descaling mode.
The machine will proceed to descale by dispensing liquid into your empty container.
Allow this to happen until the screen displays the hot water symbol, prompting you to turn the dial towards hot water mode.
This will now cause the machine to dispense water through the hot water spout/steam wand.
Once complete, replace the water reservoir content with fresh water instead, and run the cycle one more time to give the machine a good rinse.
Check the latest price  
How to clean
Empty the dreg box when it is full or at your desired regular interval.
Remove the brew unit and wash under the sink once a week or every 30 brew cycles.
Use the accompanying lubricant to lubricate the moving joints of this unit every six months or every 5000 brews (whichever occurs first).
Remove, empty, and wash the drip tray under the sink. You may opt to use the dishwasher but we recommend hand washing to avoid any risk of damage.
Use a damp cloth to clean the machine's exterior, including the stainless steel front panel.
Ensure all detachable components are reattached once cleaned, and do not power on your machine until completely dried.
Gaggia Brera Alternatives
Spinn Coffee Maker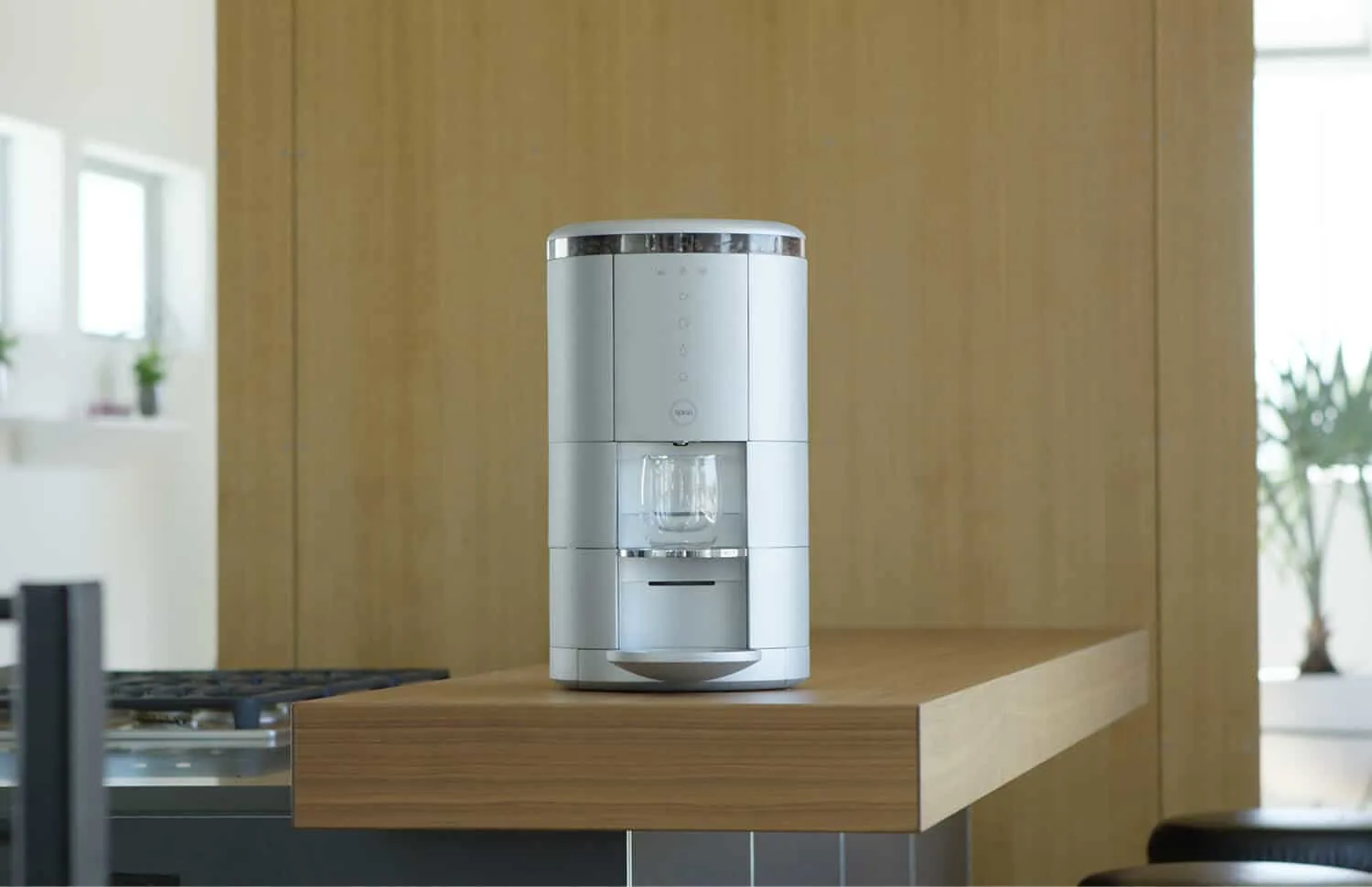 The Spinn Coffee Maker is one of the more advanced super-automatic machines as it uses a pre-infusion feature and many other smart key features. These work to deliver premium coffee through your smartphone device. Think of it as a Nespresso Vertuo but with ground coffee compatibility instead of using barcode technology to identify the roaster and adjust the parameters to brew to an optimal standard.
On the downside, it does not come with a burr grinder or milk frothing steam wand, so those are things you'll need to consider first. To learn more, read our Spinn Coffee Maker Review.
Philips 3200 LatteGo
The Philips 3200 LatteGo works similarly to the Gaggia Brera but has an even easier control panel as you can instantly brew a cappuccino at the press of a button without having to froth the milk yourself.
This is because of its integrated milk system, which steams and froths the milk as part of the coffee-making process, reducing the labor on your part and automating even more of the brew cycle. On the downside, it can be significantly higher in price range than the Brera, so budget buyers and bargain seekers beware! To learn more, read our Philips 3200 LatteGo Review.
Breville BES990BSS Oracle Touch Fully Automatic Espresso Machine
The Breville BES990BSS Oracle Touch Fully Automatic Espresso Machine has one of the best-looking interface display screens. It gives off a futuristic vibe through its fascinating animations as you scroll through the menu of cafe coffee drinks available. Accompanying this colorful visual imagery is one of the best control panels you'll encounter in the automatic espresso machine market.
On the downside, it does incorporate a portafilter which means you must do a bit of work to tamp your grounds and move the scoop from the grind station to the brew head. Therefore, I'd argue this is more of a semi-automatic machine rather than fully automatic. You can read more about it at our Breville Oracle Espresso Machine Review.
Gaggia Brera FAQ
Is Gaggia a good brand?
Gaggia has been producing espresso makers since 1947. They started by producing commercial coffee machines and then transitioning into home-use machines later.
Is Gaggia a good espresso machine?
Gaggia manufactures quality espresso machines made with premium materials such as stainless steel and uses rapid steam technology to optimize the brewing and frothing processes.
Where is Gaggia Brera made?
Gaggia's products such as the Brera are designed and made in Italy.
Is Gaggia made in Italy?
Yes, Gaggia's espresso machines are all designed and made in Italy, the country of origin for all things espresso.
Does Gaggia Brera make regular coffee?
Yes, the great thing about the Brera is that it works like an espresso brewer and a regular coffee machine. This means you can create delicious espresso drinks such as cappuccinos and lattes but also opt for Americanos, long blacks, and regular coffee as needed.
Which Gaggia Brera is the best to buy?
The Gaggia you choose will differ depending on the level of control you want and how much of the brewing process you wish to automate. For example, the Gaggia Classic would suit those who prefer portafilter grinders, so they have more manual control over tamping their coffee to their liking. In contrast, the Gaggia Brera suits lovers of fully automatic grinding and brewing at the push of a button.
What kinds of coffee can the Gaggia Brera make?
The Gaggia Brera can make anything from espressos, cappuccinos, latter, and macchiattos to Americanos, long blacks, and regular coffee. Using the controls, you can adjust your brew strength and size to your liking.
Gaggia Brera Review Final Thoughts
On a final note, the Gaggia Brera is a super-automatic espresso and coffee machine that brews a huge range of coffee in varying intensity levels and sizes while giving you control over the frothing and grinding process as well. It is essentially an all-in-one machine that ensures you don't need to purchase additional items such as a frother or burr grinder, though you may benefit from purchasing a water filter.
My only complaint with the Brera is that there is no gold-tone filter, so if you consider yourself an elite coffee connoisseur, you may notice the difference. On the other hand, I'd recommend the Gaggia Brera espresso maker for most coffee lovers as it is easy to use, easy to maintain, and tastes great, making it a beast of a machine at an affordable price!
Click here to buy now