Making coffee is changing forever with the introduction of cutting-edge brewing technology that is taking the world by storm. You may have heard of the Nespresso Vertuo with its centrifusion precision brewing and barcode scanning technology. Imagine a smart-brewing method that works for ground coffee as well.
That's where the Spinn coffee maker comes in. Built with smart-brewing technology and maintaining sustainability, you'll soon know the greatness of this machine through our Spinn Coffee Review.
Taking you through the range of product offerings and coffee makers on offer, we'll let you know all about the benefits and advantages you can experience for yourself using Spinn's variety of brewers. But, we won't stop there, because we are also providing the fine details of how to use your Spinn machine. We have it all from the brewing to the maintenance and right down to the cleaning and descaling.
By the end of the article, you'll be entranced by a whole new world of smart precision brewing and will quickly determine the right coffee machine for you.
About Spinn Coffee Company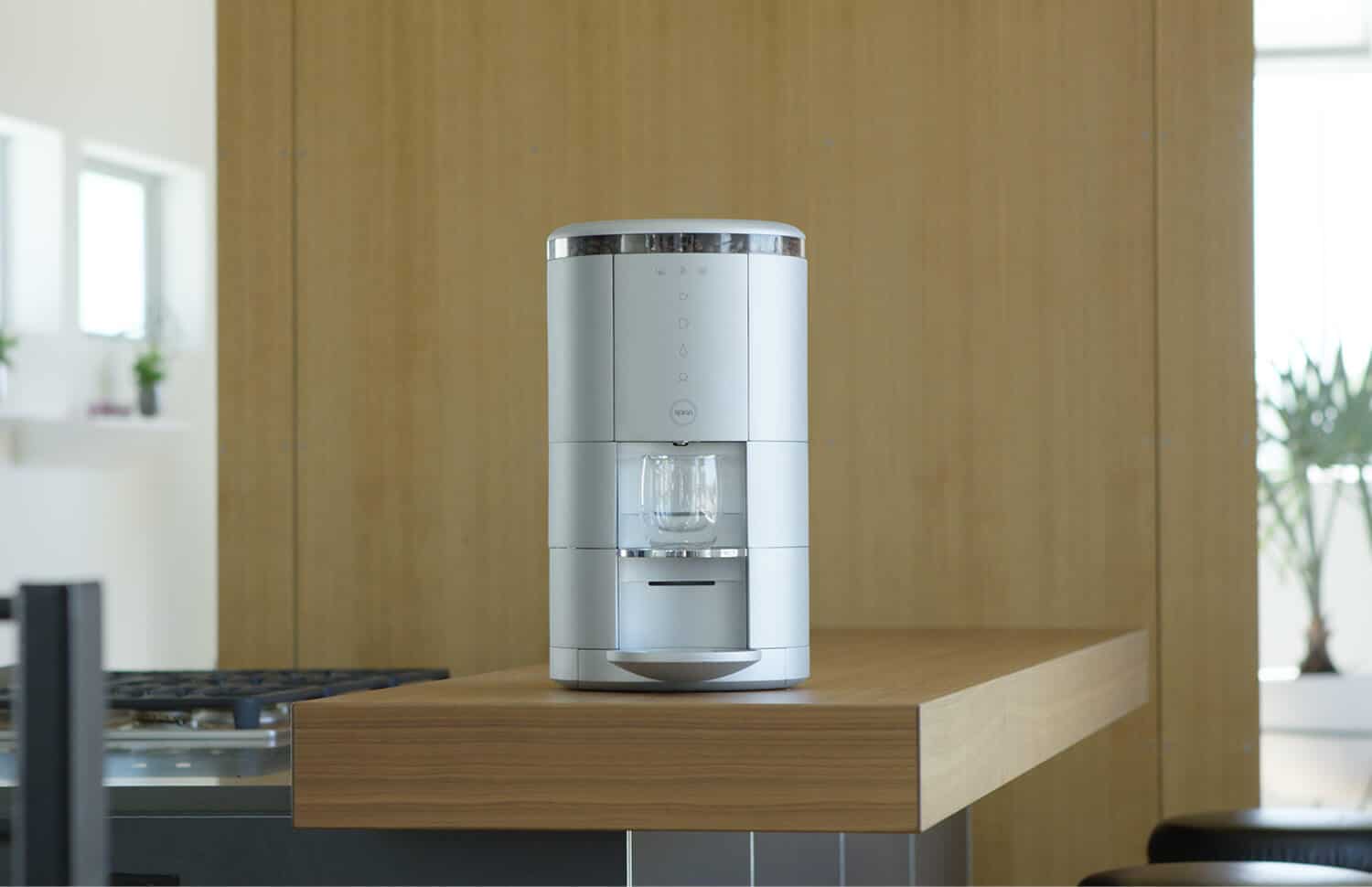 Spinn Coffee was established with the vision of reimagining high-quality coffee while also optimizing convenience. Spinn designed a coffee maker that could connect to smart devices, keeping sustainability and eco-friendliness in mind. They enable their users to craft high-quality bean-brewed coffee with customizable convenience. Using a centrifugal core and roasted whole beans, Spinn machines are designed to create the taste and flavor in line with how the roasters and growers wanted them.
What's Included
Roast recognition technology
Precision whole bean grinding
G-force infusion 4,500 RPMs
Brew versatility and pre-programmed options
Connectivity with smart devices
Zero waste sustainability
Specifications for SPINN coffee makers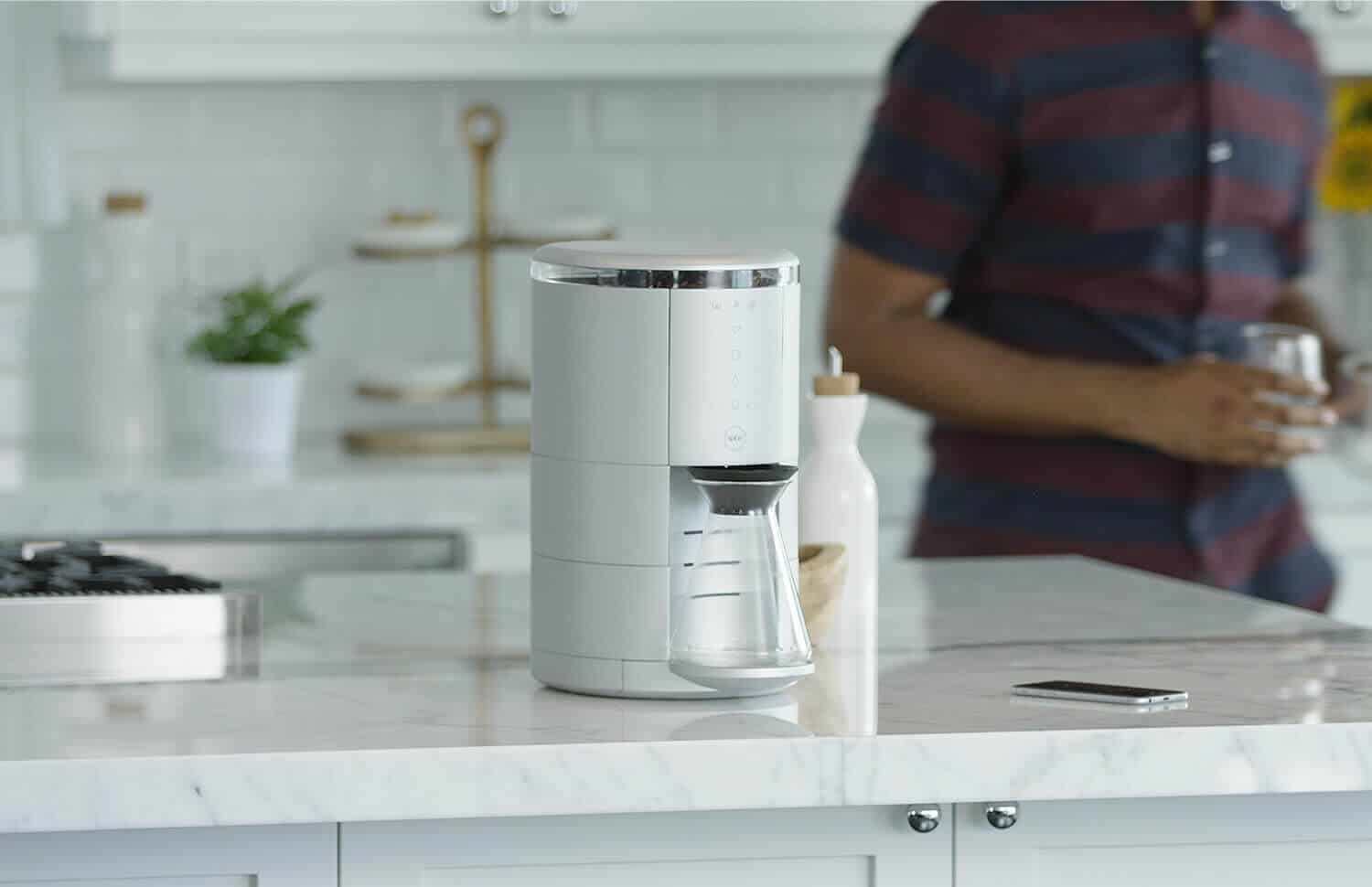 Original
Spinn Original Coffee Machine
NANO Water Filter
$50 Coffee Credits
Original Pro
Spinn Original Coffee Machine
NANO Water Filter
$100 Coffee Credits
Spinn Carafe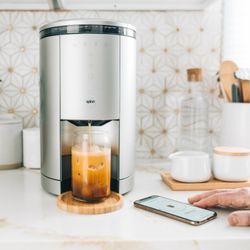 Original Plus
Spinn Original Coffee Machine
NANO Water Filter
$200 Coffee Credits
Spinn Carafe
Milk Frother
Water Supply Line Compatible
Features
One of the most unique features of the Spinn coffee maker is the roast recognition technology. It programs specific preparation notes from the company's artisan roasters. As a result, each nuanced coffee recipe is expertly prepared using finely tuned calibration that brews the coffee just as the roaster intended.
You can achieve this simply by scanning your coffee bean bag using your smartphone device and then adding the specific recipes to the Spinn coffee machine's in-built programming.
Quality
When it comes to producing exceptional quality, the Spinn coffee espresso machine uses a patented centrifugal force spinner that grounds whole coffee beans just seconds before brewing commences. This results in a consistency that truly reflects the unique attributes of the coffee grounds for an expertly brewed cup of coffee.
The machine comprises a built-in conical burr grinder that automates the brewing process from beans to brewing in a matter of seconds. As a result, you can enjoy a reduced number of steps on your part so that you focus less on maintenance and more on coffee.
The key component of the Spinn coffee maker that enables this precise brewing is the centrifuge design that delivers 4,500 RPMs of G-force infusion that spins coffee grounds and filtered water together to get the maximum flavor and aroma out of the coffee beans. The result is an intricate flavor profile that is far superior to the traditional coffee preparation methods.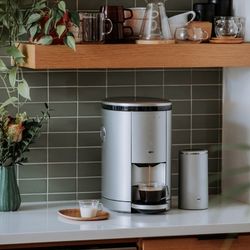 Versatility
In addition to brewing fantastic quality coffee and espresso beverages with superior brew methods. The Spinn coffee machine also provides an incredible variety of coffee beverage options.
Your options are maximized if you go for the Spinn Original Plus machine, as it includes a steam wand for frothing milk too. This means you can easily make your favorite milk-based coffees such as cappuccinos, lattes, or macchiatos.
The other great thing about the Original Plus is its compatibility with a water line supply. It eliminates the need for you to fill the water tank and makes coffee as easily accessible as ever.
Spinn's mission has always been to provide modern solutions to brewing through an innovative coffee maker that keeps the ever-changing behaviors in society and technological advancements into account. Allowing you to connect your machine to your phone, you can start the brewing cycle from the comfort of your couch.
Not only that, but you can also program your specific brand and make of coffee beans by scanning the barcode of your packet and programming it into your Spinn brewer at the press of a button. This feature also enables intelligent alerts and auto-ordering options to eliminate downtime so that you're always ready for more coffee.
Environmentalism
Unlike other espresso machines, the Spinn coffee maker makes very little waste in the brewing process. This is thanks to its zero waste initiative to preserve the natural ecosystem and avoid harmful practices that could compromise the environment.
Spinn's pioneering process uses no pods or filters, resulting in no waste. Instead, the centrifugal G-force brewing function spins coffee grounds for dryness so you can harmlessly deposit them straight into your garden.
Design
The Spinn coffee machine is designed to make delicious coffees accessible at the push of a button. It provides plenty of versatility and options to give you the coffee shop experience in the comfort of your own home. Using the abundance of customizable brew settings, you can enjoy rich espresso, silky pour-over coffee, or even a simple regular coffee as you prefer.
Each option will give you exceptional precision and consistency in brewing that enhances the flavors and aromas of the beans. This is so that you get the best out of your favorite coffee brands.
The Spinn coffee maker is built with a compact design and a beautiful silver aesthetic appearance. It projects a sense of futuristic and advanced coffee brewing technology representing its core functionality and perks. You won't have any trouble storing this machine in tight spaces alongside your kitchen appliances. Its stunning look can fit into any interior home design and lighten up the room with its brilliant reflective shine.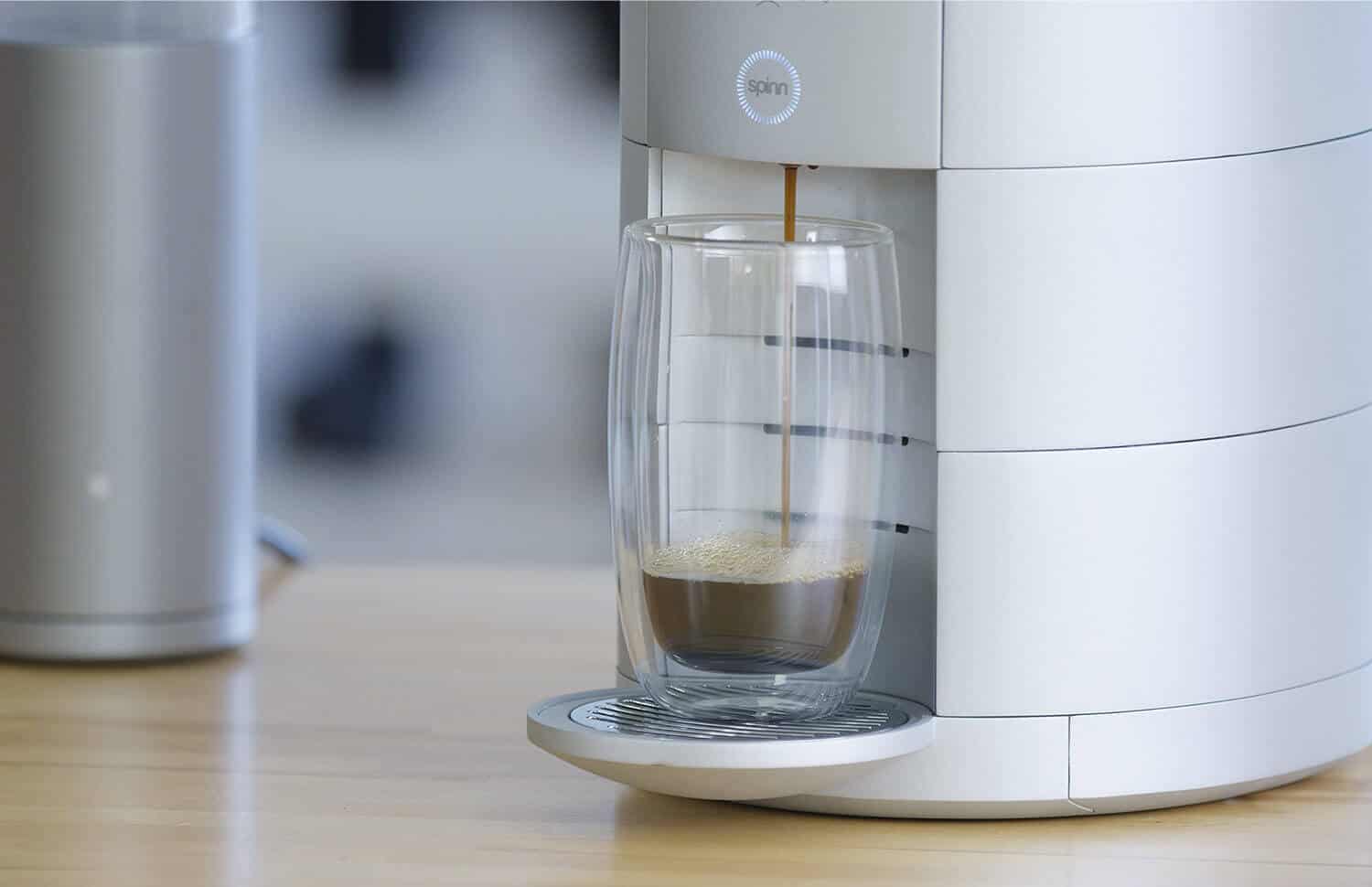 Pros
Revolutionary centrifusion brewing technology that extracts coffee at 4,500 RPMs for enhanced flavor, aroma, and boldness.
Smart features allow you to connect a smart device and program the machine with specific recipe instructions for your favorite brands of coffee beans.
An in-built conical burr grinder eliminates the portafilter middleman to deliver prompt grinding in accordance with the specified recipes programmed with the machine.
Zero waste operation enables recycling of coffee grounds for your garden and is pod and filter-free to promote environmental friendliness.
The coffee credits feature enable auto-ordering of beans for when your supply is running low.
6-month warranty for defects and 45-day warranty for any reason as well as a friendly customer service team.
Cons
Not compatible with pods, capsules, or K-Cups.
Requires a basic understanding of smartphone technology, which may not be a deal-breaker for some older generation folk.
Spinn Coffee Maker Review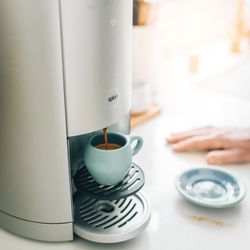 As the latest in smart precision brewing technology, the Spinn Coffee maker series is the next generation of coffee machines. It brings you the best cup you would get at your favorite coffee shops within the comfort of your home. If you are familiar with Nespresso's VertuoLine series, you will be no stranger to the Spinn centrifugal brewer. As a result, you can enjoy silky smooth coffee that is perfectly ground, extracted, and dispensed.
Before venturing into the realm of Spinn coffee makers, you need to be aware of the differences in their three most prominent products; the Original, Original Pro, and Original Plus. While the brewer itself remains the same in operation across all three models, there are additional features among the Pro and Plus versions. These set them apart from the base machine and raise them to higher price ranges.
Most notably, the Original Pro and Plus come with a glass carafe for large pots of coffee, and the Plus alone also features a steam wand for frothing milk. In addition to this, the number of credit points also gradually increases with each model as the price range increases. Specifically, the Original comes with $50 credits, the Pro $100 credits, and the Plus a whopping $200 credits, giving you a great headstart for your auto-order feature.
How does the Spinn Coffee Maker Work?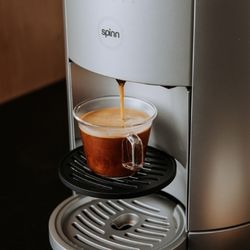 The Spinn Coffee maker works by connecting to your smartphone and managing the entire process from there. The machine produces exceptional coffee using centrifusion G-force extraction technology, meaning that you can enjoy bolder and more flavorful coffee.
The Spinn coffee maker grinds the beans without a separate grinder unlike many other machines. So, you don't have to separate the grinding and brewing steps as the machine facilitates the entire cycle into a single process automated from start to finish.
How does the Spinn app work?
The Spinn app makes it easy to make great coffee from the comfort of your couch, allowing you to customize your coffee from your smart device fully. The app works by providing a feature for scanning the barcodes of your coffee bean packets.
Using this information, the machine sets its parameters to brew your precise coffee recipe as intended by the roaster. Additionally, the app holds all your coffee credit points to utilize the optional auto-order feature. This automatically sends a predetermined order of coffee beans for when your supplies are running low.
Finally, as the middle man of the whole process, the digital recipes connect the roaster's visions with the coffee machine. That way, you get the perfect coffee drink made from Spinn's customizable programs.
How custom can you make your coffee?
Roast recognition technology and precision grinding features mean you can control each aspect of the brew cycle. This includes everything from the cup sizes, to the coarseness of grounds, and boldness of coffee. You can make just about any coffee drink using these programmable functions, including the cafe affogatos, french press espressos, and con pannas. Thus, the Spinn app is the perfect tool for all coffee lovers, whether it's the everyday coffee enthusiast or the expert connoisseurs who want to specify their drink's parameters.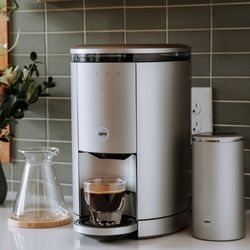 Spinn Coffee Subscription Review
The Spinn coffee subscription is an excellent long-term strategy to receive your coffee ground supplies in a convenient manner. Not only does this eliminate the need for trekking back to the store every time you need to restock on beans. It is also a great cost-effective way of consistently topping up on your supplies as there are no shipping costs involved when you subscribe.
In addition, Spinn coffee subscriptions provide its users with early access to new products and rewards earned with each purchase made as part of the Primo Reward Program. Additionally, the coffee subscription business program offers a free trial for 30 days. After this, it's only $5 per month or $50 per year for a super-affordable solution to your coffee supply deliveries.
Why buy a Spinn Coffee Maker
As mentioned throughout this article, benefits are abundant to buying the Spinn coffee maker that you cannot experience through other coffee makers. The machine uses cutting-edge grinding, extraction, and brewing technology to bring forth the best-tasting whole bean coffee that optimizes the potential of your favorite roasters.
Producing more than just a delightful drink, Spinn coffee makers provide a whole experience that gives you a glimpse into the future of coffee making. Catering to any coffee style and brand of beans and providing an in-built NANO water filter and perfect brew temperature. As a result, you can make the perfect cup to suit your needs and preferences of filter coffee-style drinks.
What Is Special About the Spinn Coffee Maker?
The special thing about the Spinn coffee series is that it goes a step further than typical barista coffee grinders and streamlines the entire process of coffee making. This means the bean grinding process, coffee extraction, and brewing is all done in succession from the moment you begin the cycle.
Blending in perfectly with our technology-loving society, you can customize your coffee ready to your liking at the push of a button using your smartphone device. Making high-quality coffee has never been easier. This machine enables you to take as much or as little control of the brewing process as you wish so you can create your ideal morning routine.
Original vs Original Pro vs Original Plus
The Original, Original Pro, and Original Plus are all equal when it comes to grinding and brewing the coffee itself, and all three models use smartphone device connectivity. In addition, the Pro and Plus both come with an additional glass carafe for brewing pots of coffee.
While the Plus also comes with a water line supply compatibility feature and a milk frother for your cafe latte beverages. All three models differ when it comes to credit points, with the Original coming in with $50 of credit points, the Pro with $100, and the Plus with $200.
Spinn vs Keurig
The Spinn model is in a different league to the Keurig when it comes to precision grinding and centrifusion brewing that extracts more out of coffee grounds. In addition, Keurigs are one of the very few machines that are compatible with K-Cups. This enables the brewing of all your favorite brands of American and global coffee brewers.
Depending on the type of coffee lover you are, you may prefer the Spinn coffee brewer for a more fresh coffee made following the roaster's recipes. Alternatively, the Keurig can provide a more simplistic way of brewing coffee that does not require knowledge of smart technology. It may appeal more to those who love the taste of K-Cups more than any other type of coffee.
Spinn vs Nespresso
Nespresso machines are the master of capsule espresso shot brewing as they are made to dispense bolder and stronger shots of coffee compared to Keurig machines. However, like the Keurig, Nespresso machines are restricted to Nespresso pods. You can't enjoy brewing ground coffee with their machines.
Nespresso does offer the VertuoLine series, however, which uses a centrifusion brewing technology similar to that of the Spinn series. Except it does this using Nespresso VertuoLine capsules instead of ground coffee beans.
Both Spinn and Nespresso are fairly convenient to use, providing good coffee easily and conveniently. I would recommend you choose based on your preference of ground coffee versus capsule coffee. Both machines can offer centrifusion brewing and optimal coffee extraction.
Spinn Coffee Review FAQ
Has anyone received a Spinn coffee maker?
Customers worldwide have received their Spinn coffee makers upon making their purchase to order via the Spinn online store. Due to popular demand and based on your geographical location and home address, shipping times may vary greatly, but you'll find it is well worth the wait.
How does the Spinn coffee maker work?
Spinn's coffee makers work by connecting to your smart device of choice and using the Spinn app to scan barcodes of your chosen coffee beans and programming your machine to adjust the parameters to precisely how you or the coffee roasters envision for your brew.
Can Spinn brewers be hooked up to a water system?
The Original Plus can be hooked up to a water system as it is compatible with water supply lines. It eliminates the need to periodically fill up the water tank and eliminates added maintenance to your brewing experience.
The Original and Original Pro do not include this feature. You can also use the app to automatically order coffee beans using the credit point system as your stock runs low so that you are never empty on supply.
Is this coffee maker environmentally friendly?
Yes, the Spinn coffee maker is built with eco-friendliness in mind. You can brew your coffee grounds to the point of perfect dryness for you to recycle into your garden or home plants as preferred. With the absence of pods or external filters, Spinn's pioneering process means no waste and a fraction of cost per cup. This makes it better for both your pocketbook and for the planet.
Does the Spinn coffee maker use coffee pods?
No, the Spinn coffee maker is not compatible with coffee pods, capsules, or K-Cups, as it is purely made to brew coffee grounds made from fresh whole beans.
Built with an internal grinder and brewer that streamlines the entire cycle and smart connectivity to your device. You can customize the parameters of your brew using your own preference. Or, you can scan the barcode of your coffee bean packet and register the recipe to your machine for a perfect grind as the roasters had intended.
Is the Spinn coffee maker easy to use?
The Spin coffee maker is super easy to use, and the more familiar you are with using your smartphone, the more effortless you will find it is to brew your perfectly tailored cup of coffee. Download the Spinn app and register your machine with the program based on your own preset parameters. Alternatively, you can do it by scanning the barcode of your favorite coffee bean brand and choosing the type of brew.