Breville Grind Control Review: Is it a good coffee maker?
A good coffee machine's most essential yet overlooked feature is a quality, built-in burr grinder. Quality in this sense refers to its precision grinding and digital display controls. In addition, Breville offers many unique perks that set it apart from other coffee grinders. In this Breville Grind Control review, we'll be shedding some light on this remarkable coffee maker.
The Breville BDC650BSS Grind Control coffee maker is an attractive and simple solution to making delicious coffee with ease and comfort.
First, we'll be giving you the rundown of what you can expect from Grind Control's features and specs. Then, we'll list its strengths and weaknesses compared to other notable competitors in the market before wrapping it all up with a FAQ segment.
Breville's Best Thermal Coffee Maker
Capture freshness and essential oils from beans by grinding before you brew
Steep and Release technology
Programmable
Adjustable grinder
LCD screen
12 Cup Dual Wall Stainless Steel Thermal Carafe and Cleaning Brush
Bean Hopper Size: 1 by 2 lb;
Water Tank Capacity: 60 oz-12 cup
8 strength settings or choose pre-ground coffee option
1 Year Limited Product Warranty
What's Included
The Breville Grind Control, Silver BDC650BSS
Precision Machined Stainless Steel Burrs
Steep and Release Technology
6 Distinct Burr Grinder Settings
Gold-Tone Filter
12 Cup Dual Wall Stainless Steel Thermal Carafe
Cleaning Brush
Breville 1 Year Limited Product Warranty
Specs
Product Dimensions: 9 x 14 x 17-inches
Weight: 16 lbs
Material: Stainless Steel
Water Reservoir Size: 60 oz
Warranty: 1-Year Limited
Key Features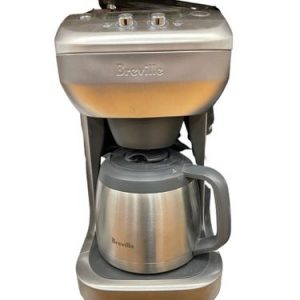 Without a doubt, the most prominent feature of the Breville Grind Control is the grind control feature. Essentially, the Breville Grind Control coffee maker is the first product by the brand to incorporate an adjustable grinder and calibration function into the machine.
The machined stainless steel burrs deliver consistent ground particle sizes for a more balanced, full-flavored hot cup of delicious coffee.
It allows you to grind coffee beans right before you brew your coffee. It also enables the user to customize the grind size and coffee volume to suit their preferences. In addition, by brewing the grounds within a minute of the beans being ground, you can better capture the freshness and essential oils of the coffee beans.
Steep and Release Technology
The Breville Grind Control coffee maker comes with steep and release technology that prolongs the contact time between the coffee grounds and the water. As a result, the machine nurtures the coffee grounds more effectively than other coffee makers. It does this by delaying their expansion and fusion so that the liquid has more time to absorb the beans' aromas, flavor, and richness.
Grind Technology
This feature works well with the Breville Grind Control's main attraction: the grinder itself. It optimizes the coffee's taste by closing the gap between completing the grinding and beginning the brewing. At this point, the steep and release phase takes place to seal the deal.
The Breville Control Grind provides six settings for users to adjust their grinds from coarse bits to smooth powder using the built-in grinder. It is built with an integrated and adjustable bean hopper grinder. In addition, the coffee maker allows you to customize the output of your grind to suit any coffee bean from any brand, no matter what your preference may be.
Breville's grind control feature means you can control the grind time and the texture of the grinds. This provides a solution to every type of coffee bean brand out there and the style of coffee you wish to brew. Additionally, this bean hopper capacity is large enough to allow for the immediate brewing of its coffee grinds for up to 12 cups or a full glass carafe of coffee.
Controls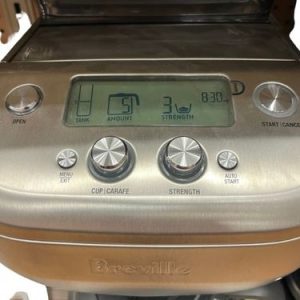 One of the most extraordinary things about any coffee maker is a simple-to-use control panel that can still perform complex tasks. The Breville Grind Control coffee maker is a solid example of this. It is built with an aesthetic LCD screen display that accurately shows the grind sizes, grinds types, brew/cup sizes, water tank levels, and even the time.
The controls are straightforward, incorporating several tactile dials for cup/carafe sizes and brew strengths. There is also a start/cancel button to begin your brew and customize the brew time so you can stop it at any time you want. Finally, the machine incorporates a programmable auto-start feature button that functions to start your brew at a pre-determined time set by you.
This means you can set your machine to brew up your morning coffee as soon as you rise from bed. This lets you cut out a time-consuming step from your morning routine. It also ensures you are never again without your cup of coffee for the day!
Extra Features
The Breville Grind Control coffee maker comes with an abundance of accessories that enhance the brewing experience. These heighten the richness and taste of your deliciously brewed coffee. For instance, the included gold-tone filter basket is designed to allow the natural coffee oils to seep through. As a result, it can provide a complete coffee flavor enhancement that paper filters cannot achieve.
This product also comes with a dual-wall stainless steel thermal carafe. This holds up to 12 cups of coffee and keeps your coffee hot for several hours. The carafe is made of durable stainless steel material that makes it great as a portable mug that can be taken around wherever you go.
Finally, you'll also receive a cleaning brush for your machine to help unclog any build-ups of coffee residue in the filters or brew head. This gives you an added advantage to cleaning your Breville BDC650BSS Grind Control coffee brewer.
Design
The Breville BDC650BSS Grind Control coffee maker is designed to brew coffee to perfection. It has a range of easy-to-use yet complex features.
You can brew the perfect-sized cup of coffee or get those precise grinds you want, from coarse to smooth. It's all easily achievable with the seamless, simple control panel. The LCD puts you entirely in control of the brewing process from bean to cup.
In terms of dimensions, this Breville coffee maker incorporates a compact design and brushed stainless steel finish with a beautiful silver aesthetic. It looks great in any home kitchen, regardless of interior design or style.
Additionally, the compact dimensions allow you to fit this machine anywhere on your kitchen counter space. Alternatively, you can store it in a tight spot in your cupboards. Finally, the stainless steel material of the machine is quite solid and durable. This promotes longevity and provides resistance to scratches, corrosion, and damage.
The water reservoir of the Breville BDC650BSS Grind Control coffee maker has a capacity of 60 ounces. This means you can enjoy up to 12 cups of coffee before a refill. Unfortunately, the reservoir is not removable, so you may experience difficulty cleaning or refilling it.
On the plus side, it's pretty easy to open and close with a fold-up lid. So you can rest assured that you won't experience one of the unspoken perils of losing your reservoir's lid. I know I've been a victim of this. Furthermore, the reservoir and carafe are made to complement each other. A full reservoir of water equates to a whole pot of coffee and vice-versa.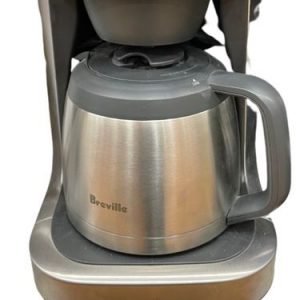 Pros
Six adjustable grind settings enable fully customizable grind preferences for your freshly grounded coffee beans.
It has a full range of grind options between coarse and smooth.
Digital LCD display screen allows you to control precisely what brew size you want easily.
The strength of the brew and the type of coffee grind are also options.
Auto-start function allows you to set the brew time to suit your schedule, for example, as soon as you wake up.
Creates third-wave specialty coffee by brewing immediately after grinding.
Applies steep and release technology that slowly expands the beans and enhances the richness and flavor of the coffee.
The included gold-tone filter removes the need to replace the paper filter constantly.
Excels at delivering richer, more aromatic coffee by allowing the essential oils of the beans to seep through the filter but none of the unwanted coffee solids.
Breville's one-year limited product warranty allows you to return your machine have it replaced for any manufacturing defects.
Cons
No removable drip tray or removable water reservoir included.
No milk frother steam wand included.
Breville Grind Control Review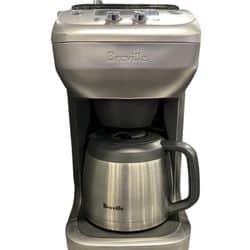 The Breville Grind Control coffee maker is a compact and durable machine that shines in its customizable coffee grinds and in-built grinding. It closes the time gap between the grinding of the fresh coffee beans and the following brewing cycle. This keeps the aromas and richness of the coffee captured and incorporated into the resultant coffee for a more delicious flavor.
Making coffee doesn't get much easier than this, as the LCD screen and digital display enable you to take charge of the grinding process fully. In addition, the Breville BDC650BSS Grind Control coffee grinder and brewer makes many different coffee kinds. So whether you want to brew a single cup, a travel mug, or a full pot of coffee, anything goes.
In addition, the auto-start feature means you can automatically brew at a specified time by setting your desired preferences. I'd highly recommend an aspect of this machine for those who have a hectic morning schedule and need a head-start to their routine.
The integrated start/cancel button also means you can prematurely stop your brew should you feel the cup level is sufficient before the brew is over. For example, if you begin brewing coffee for a large cup size but then realize mid-brew that you want less coffee, you can easily stop the brew.
Other than the machine itself, the Breville Grind Control coffee maker comes with an abundance of coffee gear that helps you achieve perfection with your brew. A gold-tone filter is included to encourage reusability and remove the need for constantly replacing paper filters.
Moreover, a gold-tone filter enhances the fragrance and richness of your coffee for a bolder and more flavorful taste. It is designed to allow more coffee beans' oils to pass through without letting in those unwanted coffee solids that ruin the experience. In other words, you are getting all the good stuff and none of the nasty stuff.
Customer Reactions
Also included in the coffee gear items is the thermal carafe that maintains the temperature of your hot coffee to keep it nice and warm for hours on end. So you could easily brew up a pot of coffee at home and take it with you to a family or friends gathering.
Almost 4,000 global Amazon reviews have deemed this product an average score of 4-stars for a pretty solid rating, though not super impressive by all means. Of course, many would hope for a removable water reservoir and removable drip tray.
It has adjustable grind sizes, brew strengths, and third-wave coffee brewing systems incorporating steep and release technology. It also prompts brewing post-grind to capture all the aromatic goodness so your freshly ground coffee can brew directly into your cup for optimal enjoyment. See what customers are saying about the Breville Grind Control machine with the link below!
https://www.amazon.com/dp/B00VGGVQCI#customerReviews
Breville Grind Control vs Cuisinart
Like the Breville Grind Control, Cuisinart also features an automatic "grind and brew" coffee maker that commences the brewing cycle immediately after grinding takes place. In addition, the Cuisinart Grind and Brew machine has an auto-shut-off feature that automatically turns off your machine anywhere between 0 and 4 hours as preferred.
On the other hand, the Breville Grind Control has a far nicer LCD digital display that shows you a lot more than just the time, unlike the Cuisinart machine. The Breville also incorporates more dials in its control panel rather than just buttons like the Cuisinart. It gives you control over specific cup size and brew strength details.
Breville Grind Control vs Technivorm
While the Technivorm Moccamaster does incorporate some highly sophisticated grinding and brewing tools such as a 9-hole outlet arm and independent hot plate heating elements. It still lacks in providing third-wave specialty coffee at the same level as the Breville Grind Control.
This is because the Breville machine incorporates a built-in blade grinder that grinds to perfection while enabling immediate brewing once the grounded coffee is ready for fusion. On the plus side, Technivorm does have a heating plate that allows you to keep your coffee nice and hot. It is more effective than Breville's thermal carafe in this respect.
For more details read our Technivorm Moccamaster review.
Breville Grind Control vs Precision Brewer
The Breville Precision Brewer is another great choice for custom grinding and optimal brewing that delivers delicious coffee in seconds. However, do not be confused as the Precision Brewer uses a concept called gold brewing. This is essentially a matter of changing the machine's parameters to allow coffee to be brewed to standards set by the Specialty Coffee Association.
This is different from Breville Grind Control's gold-filter basket, which specifically targets the inclusion of essential oils from the coffee beans to enhance the flavor and aroma of the coffee. As a result, there is a slight difference in taste between these two coffee makers, and it will very much come down to personal taste and preference.
On a more obvious comparison, the Precision Brewer does come with bonuses like cone-shaped and flat-bottom filters. These allow you to customize the strength of your brew further. Also, the longer warranty of two years than the Grind Control is something to consider.
Breville Grind Control FAQ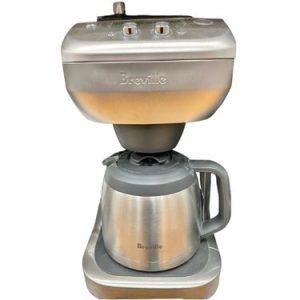 Is Breville grind control worth it?
Absolutely. The Grind Control by Breville is a compact machine that can prove to be quite useful in the long run. It comes with durable stainless steel construction and a sophisticated control panel system to accurately customize your brew. As a result, the machine can provide you with fresh and delicious, perfectly tailored coffee for a very long time.
Can you use ground coffee in the Breville grind control coffee maker?
Of course. In fact, the machine requires you to use ground coffee in order to brew your delicious coffee in seconds. You could also add coffee beans to the built-in burr grinder for a more fresh and aromatic coffee. The Grind Control coffee maker uses third-wave coffee brewing mechanics to instantly brew your coffee as soon as the beans have been ground. This allows the coffee to retain its fresh flavors and bold taste.
How do you descale a Breville grind control coffee maker?
To descale your Grind Control machine, fill up the water tank with 20 ounces of white vinegar or equivalent descaling solution and the rest with cold water. Next, press and hold the strength button for five seconds and allow the descaling process to commence. Ensure you have a container ready to collect the water and residue out of the dispenser. Learn more in our how to descale a Breville coffee maker here.
Does the Breville Precision Brewer have a grinder?
Yes, the Breville Precision Brewer comes with a bean hopper and grinder. However, unlike the Breville Grind Control machine, this grinder is not built into the brewer. Thus, the Precision Brewer does not enable the same level of instant brewing after the grinding has taken place. So, you may lose out on some of the freshness and aromas of your coffee.
How do you reset a Breville grind control?
To reset your Breville Grind Control machine, press the Menu/Exit button and rotate the Strength dial to reset. Now press the Strength dial to reset and press it again to confirm the reset.
Breville Grind Control Review: Should You Buy This Coffee Maker?
The Breville Grind Control coffee maker is a fantastic machine that delivers a variety of brew sizes and strengths and some handy features that let you brew following your schedule.
Brew anything from an espresso to a macchiato or even an iced coffee with this awesome grinder. It brews specialty third-wave coffee by using steep and release mechanisms that allow brewing immediately after grinding to optimize freshness and aroma. Then, brew exactly what you want at any time with the easy-to-use, sophisticated control panel.
Of course, everything has a downside, and in this case, the lack of a removable water reservoir and drip tray is quite a let-down. However, that shouldn't deter you from purchasing this machine if the core features appeal to you. Available on Amazon at an affordable price, I'd recommend the Breville BDC650BSS Grind Control Coffee Maker for those searching for a simple machine that gives you all the best options for grinding and brewing without making things too complex.
Related Coffee Maker Reviews: