Are you tired of the same old gigantic coffee stations that claim to give a "cafe experience" but only give you a lot of work to do? Well, the coffee-making process should not be an exhausting one, and we shouldn't have to work so hard to turn our ground coffee into a delicious espresso! That's why we've put together this Smeg coffee maker review to help anyone feeling the same way about their coffee and want their morning hit.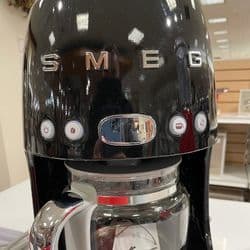 The Smeg coffee maker review
Enter the Smeg coffee maker! This cute and compact machine is exactly what you've been looking for to deliver a good-tasting coffee without the hassle of overly complicated features. The design is also wonderfully unique, bringing a retro-feeling while still being functional.
Don't get me wrong, the Smeg coffee brewer does not compromise on quality when offering delicious coffee. Still, it simplifies the process by cutting out some features you are unlikely to use or are simply better off without.
About Smeg
Smeg is an Italian manufacturer of household appliances founded in 1948 by Vittorio Bertazzoni and started as an enameling and metalworking company. Over time, the company expanded its business model to build cooking appliances such as microwaves and ovens.
As of today, they boast a massive range of products for the kitchen and the house. The company has a deep appreciation for retro-style designs. You will find this aspect of Smeg's personal touch in many of their coffee makers.
Specifications
Dimensions: 17 x 13 x 11.25-inches
Weight: 7.5 lbs
Color: Cream
What's Included
Smeg Retro Style Coffee Maker Machine
Aroma Intensity Function
Water Hardness Feature
6-Cup Water Tank
10-Cup Capacity Glass Carafe
Anti-Drip System and Anti-Slip Feet
Economic Reusable Filter
Auto-Start Mode
4-Cup Brew Mode
60 Minute Keep Warm Mode
12 or 24 Hour Clock Option
Features and Benefits
There are many benefits to using the Smeg espresso coffee machine, and these can be experienced through the abundance of unique features that it offers. One of its most unique components is the adjustable water hardness feature, essentially giving you control over the texture of your water.
For those unfamiliar with the term "water hardness," it refers to the amount of dissolved calcium and magnesium in the water. This ultimately affects the "taste" of the liquid. Once you start using the Smeg machine, you will gauge your desired water hardness level for yourself.
Another unique aspect of the Smeg is the aroma intensity feature which allows you to cater to personal preference of coffee scents, varying between light and intense. This differs from other coffee makers in that it's more than just the strength of the brew but affects the aroma as well. Thus, you can extract the best results from your coffee beans using the Smeg and adjust every aspect of your coffee drinking experience.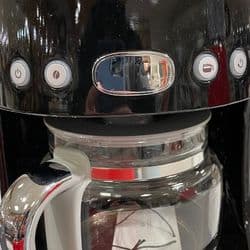 Design and Aesthetics
Smeg built their coffee maker with a stylish retro design that gives a 1950s look and fills users with a warm nostalgic feeling. Indeed, it is a machine with a retro look and advanced features, giving you the best of both worlds.
In addition, it is a compact machine that is easy to fit anywhere in your home, whether in use on the kitchen counter space or being stored away in a cupboard. At just 7.5 pounds, it's also super easy to carry around and relocate its position as needed.
Taste
The taste experienced by Smeg coffee makers is like no other, with the aroma setting function and water hardness features that give an added sense of control over your coffee experience. In addition, Smeg provides several customizable features that make the coffee maker rise above its competitors. It does this by delivering its unique taste for every user by truly adhering to their personal needs.
Pros of the Smeg Drip Coffee Maker
Chic retro style design delivers a stylish throwback to the 1950s.
Customizable water hardness feature gives you control over your coffee taste.
The easy-to-read digital LED display and clock make it seamless to control your brew cycle and keep track of time.
An automatic shut-off feature ensures you don't waste power after 1 hour of inactivity.
The economical reusable filter ensures you do not need to purchase paper filters for your machine.
The intensity of aroma can be adjusted between light and intense to suit the needs of its users.
Keep warm function allows you to keep your coffee hot for 60 minutes after brewing using a hot plate mechanism.
Available in a range of colors, including red, black, and mint green.
Descaling alarm light indicator helps in the maintenance process.
An anti-drip system keeps things tidy and avoids the issues faced by standard drip coffee makers.
Smeg provides a 2-year limited warranty.
Cons of the Smeg Drip Coffee Maker
No milk frother may be a deal-breaker for some.
No coffee bean hopper or grinder included.
Smeg Coffee Maker Review
The Smeg coffee maker comes with an arsenal of features that help you make a delicious cup of hot coffee in a stress-free manner. With multiple brewing options, a user-friendly control panel, and a warming plate to keep your coffee warm, you'll find it easier and more rewarding to use Smeg over other popular drip brewers.
The best part is that there is more to the machine than just a more direct brewing experience. It features many customizable options that help you make great coffee that suits your unique preferences.
The Smeg drip coffee machine does coffee brewing right with Rated 4.4-stars on Amazon reviews by over 800 global users. Luckily, the machine will cease dripping as soon as the brew is over. So, you won't have to tend to your drip tray after every brew constantly.
Not surprisingly, the Smeg coffee maker is rated 4.9 for its style in design, a feature not common in the usual coffee maker review. Enjoy reading the comments about this product on Amazon's customer review page using the link below:
https://www.amazon.com/dp/B07RJTPR4Y#customerReviews
How do you make coffee in a Smeg Coffee Maker?
To brew a cup of coffee using the Smeg coffee maker, follow the step-by-step guide below (not to be used as a detailed guide, please refer to the product manual for complete instructions):
Plugin and turn your machine on using the power button provided.
Grind or purchase your choice of coffee grounds and insert it into the compartment.
Fill the water reservoir to your desired level based on how many coffee cups you brew and close the lid.
Finally, choose your aroma's intensity level by toggling the coffee bean button on the control panel.
Press the power button again to brew a single cup of coffee, or press the carafe icon button to brew an entire pot of coffee.
Enjoy!
How to clean a Smeg Coffee Maker
Cleaning your Smeg coffee machine is quite simple as it comes down to wiping the exterior with a damp cloth or paper towel and applying soap as an option. Next, wipe down the machine from top to bottom and leverage its lightweight design to clean the bottom and back of the device as needed.
Avoid placing the product in dishwashing machines as this can cause damage to the interior. Unfortunately, there are no removable components that can be washed using a dishwasher. The best that you can do is to take advantage of the small and compact structure of the machine.
How to descale a Smeg Coffee Maker
To descale your Smeg coffee maker, follow the steps below:
First, pour about 500 milliliters of descaling solution into the carafe provided and fill the rest with water.
Pour the contents into the water reservoir.
Start the descaling process by pressing and holding power and auto-start buttons simultaneously until they start flashing.
Once the flashing stops and the carafe is full, empty the carafe's contents into the sink.
Repeat the process using only water (no descaling solution) a recommended two times to ensure a thorough rinse before using your Smeg machine again.
Smeg Coffee Maker FAQ
Is the Smeg coffee machine worth it?
Yes. The Smeg coffee machine suits customers that appreciate a retro aesthetic and additional customizable functions that make your coffee bloom your way. Essentially, it can prove to be well worth the price for the right person.
How many cups of coffee does the Smeg coffee maker make?
The Smeg coffee maker can brew up to 10 cups of coffee for a full carafe's worth in a single brew. Thus, both the water reservoir and carafe provided are made with 10 cups to cater to this.
Is Smeg drip coffee good?
The Smeg drip coffee maker is an excellent product with many features that make the process fun from the moment you start brewing. They designed all the elements to keep you in control from start to finish.
Does Smeg make a good coffee maker?
Smeg makes its coffee makers in many different sizes and varieties. Still, the Smeg retro coffee maker differs from other Smeg appliances by providing a stylish 1950s design. They also remove the need for portafilters and other hassle-inducing components.
Where are Smeg coffee machines made?
Smeg makes their coffee machines in Italy, with some components also being manufactured and assembled in China via global distribution channels.
Does the Smeg coffee machine use pods?
No, the Smeg coffee machine uses fresh coffee grounds of your choice and is incompatible with pods or capsules, including K-Cups and Nespresso.
Is a Smeg Coffee Maker worth the money?
Depending on your needs, preferences, and budget, Smeg's coffee maker can prove to be an excellent long-term investment that lasts longer than cheaper brands. This is because of the high-quality materials used and the product warranty that guarantees a lasting performance.
Built with a compact and lightweight design, you can take your Smeg retro coffee machine everywhere you go. You can enjoy the convenience of being able to store it anywhere in your home kitchen table or pantry cupboards.
Amazon and a few other reviews have rated this item relatively high relative to most domestic appliances. Admirers of the brand highly regard Smeg coffee machines for their stylish look, superior flavor, and ease of maintenance.
In addition, it's built with two default brewing settings for aromatic intensity and adjustable water hardness levels. So, the Smeg coffee maker gives you complete control over how you would like your cup of coffee.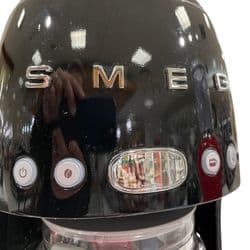 Should you buy a Smeg Coffee Maker?
This coffee brewer helps you save on energy with an auto shut-off feature that executes after an hour of inactivity. So even after it has completed the brew, it keeps your coffee ready and hot. Additionally, it comes with a handy little backlight that alerts you when descaling is needed, so you don't have to worry about noting down the last time your machine was descaled.
As a result, good coffee has never been easier to attain, and the Smeg retro coffee machine provides a pleasurable brewing experience as well as a tailored taste.
All in all, We hope this Smeg coffee maker review has shed some light on what to expect with this fantastic retro machine and enlightened you on Smeg coffee makers in general. By now, you should have not only insight into this retro-looking coffee maker but also a solid understanding of how to use it, clean it, and descale it.
Thus, we hope that this article can help anyone who is considering purchasing the Smeg retro coffee maker.
Check out our other coffee drip brewer reviews: