Buying a coffee maker doesn't have to be tough we've been searching for which Keurig is best, and next is the K-250. Keurigs are known for the convenience of their single-serve pods, which I love for their speed and ease of use. Our Keurig K250 review will be looking at how its specs compare to other Keurigs and whether it's worth purchasing.
Right now, I'm living in a household with a traditional coffee machine. Even though it has many features, it still takes more than ten minutes to brew a pot, not including measuring everything out! This Keurig 2.0 250 review is here to help you decide whether it's the right Keurig for you. 
Click here to check the current price now  
Things to Know About the Keurig K-K250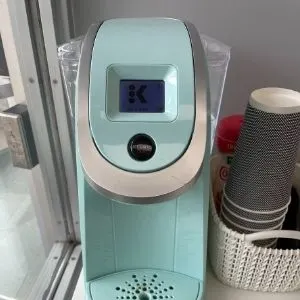 What's in the Box
A Keurig single-serve coffee maker with touchscreen controls
4 K-Cup pods
Water filter handle
2 water filters
Bottle of descaling solution
Specs
40oz removable water reservoir
9.8 pounds
Seven color options including Black, Imperial Red, Oasis, Peacock Blue, Plum Grey, Sandy Pearl, and Turquoise
13.6" H x 8.9" W x 13.8" D
Features of the Keurig K250 Coffee Maker
Keurig Coffee Pod System
The Keurig 2.0 K250, like all Keurigs, uses K-cups. Coffee pods are fast, convenient, and easy to store. They're a little more expensive than buying traditional coffee, but there are so many advantages. I've used regular coffee machines for most of my life, and while they work just fine, I find myself frustrated more often than not.
First, if you purchase pre-ground coffee beans, they're going to get stale within a month, maybe a bit longer if you seal them properly. Whereas, I've used coffee pods that have been left out for at least three months with no problems. If you're a coffee lover but a bit lazy, this is a lifesaver.
It's also just annoying to have to measure out the grounds and water every time. With the K250, it just knows how much water to use from the reservoir, meaning you don't have to refill it for every cup.
Keurigs are also very fast, like crazy fast. It will make a perfect single-serve cup of coffee in less than two minutes.
Multiple Brewing Types and Sizes
There are over 75 brands that have K-cup pods, including Starbucks, Tim Hortons, McDonald's, Folgers, and Dunkin Donuts. Many brands also have multiple varieties, such as mild, bold, decaf, and flavored. I like to have a few decafs on hand for late in the day if I'm still feeling like a coffee but can't deal with the caffeine.
The K250 also allows for different brew sizes. The k-cup pod brew sizes it can do are 4, 6, 8, and 10 oz. depending on the option you select. There are also 22, 26, or 30 oz K-Carafe brews, if you wanted to brew a whole pot at once (note: the carafe is sold separately).
I love the different options for K-cup pod brew sizes – most of the time I'm going to go for the largest size, but if I want my coffee more concentrated that day I'll pick a smaller size for a more intense brew. I tend to go for a Starbucks dark roast on those days, even though technically they have less caffeine. It just tastes like it should be bolder, you know?
Learn how to make a Keurig coffee cup in here.
Touch Screen Controls
The Keurig 2.0 line has black and white touch screen controls that are really simple to use.
On the right side, there's a size option with simple up and down arrows. There's the ready button and an option to brew at a higher strength on the left side. It's just that easy.
I like the sleek design of the touch screen and how it's built-in to the overall machine.
There are a couple of other options on the touch screen, like a hot cocoa option, but it's all pretty self-explanatory. Just turn it on with the power button, choose the size and strength you'd like, put in the K-pod and water, and hit ready.
The coffee will be done in less than 2 minutes.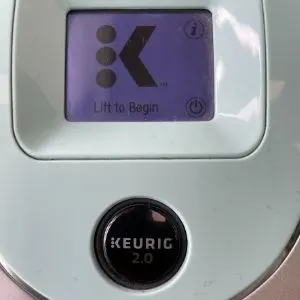 Benefits of the Keurig K-K250
The main benefits of the Keurig 2.0 K250 are its sleek and easy-to-use design, built-in water filter, and the option between the single-serve K-cup and the K-carafes.
It's also relatively easy to clean and maintain compared to other coffee machines with water filters.
Cleaning & Maintenance
Washing the Machine
You should wash the removable parts of your Keurig every week.
First, unplug it. Then, disassemble the water reservoir, lid, drip tray, and K-cup holder.
Clean the drip tray and K-cup holder with soap and water.
Wipe down the water reservoir and lip with a soapy cloth, then rinse and let dry.
Replace all parts and plug back in.
Also, see our post on How to Clean a Keurig Needle for more information.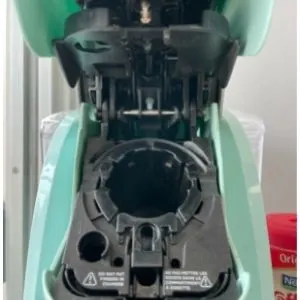 Replacing Water Filter
You should replace the water filter once every two months.
First, soak your new cartridge in water for five minutes and rinse.
Then, wash the lower filter holder mesh of any built-up grime before inserting the new cartridge into the upper holder.
Replace the lip and put it back into the water reservoir.
How to Descale a Keurig 2.0
You should descale your Keurig every six months to get rid of any hard water mineral build-up.
First, fill the water reservoir with 16 oz of white vinegar or Keurig's Descaling Solution. Next, add 16 oz of fresh water to this solution.
Then, start a brew cycle without a K-cup, using a cup to collect the liquid.
Repeat until the whole reservoir is used.
Then, let the coffee machine rest for 30 minutes before emptying and rinsing the reservoir thoroughly to remove any leftover vinegar or descaling solution.
See  how to descale a Keurig when the Keurig descale light stays on for more information.
Pros and Cons of Keurig K250
Pros
Fast and convenient coffee brewing
K-cups can be stored longer
Easy to use controls
Cons
K-cups can be environmentally unfriendly
You can't use some brands
Why choose Keurig K-K250 over other coffee machines?
A Keurig is better than regular coffee machines because of how easy it is to make single-serve cups of coffee. It's lightning-fast and makes exactly one cup without having to measure the water or beans yourself.
Compared to other Keurigs, the K250 is a nice option for its water filter and touchscreen features, plus a quality, sleek overall build. It doesn't have temperature control or the ability to brew for travel mug size, but beyond that, it has all the major features.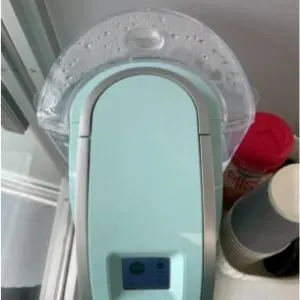 Who is Keurig K-K250 made for?
Everyone looking for a sleek and easy coffee machine that allows you to brew your morning coffee without having to fiddle with too many options. It is ideal for single-person households or small families who would like to use the carafe option or simply each brew their own coffee.
Who should not buy the Keurig K-K250?
Those looking for a specialty coffee maker will have to choose another machine, as the K250 only brews regular coffee. It is also missing temperature control options.
You should also check if your favorite brand of coffee has K-cups available.
Other Keurig options
If you are still searching for a Keurig, here are some other options.
Keurig K-Select Coffee Maker
The K-Select is somewhat smaller and can't brew K-Carafes. There's also no touchscreen or water filter. It is quite a bit more budget friendly. To learn more, see our Keurig K-Select Coffee Maker review.
Keurig K-Elite Coffee Maker
The K-Elite is able to brew iced coffee and has a larger water reservoir. It lacks a touchscreen and can't brew K-Carafes, but it is more budget friendly. To learn more, see our Keurig K-Elite Coffee Maker review.
Keurig K-Mini Coffee Maker
The K-Mini is a very tight package with minimal controls. Its water reservoir is not removable, has no water filter, and is generally lacking features, but it is much more budget friendly. To learn more, see our Keurig K-Mini review. 
Keurig K-Mini Plus Coffee Maker
The K-Mini Plus is very similar to the K-Mini but with pod storage, a strong brew option, and a removable water reservoir for a slightly higher price. To learn more, see our Keurig K-Mini Plus Coffee Maker review.
Keurig K-Duo Coffee Maker
The K-Duo lets you brew regular ground coffee into a carafe alongside the single-serve K-cup option for a 2-in-1 machine. Lots of key features and options are included, but no touchscreen or water filter. To learn more, see our Keurig K-Duo Coffee Maker review.
Keurig K155 Office Pro Commercial Coffee Maker
The K155 Office Pro is an advanced touch screen machine with a sleek design and loads of features. Slightly more budget-friendly than the K250 but lacking a water filter. To learn more, see our Keurig K155 Office Pro Commercial Coffee Maker review.
Keurig K-Cafe Special Edition
The K-Cafe features the ability to make specialty drinks using K-cups in addition to regular drip coffee for a slightly lower overall price than the K250. In addition, it includes a milk frother for lattes and cappuccinos. To learn more, see our Keurig K-Cafe review.
Keurig 2.0 K-K250 FAQ
What is the K250 Warranty?
Keurig offers a one-year limited warranty on their machines. Check with their customer service for more information.
Is Keurig K250 discontinued?
No – many of the Keurig 2.0 line was discontinued, but the K250 was kept on.
When did the Keurig K250 come out?
The Keurig K250 came out in April of 2015.
Does Keurig K250 have a water filter?
Yes, the box comes with two filters to start, and they should be replaced once every two months of regular use.
Why was the Keurig 2.0 discontinued?
Essentially, there were some issues with which K-cups could be used with Keurig 2.0 machines.
What's the difference between Keurig K200 and K250?
The only difference is the water filter. The K200 does not have a water filter, while the K250 does.
The Best Keurig Coffee Maker?
We've reviewed all of the current Keurig coffee makers, so we know a thing or two about Keurig. Here are all the different models reviewed for your reading pleasure plus the best Keurig coffee maker.
Should I buy a Keurig K-K250, coffee maker?
Speaking generally, yes, the Keurig K250 is a solid coffee maker. If you're already sold on getting a Keurig, the decision comes down to which features you'd like for different price points. The K250 features a water filter, but no temperature control and can't brew specialty coffee.
If you're wondering whether to get a Keurig at all, I would say they are a pretty solid choice for a convenient coffee maker. I prefer the K-cup system to brewing traditional coffee, but the traditional method might be more enjoyable and customizable for some people. However, it can also be more expensive to get a Keurig over a traditional brewer.
Overall Review of the Keurig K250 Coffee Maker
I like the Keurig K250. It's a sleek and solid machine. I prefer using the K-cup system to having to deal with coffee grounds directly. I also like that most stores around me have K-cups with the brands I like, such as Starbucks and McDonalds.
The water filter is one of the key features of the K250 and works well. I don't love having to replace it every two months, but fresh filtered water is a must for me, and I like that it's built right into the machine.
The main reason to buy a Keurig is for the convenience of single-serve coffee pods which are ready in just a couple of minutes, which this machine does perfectly. If that's what you're looking for, the K250 is a great choice.