You may not realize it, but using premium-grade coffee beans doesn't necessarily mean you will get the best coffee. The truth is, your coffee grounds are only as good as your coffee machine allows them to be. So, it's important to invest in a quality product. Here, with the Braun MultiServe Coffee Maker review, we'll go in depth to learn about this incredible machine.
Braun's Best Coffee Maker
Exact Brew System
Customize your coffee  with the touch of a button
Full pot of coffee in under 8 minutes without sacrificing taste
Temp Sensor System
Choose your ideal brewing size from single cup to a full carafe with a simple turn of a dial
Freshness indicator
Unique carafe design
Quick Braun Multi-Serve Coffee Maker Review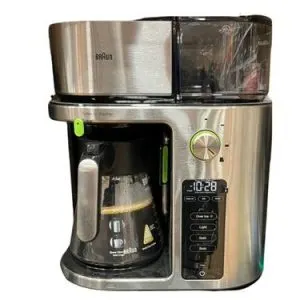 Versatility is key to heightening the coffee experience to new heights. This Braun coffee maker was built with this philosophy in mind. Braun's ExactBrew System is combined with its BrewChoice Plus menu feature to bring you an abundance of coffee options. These are always brewed to perfection with precise coffee extraction and brewing parameters.
The Specialty Coffee Association approves it for being a quality brewer of third-wave coffee. A three-year extended product warranty also backs it. So there is plenty to be excited about with the Braun MultiServe Coffee Maker.
Specifications
Dimensions: 13 x 7.1 x 15-inches
Weight: 10 lbs
Color: Silver Stainless Steel
What's Included
Braun MultiServe Coffee Maker
Glass Carafe
Gold-Tone Permanent Filter
Charcoal Filter
Measuring Scoop
Instruction Manual
Quick-Start Guide
3-Year Product Warranty
MultiServe Coffee Maker Features and Benefits
The Braun MultiServe Coffee Maker has fantastic features and a beautiful aesthetic that gives off a professional yet modern home-style vibe. But, looks aside, it's the in-built mechanics and functionalities of this machine that genuinely gives you value for money.
Each feature is designed to optimize taste, flavor, and aroma while keeping you in full control through an easy-to-use control panel. In addition, it provides you with plenty of customizable brewing options. This gives you access to freshly brewed coffee that delivers that good "hit" you desperately need. The Braun drip coffee maker goes above and beyond to give you the best quality coffee with the least amount of effort.
There's more to a great coffee machine than simple coffee brewing. Any coffee enthusiast would know that each day is different, and your preferences for the type of coffee you drink can change instantly. That's where the Braun MultiServe steps in to give you one of its most defining features in the BrewChoice Plus control panel.
Features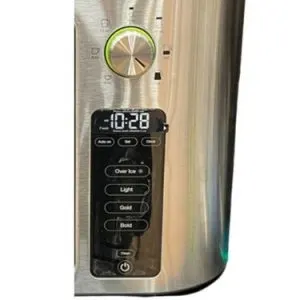 The most prominent feature and, in many ways, the foundation of the MultiServe coffee machine is the ExactBrew system. Completely automatic, this function makes all your coffee using customized parameters that are tailored towards the type of brew you choose.
This means the water flow, temperature, and speed of extraction are all calculated based on the option of coffee you select. The result is an optimal, consistent brewing performance in every cup of coffee you create with the Braun MultiServe coffee brewer!
Much like going to your favorite coffee shop or cafe, this interface comes with a digital display and several brewing options that give you the power to make your coffee exactly how you want it. For example, you can choose to brew over ice for a refreshing iced coffee. Alternatively, go for the light option to give yourself that smooth, fresh coffee that's not too hard on the heart.
For the more energetic personalities, you can choose the gold option. This sets the parameters for a balanced cup full of flavor and aroma to brew at the third-wave specialty coffee standard.
Of course, we don't all need a whole pot of coffee each morning, especially if you're going solo. Don't worry, because the MultiServe sees you just as well. Featuring a MultiServe Dial function, you can accurately select the brew size you want with a wide range of seven options.
Finally, for the daring coffee drinkers, you have the bold option to give you an extra kick to your day. The machine sets its parameters to prolong the contact time with the coffee grounds. This provides you with a strong, hot cup of coffee that hits the spot!
Benefits
You can brew 5 oz, 8 oz, or 12 oz single cup sizes, or you can go for a larger travel mug size of 16 oz or 20 oz. From there, you have the pot options that range from a half carafe to a full carafe. This gives you the complete range of cup-size options for your coffee at the simple turn of a dial.
As you know by now, the Braun MultiServe is a certified brewer as approved by the Specialty Coffee Association (SCA). As a result, it can brew high-quality third-wave coffee at the premium standards of flavor extraction and aromas. The machine uses a TempSensor System, which integrates three sensors that monitor temperatures throughout the brewing process.
Meeting the standards set by the SCA by upholding the temperature requirements, the Braun MultiServe achieves the perfect brew temperature for optimal ground coffee extraction. This captures the flavor without leaving any of it behind, as so many drip coffee makers do.
The other thing you can do with this coffee maker is to stop the brewer from dripping by toggling the drip stop lever. This lets you save your machine and kitchen countertop from constant post-brew dripping. Again, an excellent save from something that is ever so prevalent with drip coffee makers nowadays.
The MultiServe also comes with a cup shelf so that you can raise a smaller, five-ounce cup higher towards the dispenser to avoid the possibility of spills or coffee missing the cup. This shelf also acts as a good drip tray to prevent further mess. It can easily be folded away to save you space and make room for taller travel mugs or a large pot or carafe.
Design and Aesthetics
As soon as you gaze upon the Braun MultiServe coffee maker that you just purchased, you'll immediately feel a sense of class and elegance. This is a professional and modern machine. It invites confidence, character, and creativity. It is also designed to fit well into your home's unique interior design and brighten up the room with its bulky, firm, yet graceful aesthetic.
Built with a sturdy stainless steel finish that gives off a shiny silver appearance, the Braun MultiServe coffee machine is a touch above the rest, putting other coffee maker models in the backseat.
Ease of Use
There's no denying the simplicity of the Braun MultiServe's control panel and digital interface display in making life easy for the user to brew up whatever they feel like, whenever they feel like it. Unlike some other drip coffee makers that use a complicated system for your brew size selection. Instead, they might use pressing a button multiple times to keep dispensing or, worse still, not even having your desired brew size.
The MultiServe uses a dial that gives you a range of sizes to choose from that covers the whole spectrum of coffee cup and pot sizes. Of course, you can also end your brew cycle prematurely by pressing the power button. This works should you have a specific size outside of the range.
Taste
The approval by the Specialty Coffee Association and the gold setting option is part of the BrewChoice Plus menu. This is one of the key features that allows the Braun MultiServe machine to brew delicious coffee.
For those who may not know, third-wave coffee is a movement taking place since 2000. It has elevated coffee standards by acknowledging it as more than just a commodity. They see it as an artistic way of life in which quality is of utmost importance. They want the experience of drinking coffee as more of a luxury than a morning routine.
For that reason, only the smoothest and most aromatic coffees make it on the list of third-wave, SCA-approved coffee. Braun's coffee brewing system has shown that it has the woodchucks on that list.
Time To Brew
When you really need coffee, and I mean a lot of coffee, ready to go as soon as possible, the Braun coffee maker has got you covered. It allows you to brew coffee for an entire thermal carafe in under eight minutes using the FastBrew feature. Then, using exclusive heating technology, you can brew a whole pot of hot coffee in a matter of minutes, enough to get you and your family going every morning.
The best part is that you still get the experience of Braun's ExactBrew System which delivers specific brewing using optimized parameters. It is focused on bringing out the maximum taste and aroma of your coffee, even if you are short on time.
Water Reservoir
The Braun coffee maker comes with a water tank that holds up to 50 ounces of water. This means you can brew up a large carafe of coffee with a single water cycle. Additionally, the water reservoir can easily be removed to make refilling under a tap easier. This also makes storing away into a cupboard or pantry as needed.
When it comes to cleaning, you can fit this removable water tank in the dishwasher for an effortless wash, or you may opt to wash and rinse it under the sink as preferred. It is completely transparent and comes with a secure fit lid. In addition, you can easily track how much water you have in the tank using the provided measurement labels to indicate the 25 oz mark up to the 50 oz mark in 5 oz increments.
Filters and Other Accessories
Paper filters are a thing of the past with the Braun MultiServe coffee maker! It boasts a gorgeous reusable gold-tone filter that optimizes the flavor of your coffee through its unique design. The result is a filter-basket that keeps out every unwanted solid from making its way to your cup that. At the same time, it allows the essential oils from the ground coffee to pass through so you don't lose any richness, flavor, or aroma.
Of course, you still have the option to use your paper filter of choice, but just know that you'll be missing out on the "gold" experience if you do. So before settling on your filter choices, I recommend giving the gold-tone filter a go first.
Speaking of filters, the Braun MultiServe machine also comes with a charcoal filter built into your water reservoir. This allows you to filter your tap water into a purer, cleaner tank of water. The result is even more delicious coffee that is not interrupted by a strong water taste. In addition, to make yourself the perfect coffee, you need to find your optimal ratio of coffee to water. So the provided measuring scoop will help you to with this.
Of course, the best way to get the most out of your machine is by using the manufacturer's guidelines. You'll find plenty of use with the accompanying instruction manual and quick start guide. Not to mention a resounding three-year product warranty provided by Braun.
What we like about the Braun MultiServe Coffee Maker
All the Braun coffee machine features are up to an excellent standard. However, what I like most about it is the design of its functions and the overall appearance of the machine itself. It strikes me as a machine just begging to brew because it looks so easy to use!
Even from a distance, you can see that the machine is split into four components: the coffee ground chamber, the water reservoir, the cup compartment, and the BrewChoice Plus menu. This dynamic in itself makes the machine presentable and easy to use. However, that simplicity combined with the SCA-approved coffee quality results makes this a notch above the rest.
However, a sophisticated brewing method is only as good as how accessible it is to the user. No one wants to wrack their brains over figuring out the ins and outs of their kitchen appliances. I mean, they're there to make your life easier, after all, not harder!
How do you use a Braun MultiServe coffee maker?
The only natural way to make sure you are using your Braun MultiServe coffee maker right is by following the provided instruction manual. However, sometimes that can get a little too detailed. For that reason, we are providing a basic step-by-step guide that will give you the general run-down to using your MultiServe coffee maker:
Turn the power button on to start up your machine.
Fill the water reservoir with ordinary tap water or filtered water is preferred.
Place the gold-tone filter basket in the brew chamber.
Use the measuring scoop to accurately your coffee grounds and pour them into the filter basket.
Place your cup or pot in position on the hot plate or cup shelf as suitable.
Turn the dial to point at your desired brew size.
Choose your desired brew option using the BrewChoice Plus menu. Enjoy your freshly brewed coffee!
How do you clean a Braun MultiServe?
Cleaning your Braun MultiServe coffee maker is a matter of removing detachable components and cleaning them under the sink or using the dishwasher as preferred. Below is a quick guide to cleaning your Braun MultiServe coffee machine:
Remove the water tank from the coffee maker.
Next, remove the gold-tone filter basket and measuring scoop.
Place all removable components in the dishwasher or handwash under the sink. Apply detergent as preferred.
Leave items out to dry.
Use a damp cloth and detergent if preferred to wipe down the machine's exterior.
Re-attach the water tank and filters.
Wait till the entire machine is dry before starting your next brew.
How to descale a Braun MultiServe Coffee Machine
Descaling your Braun Multiserve coffee maker can be done using the following steps below (not to be used as a detailed guide, refer to instructor's manual):
Empty the filters out of the brew chamber and take the charcoal filter out of the reservoir.
Fill up the reservoir with about 20 oz of white vinegar or descale solution.
Top up the rest of the tank with water and close the lid.
Position your carafe under the dispenser and spin the dial to the full carafe option.
Select the clean button and allow the machine to run the solution through the interior and out into the carafe.
Repeat this process using regular water to rinse out the machine.
Put the filters back in their respective positions and you will be ready for your next brew!
Braun MultiServe Coffee Maker FAQ
Is Braun a good brand of coffee maker?
Braun is a reputable manufacturer of single-serve coffee machines that allow you to make coffee quickly, easily, and precisely. Braun's products are designed to do what a French press can't. It can produce coffee at an exceptionally high level with SCA standards for third-wave coffee fully met.
Can the MultiServe make iced coffees?
Yes, the MultiServe provides an option called "over ice" specifically designed to produce a shot of coffee intended to go over ice so that it won't melt right away.
Can the Braun MultiServe make cappuccino and espresso?
The Braun MultiServe makes all kinds of coffee, hot and cold, with single-cup sizes starting at 5 ounces and working their way up to a full pot of coffee. Unfortunately, this does not include espresso shots specifically. However, you can top up your coffee with hot milk to make a cappuccino or latte (keep in mind this machine does not come with a milk frother).
Braun MultiServe Coffee Maker Review Summary
On a final note, the new Braun Coffee Maker is an incredibly high-performing multi-serve machine. It delivers specialty third-wave coffee at the mere push of a button, certified by the SCA for excellence. If you are familiar with the Ninja Specialty coffee maker, you can expect a similar brewing process with the Braun MultiServe. The difference lies in the simplicity of the MultiServe's design and the absolute ease at which top-quality brewing coffee has become.
The Braun MultiServeBuilt is made with precision brewing technology, customizable brew sizes and styles, and a fast heating element that brews your coffee quickly. It makes it all possible with a simple control panel and digital interface that even a child could figure out!
With that said, it comes as no surprise that this product is rated highly for being easy to use, easy to clean, and possessing a superior coffee flavor. In addition, over 1,200 global customers have rated this product 3.9-stars on Amazon reviews. So while it may not be a super-impressive score, it's certainly got the goods in quality and convenience.
Brew yourself a tasty cup or a full carafe of coffee promptly with the Braun MultiServe Coffee Maker and enjoy a 3-year product warranty with your purchase. Highly suitable for anyone seeking a tastier, hotter coffee and finding themselves on a bit of a budget. You can purchase yours using the link to Amazon's store below!
https://www.amazon.com/dp/B07VK386WT#customerReviews
Check out the Braun Brewsense coffee review for more Braun coffee makers