Not all coffee makers are made equally. In today's super-connected world, it's more important than ever to distinguish between the endless amount of models out there. The best machines are the ones that are simple ones to use but deliver great results.
That's why we are reviewing Ninja Specialty Coffee Maker today. This is an excellent coffee machine at an affordable price. You'll find out all about that and more in this Ninja Coffee Bar Review.
There is plenty to be excited about with this one. As you read through the review, we'll explain what makes this a unique coffee maker that could change your life for the better. To do this, we need to give you the rundown of specs and features, so you know what you're in for.
We will then analyze each component and let you know the different ways you can use this machine to make coffee the way you want it every time.
That's not all, but we'll give you some good insights into some of Ninja's other coffee maker models and products to widen that perspective of yours. Finally, we shall provide our closing thoughts and hopefully clear the air with our frequently asked questions segment.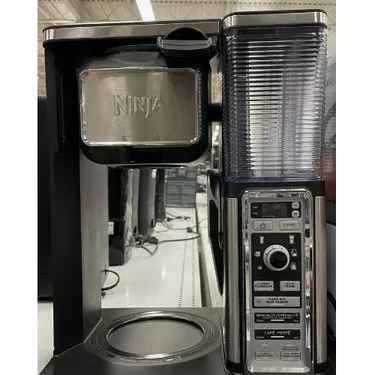 Ninja Coffee Bar Review
Specs
Product Dimensions: 11.99 x 8.75 x 15.04-inches
Weight: 9.24 lbs
Material: Stainless Steel
Color: Black
Reservoir Size: 40 oz
Warranty: 1-Year Limited Warranty
What's Included
Ninja CM401 Specialty 10-Cup Coffee Maker
4 Brew Styles for Ground Coffee
6 Brew Sizes
40 oz Water Reservoir
Automatic Shut-off Feature
50 oz Glass Carafe
Fold-Away Milk Frother
Recipe Inspiration Guide
Quick Start Guide & Owner's Guide
Key Features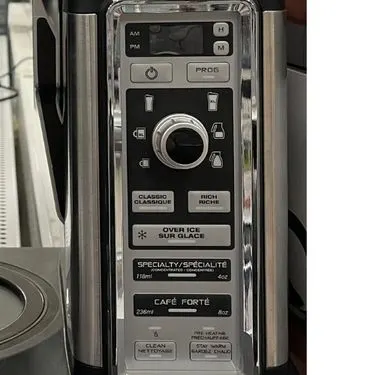 One of the most prominent features of the Ninja coffee machine is the abundance of brew-size varieties. Built with a dial and light indicator design, you can choose from six different brew sizes. This includes (in ascending size order) single-cup, XL cup, travel, multi-serve, half, and full.
As denoted on the left-hand side, the first three sizes are suitable for individual cups of coffee. As indicated on the right-hand side of the dial, the upper-three sizes are intended for more than one person. The maximum of these is 10 cups for filling up the glass carafe to full. With the integrated smart scoop provided, you can easily measure coffee accurately for any brew size you decide to go with.
All great coffee brews begin with the right temperature for coffee extraction as the hot water contacts the coffee grounds. This is what truly separates sophisticated coffee machines from ordinary coffee plungers.
The Ninja Coffee Bar system uses the concept of thermal flavor extraction to optimize the interaction of water and grounds. As a result, it provides the perfect slow-releasing brew that enhances flavor and produces great-tasting coffee.
The Ninja Coffee Bar machine unlocks your coffee's full flavor potential using automated brewing technology. It delivers high-quality coffee at the mere touch of a button. The result is a perfect cup of evenly saturated coffee bloomed to perfection with a consistent temperature from start to finish.
Milk Frother
Of course, no good coffee machine is complete without a milk frother contraption to enable all your favorite milk-based coffee drinks. Fortunately, the Ninja Coffee Bar coffee maker comes with a fold-away milk frother. It transforms milk of any temperature to a creamy, silky foam to top up that strong shot of coffee. Create a delicious latte, flat white, cappuccino, or macchiato with this fantastic fold-away milk frother.
It is easy to keep your machine nice and tidy as you can easily store the tool back into the compartment. You can decide the precise temperature and texture with a manual steam wand. Be that hot flat milk or frothy crema for your coffee's milk top-up. Additionally, you can express your creative side by making some stylish latte arts.
Water Reservoir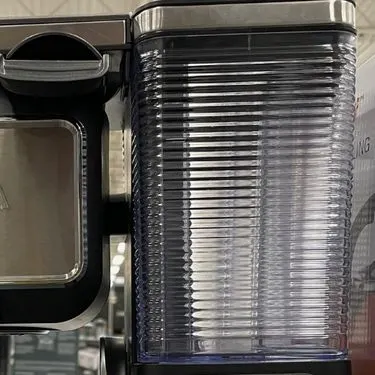 Another great feature you can expect with the Ninja Coffee Bar is the 40-ounce water reservoir. It is completely detachable and the perfect size to brew up a full carafe of coffee without needing to refill the water in-between. The removable water tank also makes it easy to clean.
Whether you want to clean in the sink or use a dishwasher, you'll find this aspect of the tank quite handy. Unlike some other machines out there, the reservoir of the Ninja Coffee Bar machine is completely transparent. That way you can easily keep track of how full it is or when the water levels are running low.
This also helps you ensure that nothing has snuck its way into the tank without you noticing. The last thing we want is a nasty fly making its way into our coffee!
Dishwasher-safe Components
The reservoir is not the only dishwasher-friendly component of the Ninja Bar coffee maker. There are plenty more removable components that can all be cleaned similarly. In addition, the brew-through lid, permanent filter, removable filter basket, flip-top lid, frother whisk, and scoop are all compatible with top-rack dishwashing or under the sink as preferred.
This leaves very little remaining from the machine itself to clean. You can easily finish the job with a few wipes using a damp cloth or paper towel.
Brew Modes
Upon your first gaze of the Ninja coffee maker, the first thing you'll notice is the brew style options denoted by the four large horizontal buttons. Each brew mode opens up a range of options for the many different types of coffee you may choose to brew. Generally speaking, the classic brew is for a more balanced flavor to your drink, while the rich brew provides a more intense hit of coffee.
You can take this to the next level and use the specialty concentrated mode for a super-rich coffee shot. This sets the perfect foundation for all your favorite milk-based beverages. You can make lattes, macchiatos, cappuccinos, and other coffee shop-style drinks. Lastly, you have the over-ice option, specifically designed for making iced coffee varieties that don't get watered down.
Design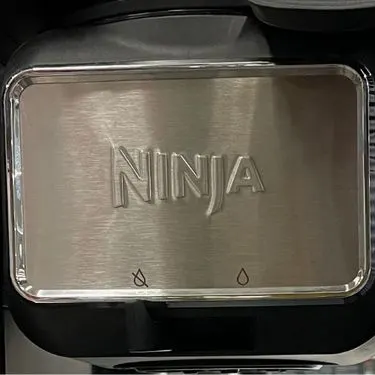 The Ninja Coffee Bar brewer is designed with a durable stainless steel material for the brew chamber and strong glass material for the thermal carafe. The control panel is built to be as simple as possible to use. It provides the user with a huge range of coffee brewing options that resemble the menu of some of your favorite coffee shops.
Comprising six different brew sizes and four different brew strengths, you can perfectly mix and match the settings to tailor your coffee to your own unique preferences.
The control panel also comes with a digital display that you can set the time with. It also has a stay warm option that keeps your coffee warm for up to four hours to give you flexibility in brewing. Also included is a delay brew button which allows you to pre-program a specific time for brewing to commence.
This means you can set the brewer to begin brewing your delicious coffee hot and ready to go as soon as you wake up or are about to head out to work. Essentially, you save time and effort by cutting out a time-consuming step from your morning routine. This gives you more time to focus on getting ready and tending to your make-up to face the day.
Taste
Providing an exceptional coffee taste remains the primary goal of the Ninja Coffee Maker. This is despite its abundance of convenience-enhancing features and easy maintenance perks. The Ninja Coffee Bar machine uses thermal flavor extraction to provide its own specialty brew. It automates the brewing between the filtered water and coffee grounds to optimize the interaction. The purified water and coffee are infused wholly with all the flavors and aroma from the freshly ground coffee beans.
As such, the Ninja coffee brewer provides a concentrated coffee that unlocks the full potential of your coffee beverage. It delivers high-quality results at the touch of a button. The coffee concentrate is bloomed as the grounds have expanded and infused thoroughly. The temperature is consistent throughout the beverage with an even saturation, so you get a smooth and delicious hot coffee from the first sip to the last.
Pros
Thermal flavor extraction provides optimal temperature throughout your beverage.
Optimizes flavor and aroma using precise coffee blooming methods and automated brewing.
Six cup sizes including single cup, XL cup, travel mug, multi-serve, half carafe, and full carafe.
Four brew styles include classic, rich, over ice, and specialty coffee concentrate.
Brewing options at customizable strength and boldness levels.
The delay brew option allows you to time your brew to automatically prepare your coffee.
The auto-shutoff feature saves energy by automatically powering off after one hour of inactivity.
The stay warm option and the warming plate keeps your coffee hot for several hours.
Plenty of removable, dishwasher-safe components makes it easy to clean and maintain your Ninja Coffee Bar machine.
Manual, fold-away milk frother enables smooth hot milk that can be custom-made to suit your unique preferences.
A compact machine that can fit on any kitchen counter space.
It also can easily be stored in tight spots in cupboards and pantries.
1-year limited warranty by Ninja provides replacement and repair for any defects related to manufacturing or material quality.
Cons
Not compatible with coffee pods, capsules, or K-Cups.
Does not include a bean hopper or grinder.
Performance
The Ninja Coffee Bar coffee maker is an exceptional coffee brewing system. It enables you to make specialty beverages using your own grounds for cafe forte coffee that adheres to your unique preferences. It does this using thermal flavor extraction that provides a range of brewing strengths, types, and sizes.
The Ninja coffee bar system makes delicious, high-quality coffee and smooth frothed milk easily accessible in a super convenient manner. The brew cycle is automated where it matters most, the coffee brewing itself, but provides manual options in other areas.
This includes choosing the preferred amount of coffee grounds, pre-programming the brew times of your coffee, and adjusting your milk temperature the way you want it.
Different models of Ninja Coffee Bar
Ninja CE251 Programmable Brewer
The Ninja CE251 Programmable Brewer excels in producing hot coffee and keeping your brew hot. This machine uses hotter brewing technology by applying an advanced boiler and hot plate that keeps your coffee at a high temperature for several hours.
On the downside, this Ninja hot coffee machine does not include a specialty brew option as the Ninja Coffee Bar machine does. As a result, you can't go that extra mile in brewing stronger, bolder coffee with higher concentrations.
Ninja CP307 Hot and Cold Brewed System
The most noticeable difference between the Ninja CP307 Hot and Cold Brewed System and the Ninja Coffee Bar is that the former provides brewing tea and coffee options. This enables you to choose from five different tea brews, including herbal, oolong, black, white, and green tea options.
Another notable feature of the Ninja CP307 is the cold brew option, which provides more opportunities for cold drinks, including iced teas and iced coffees. On the downside, it is a little heavier and bulkier than the Ninja Coffee Bar models, so keep in mind before buying.
How do I use my Ninja coffee bar?
Using your Ninja Coffee Bar machine is quite simple as most of the controls are automatic, and you don't need to do too much manually. Use the step-by-step guide below for a basic understanding of using your Ninja Coffee Bar:
Plug in the machine and power it on using the allocated power switch provided.
Fill up the water tank to your desired level and close the lid.
Use the provided scoop to measure your preferred amount of coffee grounds and tip it in the filter holder on top of the brew head.
Ensure your preferred cup, travel mug, or thermal carafe is positioned underneath the dispenser.
Turn the dial on the control panel towards your preferred brew size as indicated by the light.
Select your preferred brew strength/style by pressing one of the 4 buttons provided.
Pull out the milk frothing steam wand and position it inside your milk jug while holding down the button to commence frothing.
Top up your coffee with your completed hot milk as preferred, or simply enjoy your coffee as is.
Ninja Coffee Bar Reviews
The Ninja Coffee Bar coffee maker is a super-convenient way of creating specialty drinks that are bound to impress all kinds of coffee lovers out there. You can keep your coffee simple by brewing a regular coffee with the classic brew option. You can also opt for a delicious iced coffee drink using the over-ice brew option.
It comes with a ton of programmable features such as delaying your brew for a specific time or using the drip stop feature to end the brew prematurely.  As preferred, you can easily customize your coffee the way you want it using the Ninja Coffee Bar drip brewer.
You have endless choices built with an abundance of brew size options and strengths. Including brewing up a whole pot of Americano-style coffee or creating more luxurious cafe lattes and cappuccinos using the provided milk frothing wand.
Complete with a warming plate that keeps your coffee at the right temperature for several hours. It also has an auto-shutoff feature that preserves your energy costs. The Ninja Coffee Brewer is rated an incredibly high score of 4.8-stars on Amazon. According to the average of over 11,000 global reviews, Ninja Coffee Bar is a brand that delivers exceptional flavor, blending power, and ease of use.
To see what these happy customers are saying about this one-of-a-kind coffee machine, use the link to Amazon's review page below!
https://www.amazon.com/dp/B07PFLM2LK#customerReviews
Ninja Coffee Bar Cleaning and Maintenance
How to Clean a Ninja Coffee Bar
Remove all detachable components, including the water reservoir, brew-through lid, glass carafe, permanent filter, removable filter holder, flip-top cover, frother whisk, and coffee scoop.
Place these items in your dishwasher or hand wash using warm water and light detergents under the sink.
Leave these components out to dry before reattaching them to the machine.
Use a damp cloth or paper towel to wipe down the remaining parts of the coffee machine, including the control panel and brew head.
Use a dry cloth to dry the machine or simply leave it out to dry for at least an hour before commencing your next brew.
How to Descale a Ninja Coffee Bar
Observe the "clean" light flash on to indicate that descaling is required.
Use descaling solution or white vinegar and fill up a portion of the water reservoir (no more than a third full).
Fill the rest of the reservoir with water.
Place the glass carafe underneath the dispenser and select the full carafe option.
Allow the machine to descale as the carafe fills to the top. The process will take one hour as indicated on the digital display.
After the initial descaling process is over, a beep will sound to indicate this.
It is recommended to run another reservoir full of water only on the classic brew to ensure no leftover solution in your machine.
Ninja Coffee Bar vs Nespresso
The main differences between the Ninja Coffee Bar and Nespresso machines are the methods for brewing and different customization options. The Ninja is based on brewing ground coffee beans using thermal extraction methods. While the Nespresso is purely capsule-based and centered around maximizing convenience without compromising taste.
In this aspect, the Ninja Coffee Bar is superior in delivering a fresher coffee experience. However, the contest gets a little tighter when considering the Nespresso VertuoLine series with its advanced brewing technology and centrifusion coffee. While still capsule-based coffee, some users vouch that the Vertuo series provides a coffee flavor that typical ground coffee makers cannot match.
So it likely comes down to personal preference and taste when you compare these models. However, the Nespresso is significantly more convenient and easy to use than the Ninja Bar. This is because of its fewer brew options available to you as the user. Whether or not that is a pro or a con is highly subjective to one's goals and preferences when seeking the best coffee machine for themselves.
Related: Keurig vs Ninja Coffee Makers
Ninja Coffee Bar FAQ
Does the Ninja Coffee Bar make good coffee?
Yes. When it comes to brewing delicious coffee in various ways, few can rival the Ninja Coffee Bar machine.  It has an abundance of brew styles and sizes available to you as well as its programmable features. Of course, part of what makes a great coffee is the types of coffee beans you choose to grind and use with your machine. However, you can be sure that the Ninja Coffee Bar will get you the best out of your chosen grounds.
Are Ninja coffee makers any good?
Yes. Easy to use, clean, and maintain, Ninja coffee makers are fantastic in delivering high-quality coffee that is simple and effortless for the user to make. Regardless of what kind of coffee you like best, the Ninja coffee maker puts you in full control over the brew style, strength, and size.
Whether it's ice-cold coffee or piping hot Americanos, it also provides a built-in milk frother for all your milk-based coffees such as lattes, cappuccinos, and macchiatos.
How long do Ninja Coffee Bars last?
Your Ninja Coffee Bar machine is guaranteed to provide quality results over a year of use thanks to Ninja's 1-year limited warranty. This includes replacement services for faulty products due to manufacturing defects or loss in quality of materials. With proper care, your Ninja Coffee Bar is expected to last as long as a decade of use, and potentially further beyond.
What does the Ninja Coffee Bar do?
The Ninja Coffee Bar brews delicious coffee and specialty drinks using thermal extraction mechanisms. These optimize the brewing process by slowly expanding the ground coffee in a way that preserves the flavor and aroma. It will filter through to capture the best of your coffee and dispense it into your cup or carafe.
With six brew sizes and four brew styles/strengths, as well as a range of programmable features, there is nothing you can't brew with your Ninja Coffee Bar coffee machine.
Do Ninja Coffee Bars make iced coffees?
Yes, the Ninja Coffee Bar features an over-ice option that is specifically designed to brew coffee over ice. It does this at the perfect temperature without interfering with the temperature of your cup or melting the ice away prematurely. Using this function, you can enjoy brewing your favorite iced lattes or iced long blacks by topping up your shot with cold water or milk as preferred.
Ninja Coffee Bar Review: Should You buy a Ninja coffee bar?
The Ninja Coffee Bar is an excellent coffee maker for individuals that yearn for high-quality coffee that is delicious but not too complex to use. In addition, it would suit busy people who wish to leverage their time efficiently and can benefit from presetting their brew times to match their schedules and work hours.
It's also a machine worth considering for office managers looking for an efficient and effective machine that provides its employees with plenty of options and versatility to cater to a wide range of coffee needs. So whether you choose to brew in the comfort of your home or at your busy workplace, there is always room for a Ninja Coffee Bar. This is thanks to its compact and lightweight design that enables portability, adaptability, and easy maintenance.
Hopefully, you've taken a lot out of this review of the Ninja Coffee Bar.  We strive to bring you the latest information in coffee brewing, including the best brands, most convenient models, and highest-rated products. We would highly recommend the Ninja Coffee Bar for your next coffee maker purchase. This is because of its abundance in brew styles and sizes as well as its clever combination of automatic and manual features. It gives you the best of all worlds! As a final note this one is on our best coffee makers under $200 list, showing how it ranks among other brands.